Faculty Council Member Bios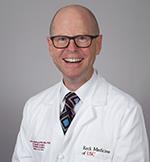 David Armstrong, MD, PhD, DPM
Professor of Clinical Surgery (2018–2021)

Dr. David Armstrong joined the Keck School of Medicine of USC faculty as a professor of clinical surgery in 2017 and is the founder and director of the Southwestern Academic Limb Salvage Alliance (SALSA). He holds a Master of Science in Tissue Repair and Wound Healing from the University of Wales College of Medicine and a PhD from the University of Manchester College of Medicine, United Kingdom. He sits on the Infectious Disease Society of America's Diabetic Foot Infection Advisory Committee and is the U.S.-appointed delegate to the International Working Group on the Diabetic Foot. Dr. Armstrong is the founder and co-chair of the International Diabetic Foot Conference (DF-Con), the largest annual international symposium on the diabetic foot in the world.
Dr. Armstrong has produced more than 475 peer-reviewed research papers, as well as more than 80 book chapters. He was selected as one of the first six International Wound Care Ambassadors and is the recipient of numerous awards and degrees by universities and international medical organizations, including the inaugural Georgetown Distinguished Award for Diabetic Limb Salvage. He was the youngest-ever member elected into the Podiatric Medicine Hall of Fame. He was the first podiatric surgeon to become a member of the Society of Vascular Surgery and the first U.S. podiatric surgeon to be named a fellow of the Royal College of Surgeons, Glasgow. He is also the youngest ever recipient of the American Diabetes Association's Roger Pecoraro Award, the highest award given in the field.
Shahab Asgharzadeh, MD
Associate Professor of Pediatrics and Pathology (2016–2019)
President, Keck Faculty Council (2017–2018)
asgharza@usc.edu
sasgharzadeh@chla.usc.edu
Shahab Asgharzadeh is Associate Professor of Pediatrics and Pathology at USC/Norris Comprehensive Cancer Center and a pediatric hematologist-oncologist in the Children's Center for Cancer and Blood Diseases at CHLA, where he has been since 2001. He is the director of the Neuroblastoma Basic and Translational Program and member of the KSOM Cancer Center Tumor Microenvironment Program. He obtained his Bachelor's degree in Biomedical Engineering from Northwestern University and medical degree from University of Illinois. He completed pediatric residency and a fellowship in clinical medical ethics at University of Chicago in 2000 and subsequently worked as a research associate professor in Bioinformatics at Northwestern University. He completed his training in pediatric hematology-oncology at CHLA in 2005 prior to joining the faculty at the Keck School of Medicine of USC. Dr. Asgharzadeh is a physician-scientist spending about 10% of his time performing clinical duties, and the majority of his time performing research.
Dr. Asgharzadeh's research laboratory is focused on understanding the role of the tumor microenvironment and developing novel immunotherapies for children with peripheral and central nervous system tumors, focusing primarily on high-risk neuroblastomas and medulloblastomas. His group's first report of identification of tumor-associated macrophages in neuroblastomas and medulloblastomas has helped to better understand the role of the immune system in biology of childhood tumors. His research has also led to the development of several novel assays to identify subtypes of neuroblastomas and medulloblastomas and predict outcome.
Britni Belcher, PhD, MPH
Assistant Professor of Preventive Medicine (2018–2021)

Dr. Britni Belcher is a lifelong Trojan, having completed her undergraduate degree, master's degree in public health (emphasis in biostatistics/epidemiology) and doctoral training in health behavior research at USC. After completing her postdoctoral training at the National Cancer Institute, she returned to USC in 2015 as an assistant professor of preventive medicine on the tenure track at the Keck School of Medicine of USC.
Dr. Belcher's research focus is on the biological mechanisms underlying energy balance behaviors and cardiometabolic risk in youth. She combines both epidemiological studies in physical activity, sedentary behaviors and obesity-related health outcomes with clinical research to elucidate underlying mechanisms linking these behaviors to disease risk. She is currently investigating individual-level differences in metabolic responses to interrupting sedentary behaviors with brief bouts of physical activity in the lab and real-world settings. The overall goal of this research is to design personalized intervention strategies for youth to reduce risk for non-communicable diseases later in life.
Mark R. Frey, PhD
Associate Professor of Pediatrics (2017–2020)
Dr. Frey received his PhD in Molecular Pharmacology and Cancer Therapeutics from State University of New York at Buffalo/Roswell Park Cancer Institute. Following postdoctoral fellowships at Roswell Park (cell biology) and Vanderbilt University (intestinal inflammation and repair) and an appointment as a Research Assistant Professor at Vanderbilt, Dr. Frey was recruited in 2010 to the Department of Pediatrics/Division of Gastroenterology and Nutrition at the Keck School of Medicine of USC and Children's Hospital of Los Angeles as an Assistant Professor of Pediatrics and Biochemistry & Molecular Biology on the tenure track. He was promoted to Associate Professor with tenure in 2017.
Dr. Frey's laboratory's research program is focused on the role of ErbB receptor tyrosine kinases in intestinal homeostasis and health. In particular, he is investigating how the neuregulin receptors ErbB4 and ErbB3 help maintain intestinal epithelial barrier integrity in the face of injury and inflammation. His team was the first to report a functional role for ErbB4 in the intestine, showing that it is up-regulated in response to injury and necessary for survival of colon epithelial cells in the presence of TNF. They further demonstrated that the ErbB4-specific ligand NRG4 is protective in rodent models of inflammatory bowel disease and necrotizing enterocolitis.
Andres Gonzalez, MD, MMM
Assistant Professor of Clinical Neurology (2018–2021)

Dr. Andres Gonzalez is a board-certified neurologist and nationally recognized expert in the field of surgical neurophysiology. He is an assistant professor of neurology at the Keck School of Medicine of USC, the director of the surgical neurophysiology program and the surgical neurophysiology fellowship training program and the chief of the intraoperative neurophysiological monitoring and sleep division. Dr. Gonzalez completed his internship at the Cleveland Clinic Foundation and residency training at Georgetown University Hospital in Washington, D.C. He also completed two neurophysiology fellowships with an emphasis in surgical neurophysiology at the University of California, Los Angeles and Harvard Medical School. In addition to his medical training, Dr. Gonzalez holds a master's degree in medical management from the USC Marshall School of Business.
Dr. Gonzalez's academic interests focus primarily on the use of techniques that protect the brain and spine during surgery and the treatment of neurological conditions using implantable devices. Dr. Gonzalez has written numerous peer-reviewed publications and authored several book chapters in the field of surgical neurophysiology. His clinical and research programs focus primarily in three areas: brain mapping, intraoperative neurophysiology and brain implants.
Luanda Grazette, MD
Associate Professor of Clinical Medicine (2017–2020)
Dr. Luanda Grazette completed her undergraduate studies at the University of Alabama and went on to Harvard to earn her Medical Degree and Master's Degree in Public Health. She then completed her internship and residency at Massachusetts General Hospital in Boston, followed by fellowship training in clinical cardiology at Emory University. After completing her fellowship, Dr. Grazette returned to Massachusetts General Hospital for additional training in heart failure and transplantation and heart failure research and then remained on staff as a physician-scientist. She has also served as Medical Director of Global Clinical Research for Amgen, where she oversaw early and late stage clinical trials.
Dr. Grazette's experience with follow-up care of transplant patients, supervision of students and fellows, and management of pre- and post-transplant patients in critical care settings and inpatient consultation makes her a tremendous asset to USC. In addition to her clinical responsibilities, Dr. Grazette engages in active clinical and translational research investigating the basic mechanisms of cardiac toxicity, plasticity and survival. Myocardial plasticity and the potential for recovery remain the focus of her clinical and research activities.
Jennifer Israel, MD
Assistant Professor of Clinical Obstetrics and Gynecology (2016–2017, appt)
Dr. Jennifer Israel has been associated with the University of Southern California for a substantial portion of her adult life. She received both her undergraduate and medical degrees at USC, and went on to perform her residency at Glendale Adventist Medical Center and Women and Children's Hospital. She joined the Keck School of Medicine of USC faculty as an assistant professor of Clinical Obstetrics and Gynecology in 2002. Prior to her appointment at USC, she worked as an adjunct professor of Surgery at City of Hope Medical Center from 2003 to 2005. Dr. Israel's clinical interests focus on treatment of women surviving cancer, breast and ovarian cancer prevention, as well as minimally invasive gynecologic surgery. Dr. Israel was appointed to finish Dr. Claire Templeman's term by Faculty Council vote after she left USC.
Alison Wilcox, MD
Associate Professor of Clinical Radiology (2016–2019)
Dr. Alison Wilcox originates from Cincinnati, Ohio but grew up in Northern California. She came to Southern California for her undergraduate degree from Occidental College where she majored in biology and graduated Phi Beta Kappa. She then attended medical school at the USC School of Medicine as a Dean's Scholar. Following medical school, she completed her radiology residency and body imaging fellowship with USC. She joined the faculty of USC's Department of Radiology with a specialized interest in cardiothoracic imaging. For eight years she was the program director of the residency training program, and stepped down to assume the role of Section Chief of Cardiothoracic Imaging. She has been the Medical Director for Radiology for Keck Hospital for the last two years. In the capacity of medical director, she has served on several hospital committees including the Medical Executive Committee, Integrated Peer Review Committee, Patient Safety Committee, and Performance Improvement Committee and is the Chair of the Radiation Safety Committee.
On the UPC campus, Dr. Wilcox has served on the Academic Senate Non-tenure track Faculty Committee which has recently been renamed and participated in the current white paper submitted to the Dean of the school to help direct the school into more uniform methods of evaluation, promotion and support in response to many of the concerns submitted by the non-tenure track faculty.
Gabriel Zada, MD, MS, FAANS
Assistant Professor of Neurosurgery, Otolaryngology, and Internal Medicine (2016–2019)
Secretary, Keck Faculty Council (2017–2018)
Dr. Zada is a board-certified neurosurgeon and nationally recognized expert in brain and pituitary tumor surgery, as well as a variety of endoscopic and minimally invasive neurosurgical techniques. He is an Assistant Professor of Neurosurgery at the Keck School of Medicine of USC with dual appointments in the Departments of Otolaryngology and Internal Medicine. As the Co-Director of the USC Pituitary Center, Co-Director of the USC Radiosurgery Center and Director of the USC Endoscopic Skull Base Surgery Program, Dr. Zada directs a comprehensive neuro-endoscopic program including endoscopic skull base/pituitary surgery, exoscopic channel (BrainPath) surgery and intraventricular neuro-endoscopy. He also co-directs the USC Radiosurgery Center and performs both Gamma Knife® and CyberKnife® radiosurgery.
Dr. Zada has a keen clinical and academic interest in brain and skull base tumor surgery and has published over 110 peer-reviewed articles on various neurosurgical topics, mostly relating to brain and pituitary tumors as well as endoscopic skull base surgery. He authored and edited the textbook entitled The Atlas of Sellar and Parasellar Lesions.