Faculty Council Member Bios
Grace Kung, MD
President Faculty Council
Clinical Professor of Pediatrics (Clinician Educator) (2019-2022)
Grace Kung completed her fellowship training in Pediatric Cardiology at UCSF in 1999 and was faculty at Texas Children's Hospital for 4 years before joining USC/Children's Hospital Los Angeles in 2003. She has also had the privilege of recently being promoted to Clinical Professor of Pediatrics at USC. During her 16 years at USC, she has seen many changes both at USC and CHLA. She has been the fellowship Program Director since 2014 and has recently taken on a leadership role in the Faculty Mentoring Program at CHLA. She is committed to the learning experience of our trainees as well as the transition from training to junior faculty appointment and advancement. Through the mentoring program, she wants to ensure that faculty are given equal opportunity for advancement and promotion. She has personally experienced the importance of having a voice and being heard when it comes to faculty development and also wants those of us at CHLA to be represented. She feels being a member of the Faculty Council will positively enhance the impact she can bring back to the faculty at CHLA as well as bringing a voice to USC.
Jennifer Israel, MD
Clinical Associate Professor of Obstetrics and Gynecology (Clinician Educator) (2017-2020)
Past President (Ad Hoc) (2020-2021)
Dr. Jennifer Israel has been associated with the University of Southern California for a substantial portion of her adult life. She received both her undergraduate and medical degrees at USC, and went on to perform her residency at Glendale Adventist Medical Center and Women and Children's Hospital. She joined the Keck School of Medicine of USC faculty as an assistant professor of Clinical Obstetrics and Gynecology in 2002. Prior to her appointment at USC, she worked as an adjunct professor of Surgery at City of Hope Medical Center from 2003 to 2005. Dr. Israel's clinical interests focus on treatment of women surviving cancer, breast and ovarian cancer prevention, as well as minimally invasive gynecologic surgery. Dr. Israel was appointed to finish Dr. Claire Templeman's term by Faculty Council vote after she left USC.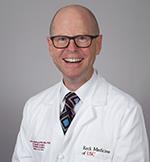 David Armstrong, MD, PhD, DPM
President Elect
Professor of Clinical Surgery (2018–2021)
Dr. David Armstrong joined the Keck School of Medicine of USC faculty as a professor of clinical surgery in 2017 and is the founder and director of the Southwestern Academic Limb Salvage Alliance (SALSA). He holds a Master of Science in Tissue Repair and Wound Healing from the University of Wales College of Medicine and a PhD from the University of Manchester College of Medicine, United Kingdom. He sits on the Infectious Disease Society of America's Diabetic Foot Infection Advisory Committee and is the U.S.-appointed delegate to the International Working Group on the Diabetic Foot. Dr. Armstrong is the founder and co-chair of the International Diabetic Foot Conference (DF-Con), the largest annual international symposium on the diabetic foot in the world.
Dr. Armstrong has produced more than 475 peer-reviewed research papers, as well as more than 80 book chapters. He was selected as one of the first six International Wound Care Ambassadors and is the recipient of numerous awards and degrees by universities and international medical organizations, including the inaugural Georgetown Distinguished Award for Diabetic Limb Salvage. He was the youngest-ever member elected into the Podiatric Medicine Hall of Fame. He was the first podiatric surgeon to become a member of the Society of Vascular Surgery and the first U.S. podiatric surgeon to be named a fellow of the Royal College of Surgeons, Glasgow. He is also the youngest ever recipient of the American Diabetes Association's Roger Pecoraro Award, the highest award given in the field.
Kristian Carlson, PhD
Secretary, Faculty Council
Associate Professor of Clinical Integrative Anatomical Sciences (2020-2023)
During the tumultuous past year, I am grateful to have had the pleasure of serving the KSOM faculty as a one-year appointment on the Faculty Council. I am excited to step forward to be considered by the faculty to serve a full term. I believe I have more to offer our community, particularly as a voice for the teaching faculty, by serving you in this role. As the current transition in KSOM leadership unfolds, and as KSOM representation within the Academic Senate at USC expands, I am eager to push both entities for greater transparency and cooperative engagement with KSOM faculty as stakeholders. We are at an opportune time to reshape these relationships with an improved sense of accountability and collegiality. I joined the KSOM faculty in 2016, coming from the University of the Witwatersrand in Johannesburg, South Africa where I had been since 2009. I am a basic scientist in the Department of Integrative Anatomical Sciences (IAS) with gross anatomy lecture and laboratory teaching responsibilities during years 1 and 2 of the medical curriculum. I also serve as a Course Director in the IAS Master of Science degree program. Engaging in both realms has molded my perspective and fostered a deeper appreciation of the diverse set of responsibilities filled by KSOM teaching faculty.
In addition to fulfilling teaching duties, I am an active researcher investigating bone as the interface between form-function relationships in the human body. I have a federally funded research program (e.g., NSF) and publish results in peer-reviewed, high impact journals (e.g., Science and PNAS) as well as specialty journals focused on anatomy and anthropology. I have reviewed manuscripts for 33 different journals and 8 different granting agencies. I have served on panels for Belgian and South African government funding agencies and a panel responsible for allocating beam time at the European Synchrotron Radiation Facility (ESRF) in France. I also supervise postgraduate students in pursuit of MS and PhD degrees.
During my academic career, I have served on various committees at former institutions in the US (e.g., IACUC and Admissions) and abroad (e.g., Executive Committee member of the Evolutionary Studies Institute, University of the Witwatersrand). I hope to continue to serve you, the KSOM faculty, as a member of the Faculty Council for the next three years.
Michael Press, PhD, MD
Professor of Pathology (2019-2022)
I was born and raised in St. Louis, Missouri where I attended Washington University (St. Louis) and obtained my undergraduate degree.    I was admitted to the Pritzker School of Medicine in the Division of Biological Sciences at the University of Chicago where I obtained both an M.D. and Ph.D. degree followed by residency physician training in the Department of Pathology.  I spent an additional seven years there as a faculty member (Assistant Professor and one-year Associate Professor) in the Departments of Pathology and Obstetrics and Gynecology.  Following a one-year sabbatical leave at UCLA, I joined the faculty at the University of Southern California with an appointment in the Department of Pathology and the Norris Comprehensive Cancer Center, where I have risen through the ranks to Professor and currently hold an endowed chair, the Harold E. Lee Chair in Cancer Research.  I have hospital privileges and clinical service obligations at the USC + Los Angeles County General Hospital, Keck Hospital of USC, and the Norris Cancer Center.  In the Norris Cancer Center, I was co-leader of the Breast Cancer Program for 10 years and, subsequently, co-leader of the Women's Cancers Program for an additional 10 years. I have maintained an active pathology referral practice with medical licenses in six states. I also have experience as a continuously funded research scientist with 34 government and 36 private foundation grant awards received throughout my career. Finally, I teach graduate students, medical students, and resident physicians as well as mentor university faculty at USC.
Alexander Van Speybroeck, MD
Clinical Associate Professor of Pediatrics (Clinician Educator)
(2019-2022)
Dr. Van Speybroeck came to Los Angeles in 1998 after graduation form medical school at Boston University. Currently he works as an academic general pediatrician at Children's Hospital Los Angeles (CHLA), and Clinical Associate Professor of Pediatrics (Clinician Educator) at the University of Southern California, Keck School of Medicine. In addition, He works part time at Shriners Medical Center for Children Pasadena. At CHLA he directs a multidisciplinary Spina Bifida program with over 450 patients. Current research projects focus on the care of children with Spina Bifida with specific projects related to fetoscopic repair of myelomeningocele, newborn urology management and continence, psychosocial risk factors, bone health and orthopedics, obesity in the myelomeningocele population, and successful transitioning to adult health care and independence. Our group has been fortunate to receive grant funding from the NIH as well as the CDC, and we participate in the National Spina Bifida Registry and Urology projects. We have presented our results at the Spina Bifida World Congress and SBA Association Meetings. His teaching duties center on providing medical education related to the care of children with disabilities. This includes formal didactic teaching, as well as supervising CHLA pediatric residents and USC medical students on in-patient ward service; with  family centered bedside rounds, and outpatient continuity clinics. Internationally, he Co-direct the CHLA resident IMPACT Tract Global Health Advocacy program.  He is also the Medical Director for the CHLA Center for Global Health outpatient program. His focus is on care of children with special health care needs and medical complexity in developing nations, and resource limited settings.  In addition, he mentors CHLA residents in their global health research and advocacy projects around the world. He has been active on a national level with the Spina Bifida Association, working on the updated healthcare guidelines for persons living with Spina Bifida. He collaborates with Birth defects branch of the US Centers for Disease Control working on the committee for science and publication for the Spina Bifida registry project. At Shriners Hospital, he directs several clinical multidisciplinary programs focusing on children with neurodevelopmental disabilities including Cerebral Palsy, Muscular Dystrophy, Arthrogryposis, and Craniofacial clinics. His individual medical home "private practice clinic" at CHLA serves almost entirely children with significant developmental disabilities/intellectual disability. This includes autistic spectrum disorders and rare genetic conditions primarily from the underserved Latino community in Los Angeles.
Fasha Liley, MD, FAAP
Clinical Associate Professor of Pediatrics (Clinician Educator)
(2020-2023)
I am a board-certified Pediatrician who originates from Los Angeles California. My undergraduate B.S. in Psychobiology with honors was obtained from the University of California Los Angeles. I was fortunate to continue my Medical Education at UCLA followed by Pediatric Internship/ Residency and Nephrology Fellowship at Children's Hospital Los Angeles (CHLA). During Fellowship, I also completed additional training leading resulting in a certificate in Transplant Immunology from Cedars Sinai Medical Center in Los Angeles.  I joined the Division of Pediatric Nephrology at CHLA as an Assistant Professor of Pediatrics and worked there for several years but made a career change to  participate in a new model of health care in a community setting. During that tenure, I was active in Utilization Management, was Vice Chair of Pediatrics at our local hospital  and was a Volunteer Pediatric Attending at LA-USC. I returned to Academic Medicine and I am currently an Associate Professor of Clinical Pediatrics in the Division of General Pediatrics where I have both In-patient and Out-patient clinical and teaching responsibilities.  
On the CHLA campus, I was elected to the Medical Executive Board, am a member of the CHLA Medical Group Business Operations Committee and currently serve as the  Faculty Advisor for the CHLA Resident Diversity and Inclusion Committee at CHLA. Additional duties include Utilization Management Review for the CHLA/Altamed CHLA partnership. At the Health Science Campus, I have been a faculty interviewer for the Medical School, worked with the Summer Bridge program and am currently involved in a new mentoring program paring USC Medical Students with CHLA Pediatric Residents and Pediatric Faculty. This year, I was  a founding member of the Racial Equity Task Force which is partnering with leadership at CHLA to highlight and address issues surrounding  Racial Equity and  Inclusion at CHLA. We been able to combine representatives from our Clinical and Research Faculty, clinical support staff and  Allied health professionals at CHLA in this important work.
I believe that  our academic senate is so important because shared governance is essential to the success and advancement of the Medical School and the University. Faculty representation is crucial for  development and implementation of policy, highlighting faculty rights and advocating for faculty and student interests and affairs. Over the years, I have attempted to participate in committees that advanced my knowledge of the business and academic workings of our institution-improving my knowledge of policies that impact curricular changes, promotion, discipline and technologic innovations that advance our clinical and research excellence. I have come to realize that  we need members in governance positions who have demonstrated advocacy for faculty that promotes growth and protects our academic freedom. I am an Academic Generalist who advocates for polices and education for an underserved population daily.  Helping to organize a new collaborative task force this year has strengthened my ability to negotiate, advocate, formulate a clear mission, listen and produce change within our institution, qualities which would make me a strong candidate for this position.  
Bodour Salhia, PhD
Associate Professor of Transalational Genomics (2020-2023)
Dr. Salhia is an Associate Professor with tenure in the Department of Translational Genomics at the Keck School of Medicine, University of Southern California and a member of the Norris Comprehensive Cancer Center. She also serves as the Course Director for the Department of Radiation Oncology and has a cross appointment in the Department of Biochemistry and Molecular Medicine.  Dr. Salhia is a translational genomics scientist with extensive knowledge and expertise in mechanisms that underlie tumorigenesis and tumor biology. She merges cutting edge genomics/epigenomics analyses with cell biological and functional studies towards the investigation of clinically relevant problems in human cancer. Her main projects include 1) developing diagnostic and prognostic biomarkers using cell-free DNA methylation technology she has developed in her lab and 2) developing novel therapies for patients with brain metastasis using patient-derived xenografts developed in her lab. Dr. Salhia is federally funded, well published and has led numerous projects and teams.  Dr. Salhia earned her bachelor of science (B.Sc.), Masters of Health Science (MHSc) and doctorate degree (PhD) at the University of Toronto. She completed her graduate training in molecular and cellular neuro-oncology at the Arthur and Sonia Labatt Brain Tumor Research Center at the Hospital for Sickkids in Toronto, Canada. She went on to complete a post-doctoral fellowship in cancer epigenomics at the Translational Genomics Research Institute in Phoenix, Arizona.
Finally, Dr. Salhia finds it extremely important to connect with the people her research is attempting to serve. She has given numerous community lectures and is avid volunteer. She has volunteered with the Arizona Myeloma Network, The Wellness Community, and Susan G. Komen affiliate in Phoenix. She has travelled to Egypt as a US Delegate with the Susan G. Komen for the Cure to raise awareness about breast cancer and she has worked with underserved minorities on the Navajo Nation in Arizona.  She served as a Community Outreach Ambassador and was a member of the Board of Directors for the Susan G. Komen for the Cure Arizona between 2012-2016. She has received numerous community awards including a service award by the Arizona Myeloma Network. She was also named one of 20 Faces of Komen in 2012 and 2013 and in June 2014 was the recipient of the Phoenix Business Journal's Top 40 under 40 award.
Arash Motamed, MD
Associate Professor of Clinical Anesthesiology
Dr. Arash Motamed is a board-certified Anesthesiologist. He is an Associate Professor of Clinical Anesthesiology at the Keck School of Medicine. He is currently the Medical Director of Keck Operating Rooms (2020-present) where he focuses on improving perioperative operations including the surgical process and planning in response to the pandemic. Previously, he has been the Medical Director for START Clinic (2017-19) where he was responsible for 66% growth in volume and creation of various system-wide initiatives such as Televideo Assessment, Brain Health Initiative, Preoperative Nutrition Screen, NPO Guidelines Change, and more.   
Dr. Motamed has completed his undergraduate, graduate, and residency training at USC and has an MBA from Marshall School of Business. After residency he joined USC as a fulltime faculty. Currently, he is active in various committees and subcommittees within Keck including Resuscitation Committee, Value Based Service Organization Steering Committee, Mortality Case Review Committee, OR Joint Subcommittee, Robotics Subcommittee, and OR Committee. Dr. Motamed's clinical interest focuses on the field of liver transplant anesthesiology with relevant publications in the field. 
Karen Kay Imagawa, MD
Clinical Professor of Pediatrics (Clinician Educator)
I am a full-time faculty attending within the Department of Pediatrics, Division of General Pediatrics, at Children's Hospital Los Angeles (CHLA) and hold my academic appointment as Clinical Professor of Pediatrics (Clinician Educator) at the Keck School of Medicine of the University of Southern California. I received my medical degree at the University of California, Los Angeles and am triple board certified in General Pediatrics, Developmental-Behavioral Pediatrics, and Child Abuse Pediatrics. On the CHLA campus, I am the Director (and a founder) of the Audrey Hepburn CARES Center, a multifaceted interdisciplinary program involving evaluation, treatment, medical follow-up, prevention, advocacy, education and research in the field of child maltreatment/foster care, and am the chairperson of the CHLA CARES Team Medical Staff Committee for quality assessment and performance improvement. In addition, I am the Medical Director for the Barbara Sinatra Children's Center in Rancho Mirage, overseeing all child abuse examinations, implementing standardized policies and procedures, and assisted with the goal of becoming a certified Child Advocacy Center. As the previous Director of the Developmental-Behavioral Pediatrics (DBP) program at CHLA, I assisted with establishing the DBP Fellowship program and expanded the recruitment of DBP faculty. With my areas of expertise, I have been qualified as a court appointed expert in the fields of child maltreatment/foster care, developmental-behavioral pediatrics, and pediatrics. During my tenure at CHLA, I have served as an elected pediatric non-division head member of the Board of Directors of the CHLA Medical Group (CHLAMG), which also included an appointment as Secretary/Treasurer. These years of services gave me an in depth understanding and experience regarding corporate compliance, business operations and finance, and an insight into responsive management styles with a patient-first philosophy. I also served for many years as a member of the Medical Executive Committee at CHLA – first as an elected Member-at-Large; then as an elected officer, beginning as Secretary-Treasurer prior to succeeding to Vice Chief of Staff and subsequently to Chief of Staff and Chair of the Medical Executive Committee. Responsibilities also included being Chair of the Credentials Committee and Chair of the Professional Practice Review Committee, which reviews and maintains oversight of all Medical Staff peer review complaints and OPPE/FPPE functions. In addition, I was a member of the CHLA Task Force on Gender Equity, which was formed to assess CHLA's environment for faculty, medical staff members, advanced practice professional, medical residents and fellows. Through this task force, recommendations were provided to CHLA's leadership and administration regarding ways to enhance and promote a culture of respect, inclusiveness, and equal opportunity. 
 Syma Iqbal MD
Associate Professor of Clinical Medicine
The driving reason why I want to join Faculty Council is that I want to serve and support my colleagues and to make a related impact in faculty governance. I also have a particular interest in DEI work, in which I've had leadership roles in other organizations. My time here at USC has allowed me to have a broad view of all that KSOM has to offer. I believe I would bring a fresh, broad perspective given the roles I have had over the last 20 years. As a representative for the faculty, ultimately my goal is to continue to strive to make our institution a better place for all of us.
Sheela Rao, MD, MACM
Clinical Associate Professor of Pediatrics (Clinician Educator)
Since joining USC in 2006 I have strived to straddle multiple campuses in order to build bridges between diverse learning communities. While working with pediatric housestaff in both the inpatient and outpatient setting at CHLA, I facilitated medical students in interviewing workshops in their Introduction to Clinical Medicine course. I even conducted microseminars with USC undergraduates in my initial years of working at CHLA. Because of my interest in medical pedagogy, I also obtained a Masters in Academic Medicine degree from KSOM. I have parlayed this understanding of curriculum development into adapting and delivering PM 530 to graduate students in what was known as the Preventive Medicine Department of KSOM (it will now be known as the Population and Public Health Sciences Department under the auspices of Howard Hu). I try to unite my students in public health courses with my clinical colleagues. I have mentored MPH students in research projects involving housestaff and CHLA faculty because I saw the potential for mutual benefit. I piloted two iterations of the undergraduate version of PM 530, HP 320 before passing the baton to my colleague, Ashley Bennett. Currently, I am a member of the DEI consortium at CHLA, and I am also participating in the steering committee for the Population and Public Health Sciences Department under the new leadership of Howard Hu who has just started as dean of the public health program. I am also an online student in the KSOM MPH program with an intention to graduate in 2022. I am uniquely poised to appreciate issues that affect faculty and students in the Soto campus, CHLA campus and the San Pablo campus. I would love the opportunity to participate in visioning for the many learning communities that intersect at KSOM. 
William Mack, MD, MS
Professor of Neurological Surgery (Clinical Scholar)
I would be honored to serve on the Keck Faculty Council. I am Professor of Neurosurgery, Vice Chair of Academic Affairs, and a faculty member of the Neuroscience Graduate Program. My area of clinical focus is endovascular and open surgical management of patients with cerebrovascular disease. I have an NIH funded research laboratory in the ZNI and have the opportunity to collaborate with both clinicians and research scientists. I have enjoyed the opportunity to contribute to the Keck School of Medicine over the past years and understand the importance of the Faculty Council. I would welcome the opportunity to formally represent the faculty through this position. 
I have gained experience through service to USC and Keck Medical School over the past twelve years.  I serve on the Faculty Appointments Tenure and Promotions committee and Neuroscience Graduate program admissions committee. I am a member of the Research Scholarly Project Steering Committee and a Dean's Research Ambassador. I was awarded the 2014 RSP Outstanding mentor award and the 2019 Mentorship award in the Department of Neurosurgery. I am a member of the Gender Equity in Medicine and Science Leadership Development Working group. Involvement in these organizations have allowed me to understand multiple facets of KSOM and the importance of the faculty voice. I have been a member of leadership committees at Keck Hospital including the Value Analysis Committee, the Performance Improvement Committee and the Clinical Practice Committee. I have gained leadership skills and worked with the KSOM administration through the HLA 6 Health Leadership Academy and the KSOM Leadership Course for Vice Chairs and Division Chiefs.  
I believe I would represent the Keck faculty well. I am a clinician-scientist who has strong relationships with both physicians and research scientists at KSOM. I have experience in working with a broad range of faculty members and administrators. I will continue to work hard to advance equity, diversity and inclusion and help provide a strong voice for the KSOM faculty  
Laura Perin, PhD
Associate Professor of Research Urology (CHLA)
After receiving my PhD from Harvard Medical School and the University of Padova (Italy), I completed a postdoctoral fellowship at Children's Hospital Los Angeles (CHLA), and was appointed as Assistant Professor of Research Urology in 2009 and promoted to Associate Professor at the Keck School of Medicine of USC and Children's Hospital of Los Angeles in 2021. My laboratory's research program is focused on understanding the molecular mechanisms responsible for progression of chronic kidney disease. Specifically, I am investigating the role of miRs and exosomes in regulating cell homeostasis in kidney disease with the goal of developing new therapies for slowing or halting the progression of renal failure.
As a basic scientist involved in basic and translational research activities at CHLA, I would bring a unique perspective to the Faculty Council that addresses the challenges that our faculty face in their professional development. I have particular interest in fostering collaborative research between the USC and CHLA campuses, and if selected, I will commit to advocate for the needs of faculty members of all backgrounds to improve our clinical and research efforts and to support KSOM's excellence and reputation. I thank you for your consideration.
Claradina Soto, PhD
Assistant Professor of Clinical Population and Public Health Sciences
Dr. Claradina Soto (Navajo/Jemez Pueblo) is an Assistant Professor at the University of Southern California Keck School of Medicine in the Department of Population and Public Health Sciences. She obtained her BA from the University of California Santa Cruz, and her MPH and PHD (Health Behavior Research Program) from USC. She has over 20 years working with American Indian and Alaska Native (AIAN) populations in public health, collaborating with urban and over 70 Tribal communities in CA using community-based participatory research approaches to reduce and prevent mental health disparities, cancer prevalence, commercial tobacco use, and substance use and opioid use disorders.
Dr. Soto is a Principal Investigator or Co-Investigator on several research projects funded by NIH/FDA, the California Tobacco Related Disease Research Program (TRDRP), Health Services and Resource Administration, California Department of Health Care Services, California Tobacco Control Program, and the Office of Health Equity. One of her research studies is to develop a culturally specific commercial tobacco prevention program for AIAN youth and to implement policy initiatives among Tribal communities in CA. She is also addressing the opioid epidemic in AIAN communities with a statewide needs assessment (https://ipr.usc.edu/) and the evaluation of medications for opioid use disorder (MOUD) programs in Indian Health Programs. Dr. Soto is a longtime advocate for the AI/AN communities and other priority populations to advance health equity and reduce health disparities.
My unique contribution of research, teaching, and service are aligned with the KSOM vision to embrace and build excellence by enhancing racial diversity, equity, and inclusion.