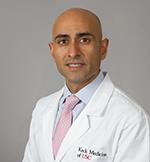 Amit Kochhar, MD
Clinical Assistant Professor of Otolaryngology -Head & Neck Surgery (Clinican Educator)
CHP 204M 1540 Alcazar St.
Health Sciences Campus
Los Angeles
Dr. Amit Kochhar provides consultation for surgical management of the aging face and nasal airway, hair transplantation, and minimally invasive procedures for facial rejuvenation using laser, pulsed light, ultrasound, and radiofrequency energy. In addition to his expertise in facial rejuvenation, Dr. Kochhar is one of a select few surgeons who perform complex (microvascular) head and neck surgical reconstruction. He performs these procedures following cancer resections and facial trauma, as well as for the rehabilitation of facial paralysis, an area in which he has specific clinical expertise and research interest. Dr. Kochhar has published over 20 peer reviewed articles and book chapters on the management of facial nerve disorders, head and neck reconstruction, facial trauma and rhinoplasty.

In addition to his clinical duties caring for patients, and teaching residents, he continues to perform research and present at national meetings. He is excited to bring his unique combination of aesthetic and reconstructive surgical techniques to the patients of Southern California. His training in facial plastic and reconstructive surgery has provided him with a diverse skill set that he can provide to each patient. He believes that each patient has unique experiences and perspectives that shape their goals of treatment. Thus, he strives to learn about his patients in depth and create a plan of care that meets each of their individual needs.
Emerging Trends in Nasal Surgery: What Is the Impact of a Bioabsorbable Nasal Implant? Laryngoscope. 2020 Jan 10.. View in PubMed
Analysis of the operative utilization of concurrent rhinoplasty and endoscopic sinus surgery Laryngoscope. 2019 May 11. . View in PubMed
Regarding: A prospective study for treatment of nasal valve collapse due to lateral wall insufficiency: Outcomes using a bioabsorbable implant Laryngoscope. 2019 07; 129(7):E227. . View in PubMed
Platelet-Rich Plasma for the Aesthetic Surgeon Facial Plast Surg. 2017 Aug; 33(4):437-443. . View in PubMed
White adipose tissue inflammation and cancer-specific survival in patients with squamous cell carcinoma of the oral tongue Cancer. 2016 Dec 15; 122(24):3794-3802. . View in PubMed
Ultrasound-guided alcohol neurolysis of lateral femoral cutaneous nerve for intractable meralgia paresthetica: a case series Br J Pain. 2016 Nov; 10(4):232-237. . View in PubMed
Transposition of the Intratemporal Facial to Hypoglossal Nerve for Reanimation of the Paralyzed Face: The VII to XII TranspositionTechnique JAMA Facial Plast Surg. 2016 Sep 01; 18(5):370-8. . View in PubMed
Facial Nerve and Parotid Gland Anatomy Otolaryngol Clin North Am. 2016 Apr; 49(2):273-84. . View in PubMed
A comparison of the rheologic properties of an adipose-derived extracellular matrix biomaterial, lipoaspirate, calcium hydroxylapatite, and cross-linked hyaluronic acid JAMA Facial Plast Surg. 2014 Nov-Dec; 16(6):405-9. . View in PubMed
p53 modulates Hsp90 ATPase activity and regulates aryl hydrocarbon receptor signaling Cancer Prev Res (Phila). 2014 Jun; 7(6):596-606. . View in PubMed
Impact of obesity on the survival of patients with early-stage squamous cell carcinoma of the oral tongue Cancer. 2014 Apr 01; 120(7):983-91. . View in PubMed
Tobacco smoke-induced immunologic changes may contribute to oral carcinogenesis J Investig Med. 2014 Feb; 62(2):316-23. . View in PubMed
Surgical management of complex midfacial fractures Otolaryngol Clin North Am. 2013 Oct; 46(5):759-78. . View in PubMed
Hospital-acquired conditions in head and neck cancer surgery Laryngoscope. 2013 Jul; 123(7):1660-9. . View in PubMed
Accelerating surgical training and reducing the burden of surgical disease in Haiti before and after the earthquake J Craniofac Surg. 2012 Nov; 23(7 Suppl 1):2028-32. . View in PubMed
Carnosol, a constituent of Zyflamend, inhibits aryl hydrocarbon receptor-mediated activation of CYP1A1 and CYP1B1 transcription and mutagenesis Cancer Prev Res (Phila). 2012 Apr; 5(4):593-602. . View in PubMed
Imaging correlation of children with DFNB1 vs non-DFNB1 hearing loss Otolaryngol Head Neck Surg. 2009 May; 140(5):665-9. . View in PubMed
SIX1 mutation screening in 247 branchio-oto-renal syndrome families: a recurrent missense mutation associated with BOR Hum Mutat. 2008 Apr; 29(4):565. . View in PubMed
Advances in Molecular and Cellular Therapies for Hearing Loss Mol Ther. 2008 Feb; 16(2):224-236. . View in PubMed
Advances in molecular and cellular therapies for hearing loss Mol Ther. 2008 Feb; 16(2):224-36. . View in PubMed
Branchio-oto-renal syndrome Am J Med Genet A. 2007 Jul 15; 143A(14):1671-8. . View in PubMed
Clinical aspects of hereditary hearing loss Genet Med. 2007 Jul; 9(7):393-408. . View in PubMed