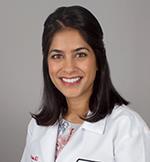 Avita K. Pahwa
Assistant Professor of Clinical Obstetrics and Gynecology
IRD 520 2020 Zonal Avenue
Health Sciences Campus
Los Angeles
Avita Pahwa, MD, is a fellowship trained Urogynecology specialist whose clinical interests involve pelvic floor disorders and the management of urinary incontinence, overactive bladder, fecal incontinence, pelvic organ prolapse, and benign conditions of the vagina and urethra. Her research interests include patient-specific treatment of fecal incontinence and physical activity effects on urinary incontinence.
Dr. Pahwa is happy to return to the LAC+USC Medical Center, where she completed her obstetrics and gynecology training and served as chief resident.

Philosophy of Care:
Women's health concerns such as incontinence and pelvic organ prolapse are sensitive topics that are often understandably difficult to discuss, not only with family but also with your doctor. I look to change that, giving patients the time they need to openly communicate their feelings and medical concerns. I am honored to take care of women throughout all stages of their adult life and seek to provide the best patient-centered, evidence-based care that keeps each individual's health goals in mind.
University of Pennsylvania : Chief Fellow, Division of Urogynecology, 2015-2016
LAC+USC Medical Center: Nurses Choice Award, Department of Obstetrics & Gynecology, 2013
LAC+USC Medical Center : Chief Resident, Department of Obstetrics & Gynecology, 2012-2013
LAC+USC Medical Center : Resident Leadership Award, Department of Obstetrics & Gynecology, 2012-2013
LAC+USC Medical Center : Peer Physician Award, "Physician selected by your peers to be their personal physician", Department, 2012-2013
LAC+USC Medical Center: Nurses Choice Award, Department of Obstetrics & Gynecology , 2012
LAC+USC Medical Center: Nurses Choice Award, Department of Obstetrics & Gynecology, 2010
LAC+USC Medical Center : Daniel R. Mishell Outstanding Teaching Award, Department of Obstetrics & Gynecology, 2010
: National Medical Association OB/GYN Scholarship Award Recipient , 2009
Comparison of Anorectal Manometry Testing in Left Lateral and Lithotomy Positions Female Pelvic Med Reconstr Surg. 2018 Oct 19. . View in PubMed
Comparison of Patient Impact and Clinical Characteristics Between Urgency and Passive Fecal Incontinence Phenotypes Female Pelvic Med Reconstr Surg. 2018 Jul 03. . View in PubMed
Barriers to Exercise Among Women With Urgency Urinary Incontinence: Patient and Provider Perspectives Female Pelvic Med Reconstr Surg. 2018 Jul/Aug; 24(4):301-306. . View in PubMed
Randomized controlled trial of 2% lidocaine gel versus water-based lubricant for multi-channel urodynamics Int Urogynecol J. 2018 09; 29(9):1297-1302. . View in PubMed
Noctural Enuresis as a Risk Factor for Falls in Older Community Dwelling Women with Urinary Incontinence J Urol. 2016 May; 195(5):1512-1516. . View in PubMed
Management of arterial and venous hemorrhage during sacrospinous ligament fixation: cases and review of the literature Int Urogynecol J. 2016 Mar; 27(3):387-91. . View in PubMed
Physical examination of the female internal and external genitalia with and without pelvic organ prolapse: A review Clin Anat. 2015 Apr; 28(3):305-13. . View in PubMed