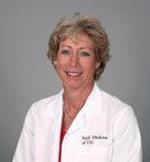 Bonnie Olsen
Professor of Clinical Family Medicine
Vice Chair for Research
Family Medicine
HSA Unit 22 A-6 6414 1000 S. Fremont Avenue
Health Sciences Campus
Alhambra
Contact
Comprehensive Older Adult and Caregiver Help (COACH): A person-centered caregiver intervention prevents elder mistreatment J Am Geriatr Soc. 2023 Oct 04. . View in PubMed
Contextual Factors Associated with Abuse of Home-Dwelling Persons with Dementia: A Cross-Sectional Exploratory Study of Informal Caregivers Int J Environ Res Public Health. 2023 Feb 05; 20(4). . View in PubMed
Abusive episodes among home-dwelling persons with dementia and their informal caregivers: a cross-sectional Norwegian study BMC Geriatr. 2022 11 12; 22(1):852. . View in PubMed
Clinician Perspectives on Group Visits for Advance Care Planning Among Caregivers and Older Adult Patients With Heart Failure J Am Board Fam Med. 2021 Mar-Apr; 34(2):375-386. . View in PubMed
Impact of group visits for older patients with heart failure on advance care planning outcomes: Preliminary data J Am Geriatr Soc. 2021 10; 69(10):2908-2915. . View in PubMed
Feasibility of Group Visits for Advance Care Planning Among Patients with Heart Failure and Their Caregivers J Am Board Fam Med. 2021 Jan-Feb; 34(1):171-180. . View in PubMed
The Abuse Intervention Model: A Pragmatic Approach to Intervention for Elder Mistreatment J Am Geriatr Soc. 2016 09; 64(9):1879-83. . View in PubMed
Bonnie Olsen, Ph.D. is a clinical psychologist with extensive experience as a geropsychologist, working in academic medicine for over 17 years. She provides mental health and cognitive assessment and short-term treatment in a collaborative treatment model with several primary care physicians and as a leader in our interprofessional Geriatric Assessment Clinic.

As the Vice Chair of Academic Affairs in the Department of Family Medicine at the Keck School of Medicine at USC, Dr. Olsen is also involved in a number of research grants that focus on elder abuse education and prevention that include: "When the going gets tough: Educating Caregivers"; "Take AIM Against Elder Abuse: The Abuse Intervention Model"; the Elder Abuse Forensic Telemedicine Project; the Geriatrics Workforce Enhancement Program; and the National Center on Elder Abuse.

In 2009, she was awarded the Gold Humanism Honor Society's Gold Star Award for Humanism in delivery of health care and has remained dedicated to community service throughout her career.
Dr. Olsen has a member of the Board of Directors of InnovAge, a nonprofit senior health and wellness services center, and was Vice Chair on the Board of Directors of the Alzheimer's Family Services Center in Huntington Beach, California from 2012-2013. Dr. Olsen is a passionate advocate and expert for the prevention of elder abuse and has guest lectured throughout the country on the topic.