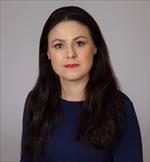 Delia Udrea, MS, MFT
Clinical Instructor of Psychiatry and the Behavioral Sciences
Psychiatry and The Behavioral Sciences
HCT 1652 1520 San Pablo Street
Health Sciences Campus
Los Angeles
Delia C. Udrea, MS, MFT is a psychotherapist at the outpatient clinic of USC Department of Psychiatry and the Behavioral Sciences. She has strong clinical experience not only in private practice, but also in working as a clinician in psychiatric hospitals in Los Angeles and Ventura County.

Delia C. Udrea, MS, MFT is a member of International OCD Foundation (IOCDF), a Behavior Therapy Training Institute (BTTI) graduate and she received training with Albert Ellis Institute for Rational Emotive Behavior Therapy. Her specialty areas are treatment for Anxiety Disorders (OCD, GAD) and Mood Disorders. She is trained in treatment strategies such as CBT, ERP and REBT.

She is committed to creating a warm, nurturing therapeutic environment, conducive to helping clients gain insight, become agents of change, acquire clarity of mind and empowerment.