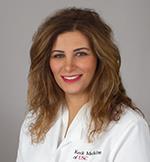 Huda Khaleel
Clinical Assistant Professor of Medicine (Part-Time)
Medicine
2020 Zonal Avenue, IRD 323
Health Sciences Campus
Los Angeles
Contact
Kaplan Test Prep: Kaplan Medical honor society for academic excellence in USMLE exams , 2008
Kaplan Test Prep: Kaplan Medical honor society for academic excellence in USMLE exams, 2008
Reducing Catheter-associated Urinary Tract Infections via Cost-saving Diagnostic Stewardship Clin Infect Dis. 2021 06 01; 72(11):e883-e886. . View in PubMed
Huda Khaleel, MD, specializes in internal medicine. Her primary professional focus is the general medical care of hospitalized patients. Her activities include patient care, teaching, research and leadership related to hospital medicine.

She strives to create a strong and trustworthy doctor-patient relationship. This relationship creates an optimal environment for a patient's understanding of his or her medical condition or disease and helps increase the patient's compliance when he or she leaves the hospital.

Patient satisfaction comes first on her list. She always relays the medical information in an effective, respectful and caring way. She has a very compassionate bedside manner. She believes that her patients have the right to make their own choices and to take actions based on their personal values/beliefs.