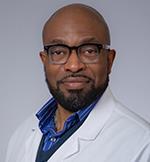 Jamlik Omari Johnson
Professor of Clinical Radiology
Interim Chair of Radiology
Associate Dean for Faculty Professional and Leadership Development
Medicine
1520 San Pablo St.
Health Sciences Campus
Los Angeles
Contact
Jamlik-Omari Johnson MD, FASER is an eminent clinician, professor of radiology and emergency medicine, the inaugural Vice-Chair for Diversity, Equity and Inclusion at Emory Department of Radiology and Imaging Sciences, and the chief of radiology at Emory Midtown Hospital. He completed his undergraduate degree with honors from Brown University in Healthcare Organization and Policy, medical school at University of Pennsylvania and completed his surgical internship and radiology training at Columbia University.

Following training, he ventured into private practice in the emergency teleradiology domain. In addition to his clinical focus on trauma, emergency and acute care imaging, he was involved in quality, client relations and strategic practice growth. He was recruited into the academic arena and spent four years on faculty at Massachusetts General Hospital (MGH) and Harvard University. In addition to honing his clinical skills, he ignited his research interests and completed a two-year, multi-disciplinary leadership intensive sponsored by MGH/Harvard.

Dr Johnson was recruited to Emory University to develop and to lead the nascent emergency and trauma imaging division. As the inaugural division director, he oversaw the growth of the clinical group to over 20 faculty covering five hospitals across the enterprise 24/7/365. Dr Johnson lead the transformation of emergency radiology from an ad-hoc radiologist coverage pool to a fully integrated, academic radiology sub-specialty. Throughout his private practice and academic career, Jamlik-Omari has championed the recognition of emergency imaging as an essential radiology subspecialty and closely partnered with his clinical colleagues in the emergency department. His research and operational efforts focus on process improvement, systems' efficiencies and efficacies, and equitable delivery of healthcare services. He served as the fellowship director for five years, integrated resident education to the division's mission and fostered research collaborations within the group, across the University and beyond. He has become a nationally recognized leader in the organization and advocacy of emergency radiology.

Passionate, engaged and impactful about mentoring, professional and leadership development, and fostering inclusive environments for patients, learners, educators, researchers, administrators, and clinicians, Dr Johnson is a change agent for institutional transformation and now regularly lectures about health equity and leadership essentials. He is the President of the American Society of Emergency Radiology (ASER) and is also an active member in several other national radiology organizations.