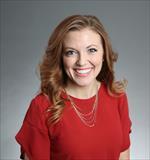 Jennifer Michelle Ramos, MPAP, PA-C
Clinical Instructor of Family Medicine (Clinician Educator)
HSA Unit 7 A-11 163 1000 S. Fremont Avenue
Off Campus
Alhambra
Jennifer Ramos, PA-C, MPAP, is a Clinical Instructor of Family Medicine at the Primary Care Physician Assistant Program at the Keck School of Medicine of USC. Having graduated from the program herself, Mrs. Ramos is devoted to teaching and working with students to help them in their didactic and clinical courses.

Mrs. Ramos also works as a Hematology Oncology Physician Assistant at Children's Hospital Los Angeles, where she has been for the past 9 years since graduating from USC. In this role, she works with a team of 7 PAs, 29 MDs and 15 NPs to provide comprehensive care for this special population of children. Since graduating from USC, she has also worked Gastroenterology and Family Practice.

A member of the American Academy of Physician Assistants, Mrs. Ramos is committed to advocacy and being involved in her surrounding community. In the past, she has served as a patient advocate, a volunteer educator and a high school teacher.