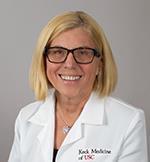 Kim Bader, MD
Director of Gynecology Clinic;Clinical Assistant Professor of Obstetrics & Gynecology (Part-Time)
Dr Kim Bader, received her BA In Psychology at SUNY at Buffalo. She receieved her MD degree from KSOM. She then did Internship and residency at Womens Hospital at LAC/USC. After that she went into Private practice in La Canada, where she chaired the Department of Ob/Gyn and was on numerous executive Committees. She was then recruited to join the Faculty of KSOM Department of OB/GYN by her Mentor Dr. Dan Mishell.

She brings a unique perspective to the department of OB/GYN, having been in both academic practice and clinical practice. She is a committed educator to both students, residents, and of course it all starts with her patients. Her underlying philosophy of treating all with dignity and respect is her guiding principle in all aspects of medicine.

She also is active in community Volunteer work at organizations such as Homeboys Industries, Big Sibs/Little Sibs and Water Buffalo Club.

Her talents as a clinical educator are apparent as evidenced by her teaching awards below.
: Honorary Induction to AOA, 2016
: APGO excellence in Teaching Award, 2015
: Year 3-Outstanding Teaching in Year 3, 2013
: APGO excellence in Teaching Award, 2013
: Year 2- Outstanding teachingProfessionalism and the Practice of Medicine, 2010
: Year 1 Outstanding teaching Intro to Clinical Medicine - 2010, 2010