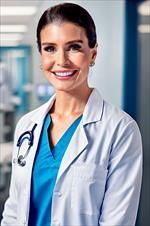 Laura Ainsley Huettner
Clinical Assistant Profesor of Family Medicine (Practitioner)
Advanced Practice Provider Lead
Family Medicine
HCT 1300 1520 San Pablo Street
Health Sciences Campus
Los Angeles
Contact
Nutrition Care for Poorly Nourished Outpatients Reduces Resource Use and Lowers Costs J Prim Care Community Health. 2021 Jan-Dec; 12:21501327211017014. . View in PubMed
Novel link between inflammation and impaired glucose transport during equine insulin resistance Vet Immunol Immunopathol. 2012 Oct 15; 149(3-4):208-15. . View in PubMed
Laura Huettner, PA-C is an Instructor of Clinical Family Medicine. Specialized in primary care, she is focused on preventive care and managing chronic illnesses including diabetes and hypertension. She sees patients of all ages, and is also involved with the Geriatric Assessment Clinic. Her knowledge of medical Spanish helps her work closely with some non-English speaking patients

Ms. Huettner graduated from the Primary Care Physician Assistant Program at the Keck School of Medicine in 2015. She is NCCPA board certified, and is a member of the American Academy of Physician Assistants and the California Academy of Physician Assistants.

Ms. Huettner also has been an invited lecturer and completed a peer-reviewed journal article.