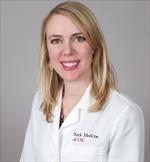 Leah Muhm Lin
Clinical Assistant Professor of Radiology (Part-Time)
Body Imaging
UNH 2nd Floor
Health Sciences Campus
Los Angeles
Contact
Image Predictors of Treatment Outcome after Thoracic Aortic Dissection Repair Radiographics. 2018 Nov-Dec; 38(7):1949-1972. . View in PubMed
Hepatic angiosarcoma with clinical and histological features of Kasabach-Merritt syndrome World J Gastroenterol. 2017 Apr 07; 23(13):2443-2447. . View in PubMed
A correlative study of aortic valve rotation angle and thoracic aortic sizes using ECG gated CT angiography Eur J Radiol. 2017 Apr; 89:60-66. . View in PubMed
Computed Tomographic Diagnosis of Myocardial Fat Deposits in Sarcoidosis J Comput Assist Tomogr. 2015 Jul-Aug; 39(4):578-83. . View in PubMed
Imaging appearance in acute liver failure: correlation with clinical and pathology findings Dig Dis Sci. 2014 Aug; 59(8):1987-95. . View in PubMed
Dr. Lin grew up in Rochester, MN and Scottsdale, AZ. She earned her B.A. Magna Cum Laude from Bowdoin College in Brunswick, ME, her M.D. degree from Jefferson Medical College in 2008 in Philadelphia, PA, completed her Diagnostic Radiology Residency in 2013 at Kaiser Permanente Los Angeles, and completed her Fellowship in Cardiothoracic Imaging and Intervention at USC in 2014. She then joined the faculty of USC's Department of Radiology as Assistant Professor of Clinical Radiology. Her clinical and research interests include lung cancer, lung cancer screening, interstitial lung disease and vascular imaging. In addition to interpreting chest x-rays, CT and MRI, she performs thoracic interventions including percutaneous CT-guided lung biopsies. Teaching is one of her passions, and she teaches cardiothoracic fellows, radiology residents, and medical students in both the clinical and lecture settings.

Dr. Lin is the Director of the USC Lung Cancer Screening program, the Director of the Cardiothoracic Imaging and Intervenion Fellowship, and the Associate Section Chief of Cardiothoracic Imaging.

Dr. Lin has presented multiple lectures, education exhibits, and posters at national meetings and is a member of the Society of Thoracic Radiology, Radiological Society of North America, and American Roentgen Ray Society.