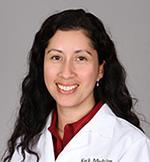 Linda Calvillo King, MD, MPH, MSCS
Clinical Assistant Professor of Medicine (Part-Time)
IRD 2020 Zonal Ave
Off Campus
Los Angeles
Dr. Calvillo-King has a special interest in preventive medicine, chronic disease management and making transitions from the hospital safe in an effort to improve her patient's quality of life. Dr. Calvillo-King joined the faculty at University of Southern California (USC) in 2014 and maintains a private practice in general internal medicine on the USC Health Sciences Campus.

Dr. Calvillo-King received her B.S. from the University of California, Los Angeles (UCLA) in 2000 and her M.D. from Harvard Medical School in 2005. She received her MPH from Harvard School of Public Health in 2005 and has worked in the health policy field to improve population health outcomes. She completed internship and residency training at the University of Texas, Southwestern Medical Center in Dallas (UTSW) from 2005-2008.

Dr. Calvillo-King was on faculty at UTSW from 2008-2014. At UTSW she was involved in medical student and resident education, both in the classroom and clinical settings. She was a National Institute of Health (NIH) health services research scholar working to improve patient health outcomes in the hospital and while in transition between healthcare settings.
University of Southern California: Chancellor Service Award, 2000
: Mortar Board Honor Society Member, Member, 1999-2000
Impact of social factors on risk of readmission or mortality in pneumonia and heart failure: systematic review J Gen Intern Med. 2013 Feb; 28(2):269-82. . View in PubMed
Predicting risk of perioperative death and stroke after carotid endarterectomy in asymptomatic patients: derivation and validation of a clinical risk score Stroke. 2010 Dec; 41(12):2786-94. . View in PubMed