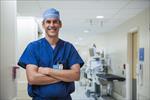 Michael J. Mulick
Clinical Assistant Professor of Anesthesiology (Part-Time)
Medicine
CHL Mail Stop 3
Off Campus
Los Angeles
Contact
When Everything Clicks into Place: How Foreign Travel Can Make You a Better Doctor The Whitecoat Investor. 2023. . View in PubMed
Outside the Operating Room: Climbing Denali (Part 2) Society for Pediatric Anesthesia. 2015; 28(3). . View in PubMed
Outside the Operating Room: Climbing Denali Society for Pediatric Anesthesia. 2014; 27(3). . View in PubMed
Michael Mulick is a pediatric cardiac anesthesiologist at Children's Hospital Los Angeles. He is a fellow of the Academy of Wilderness Medicine and is the director of Wilderness Medicine at the University of Southern California where he holds a faculty appointment.

A Chicago native, he received his DO from AZCOM/Midwestern University. He trained at Yale-New Haven hospital in anesthesiology and completed a fellowship in pediatric anesthesiology at Seattle Children's Hospital/University of Washington and a fellowship in pediatric cardiac anesthesiology at Children's Hospital Los Angeles/USC. He has been on the anesthesiology and critical care faculty at Children's Hospital Los Angeles/USC since 2013.

Dr. Mulick leads a life dedicated to service and adventure. He has visited over 60 countries, worked for Doctors Without Borders (South Sudan, Nigeria), and climbed three of the seven summits (Aconcagua, Denali, Kilimanjaro). In medical school, he studied, with the Himalayan Rescue Association (Nepal), the effects of ginkgo biloba and diamox on climbers ascending to Mt. Everest. He also worked as a physician for a year in New Zealand.

Dr. Mulick surfs, plays piano, and is currently writing a book about living in an RV for a year with his wife and two kids.