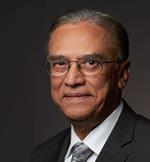 Narsing A Rao, MD
Professor and Chair of Ophthalmology;Grace and Emery Beardsley Chair in Ophthalmology;Co-Director of the Roski Eye Institute
1450 SAN PABLO ST STE 4900
Off Campus
Los Angeles
Dr. Rao is Professor of Ophthalmology and Pathology at the Keck School of Medicine and Director of Uveitis Service. He is involved in the treatment of inflammatory ocular diseases affecting the uveal tract, vitreous, retina and sclera.

He has received numerous honors and awards for his research endeavors on ocular inflammatory diseases from Research to Prevent Blindness and the National Institute of Health.

He delivered several named lectures including visiting professorship at Harvard University, Johns Hopkins University, Yale university, Washington university, University of California, San Francisco, University of Paris, France, Moorefields Eye Institute, London, University of Rome, Italy, Tokyo Medical University, Kyushu University in Fukoka , Japan and University of Sydney.

Dr. Rao has published over 375 peer reviewed articles in the United States and in international journals, four books on ophthalmic diseases.

For his outstanding contributions to Ophthalmology, he was awarded Lorenz E. Zimmerman medal from American Academy of Ophthalmology, Ramon L. Font medal from Pan American Society of Ophthalmology, International Ocular Inflammation Society Award and award from European Vision and Eye Research Association in 2006. Recently he was selected to receive a prestigious international medal, Bietti medal from International Council of Ophthalmology.
Castle Connolly Medical Ltd. : America's Top Doctors, 2011
International Council of Ophthalmology: Bietti medal, 2008
: Award from European Vision and Eye Research Association, 2006
Pan American Society of Ophthalmology: Ramon L. Font medal, 2005
: International Ocular Inflammation Society Award, 2005
American Academy of Ophthalmology: Lorenz E. Zimmerman medal , 2002
Histopathologic Assessment of Optic Nerves and Retina From a Patient With Chronically Implanted Argus II Retinal Prosthesis System Transl Vis Sci Technol. 2019 May; 8(3):31. . View in PubMed
Evaluation of Retinal Pigment Epithelium Layer Change in Vogt-Koyanagi-Harada Disease With Multicontrast Optical Coherence Tomography Invest Ophthalmol Vis Sci. 2019 08 01; 60(10):3352-3362. . View in PubMed
Comparison of surgical outcomes of trabeculectomy, Ahmed shunt, and Baerveldt shunt in uveitic glaucoma J Ophthalmic Inflamm Infect. 2018 Jun 18; 8(1):9. . View in PubMed
Am J Ophthalmol Case Rep. 2018 Jun; 10:77-80. . View in PubMed
Clinicopathologic Features of Tuberculous Serpiginous-like Choroiditis JAMA Ophthalmol. 2018 Feb 01; 136(2):219-221. . View in PubMed
Distinguishing Features of Ocular Sarcoidosis in an International Cohort of Uveitis Patients Ophthalmology. 2018 01; 125(1):119-126. . View in PubMed
Coexisting Phacoanaphylaxis and Choroidal Melanoma: An Unusual Intraocular Inflammation Ocul Immunol Inflamm. 2018; 26(8):1278-1282. . View in PubMed
INTRAVENOUS IMMUNOGLOBULIN IN THE TREATMENT OF JUVENILE RETINITIS PIGMENTOSA-ASSOCIATED CYSTOID MACULAR EDEMA AND UVEITIS Retin Cases Brief Rep. 2018 Summer; 12(3):242-246. . View in PubMed
Infections and Inflammation Occurring in the Subretinal Space Ocul Immunol Inflamm. 2018; 26(3):329-332. . View in PubMed
Diagnosis of Ocular Tuberculosis Ocul Immunol Inflamm. 2018; 26(2):208-216. . View in PubMed
Acute hypotony maculopathy following the initiation of a topical aqueous suppressant in a patient with a history of panuveitis without prior filtering surgery Am J Ophthalmol Case Rep. 2017 Sep; 7:95-98. . View in PubMed
A Glistening Lens Ophthalmol Retina. 2017 May - Jun; 1(3):255. . View in PubMed
Imaging in tuberculosis-associated uveitis Indian J Ophthalmol. 2017 Apr; 65(4):264-270. . View in PubMed
Choroidal neovascularization secondary to tuberculosis: Presentation and management Am J Ophthalmol Case Rep. 2017 Apr; 5:124-129. . View in PubMed
Malignant solitary fibrous tumor of the orbit: Spectrum of histologic features Am J Ophthalmol Case Rep. 2017 Apr; 5:7-10. . View in PubMed
Eye examination for early diagnosis of disseminated tuberculosis in patients with AIDS Lancet Infect Dis. 2016 Apr; 16(4):493-9. . View in PubMed
Comprehensive polymerase chain reaction assay for detection of pathogenic DNA in lymphoproliferative disorders of the ocular adnexa Sci Rep. 2016 11 10; 6:36621. . View in PubMed
Anterior Segment Ischemia in Viper Bite Ocul Immunol Inflamm. 2016; 24(1):49-54. . View in PubMed
Clinical and laboratory characteristics of ocular syphilis: a new face in the era of HIV co-infection J Ophthalmic Inflamm Infect. 2015 Dec; 5(1):56. . View in PubMed
Diagnostic and therapeutic challenges Retina. 2014 Jun; 34(6):1247-52. . View in PubMed
Good visual outcome after repair of a very large macular hole with neurosensory retinal operculum Retin Cases Brief Rep. 2014; 8(2):138-40. . View in PubMed
Choroidal atrophy and loss of choriocapillaris in convalescent stage of Vogt-Koyanagi-Harada disease: in vivo documentation J Ophthalmic Inflamm Infect. 2014; 4:9. . View in PubMed
A 49-year-old man with unilateral, nontender left eyelid swelling Digit J Ophthalmol. 2014; 20(1):15-9. . View in PubMed
Expression of vascular endothelial growth factor in eyes with Coats' disease Invest Ophthalmol Vis Sci. 2013 Jan 07; 54(1):57-62. . View in PubMed
Longitudinal morphometric analysis of epiretinal membrane in patients with uveitis Ocul Immunol Inflamm. 2013; 21(1):2-7. . View in PubMed
Immunopathologic processes in sympathetic ophthalmia as signified by microRNA profiling Invest Ophthalmol Vis Sci. 2012 Jun 28; 53(7):4197-204. . View in PubMed
Early surgical debridement in the management of infectious scleritis after pterygium excision J Ophthalmic Inflamm Infect. 2012 Jun; 2(2):81-7. . View in PubMed
Associations among visual acuity and vision- and health-related quality of life among patients in the multicenter uveitis steroid treatment trial Invest Ophthalmol Vis Sci. 2012 Mar; 53(3):1169-76. . View in PubMed
Anti-tubercular treatment is not required in latent tuberculosis Br J Ophthalmol. 2012 Mar; 96(3):463. . View in PubMed
Expression of a-crystallin in the retina of human sympathetic ophthalmia Mol Med Rep. 2012 Feb; 5(2):395-9. . View in PubMed
First international assembly of ocular inflammation societies hosted by Uveitis Society of India Indian J Ophthalmol. 2012 Jan-Feb; 60(1):3. . View in PubMed
Long-term, multicenter evaluation of subconjunctival injection of triamcinolone for non-necrotizing, noninfectious anterior scleritis Ophthalmology. 2011 Oct; 118(10):1932-7. . View in PubMed
Increased expression of aA-crystallin in human diabetic eye Int J Mol Med. 2011 Oct; 28(4):505-11. . View in PubMed
Eosinophilic variant of Wegener granulomatosis in the orbit Arch Ophthalmol. 2011 Sep; 129(9):1238-40. . View in PubMed
Diagnostic and therapeutic challenges Retina. 2011 Sep; 31(8):1732-9. . View in PubMed
Isolated uveal tuberculoma masquerading as an intraocular tumor in an immunocompetent patient-a clinical-pathologic study with diagnosis by PCR J Ophthalmic Inflamm Infect. 2011 Jun; 1(2):81-4. . View in PubMed
Adult-onset asthma and severe periocular xanthogranuloma: a case report Ophthalmic Plast Reconstr Surg. 2011 May-Jun; 27(3):e63-4. . View in PubMed
An unusual manifestation of herpes simplex virus-associated acute iris depigmentation and pigmentary glaucoma Arch Ophthalmol. 2011 Feb; 129(2):253-4. . View in PubMed
Local ischemia and increased expression of vascular endothelial growth factor following ocular dissemination of Mycobacterium tuberculosis PLoS One. 2011; 6(12):e28383. . View in PubMed
Journal of Ophthalmic Inflammation and Infection: why a new journal on ocular inflammation? J Ophthalmic Inflamm Infect. 2010 Nov 10; 1(1):1-2.. View in PubMed
Dark hypopyon in Streptococcus bovis endogenous endophthalmitis: clinicopathologic correlations J Ophthalmic Inflamm Infect. 2010 Oct 30; 1(1):39-41. . View in PubMed
Chronic coccidioidomycosis endophthalmitis without concomitant systemic involvement: a clinicopathological case report Ophthalmology. 2010 Sep; 117(9):1839-42. . View in PubMed
Exfoliating goblet cell hyperplasia mimicking pterygium: a clinicopathological case report Int Ophthalmol. 2010 Aug; 30(4):421-3. . View in PubMed
Clinical features of tuberculous serpiginouslike choroiditis in contrast to classic serpiginous choroiditis Arch Ophthalmol. 2010 Jul; 128(7):853-8. . View in PubMed
Changing causes of enucleation over the past 60 years Graefes Arch Clin Exp Ophthalmol. 2010 Apr; 248(4):593-7. . View in PubMed
Frequency of distinguishing clinical features in Vogt-Koyanagi-Harada diseaseOphthalmology. 2010 Mar; 117(3):591-9599. e1. . View in PubMed
Experimental ocular tuberculosis in guinea pigs Arch Ophthalmol. 2009 Sep; 127(9):1162-6. . View in PubMed
Expression of alpha-crystallins in human sebaceous carcinoma of the eyelid Eur J Ophthalmol. 2009 Sep-Oct; 19(5):702-7. . View in PubMed
Atypical infectious nodular scleritis Arch Ophthalmol. 2009 Aug; 127(8):1079-80. . View in PubMed
International criteria for the diagnosis of ocular sarcoidosis: results of the first International Workshop On Ocular Sarcoidosis (IWOS) Ocul Immunol Inflamm. 2009 May-Jun; 17(3):160-9. . View in PubMed
Expression of heat shock protein 27 and alpha-crystallins in human retinoblastoma after chemoreduction Br J Ophthalmol. 2009 Apr; 93(4):541-4. . View in PubMed
Alopecia areata during etanercept therapy Ocul Immunol Inflamm. 2009 Mar-Apr; 17(2):127-9. . View in PubMed
Expression of alpha-crystallin in retinoblastoma Arch Ophthalmol. 2009 Feb; 127(2):187-92. . View in PubMed
Immunohistochemical study of chronic nongranulomatous anterior uveitis in juvenile idiopathic arthritis Ophthalmology. 2008 Oct; 115(10):1833-6. . View in PubMed
Interferon-gamma release assays in the diagnosis of tuberculous uveitis Am J Ophthalmol. 2008 Oct; 146(4):486-8. . View in PubMed
KIR and HLA gene combinations in Vogt-Koyanagi-Harada disease Hum Immunol. 2008 Jun; 69(6):349-53. . View in PubMed
Immunopathology of necrotising scleritis Br J Ophthalmol. 2008 Mar; 92(3):417-9. . View in PubMed
Elevated retina-specific expression of the small heat shock protein, alphaA-crystallin, is associated with photoreceptor protection in experimental uveitis Invest Ophthalmol Vis Sci. 2008 Mar; 49(3):1161-71. . View in PubMed
Comment on the recent publication "Conjunctival nodules associated with Vogt-Koyanagi-Harada disease" Graefes Arch Clin Exp Ophthalmol. 2008 Feb; 246(2):323; author reply 325-6. . View in PubMed
Editorial Ophthalmic Res. 2008; 40(3-4):113-4. . View in PubMed
Granuloma annulare anterior uveitis Ocul Immunol Inflamm. 2008 Jan-Feb; 16(1):55-7. . View in PubMed
International Uveitis Study Group (IUSG): clinical classification of uveitis Ocul Immunol Inflamm. 2008 Jan-Feb; 16(1):1-2. . View in PubMed
Intraocular tuberculosis--an update Surv Ophthalmol. 2007 Nov-Dec; 52(6):561-87. . View in PubMed
Keloid of the conjunctiva simulating a conjunctival malignancy Br J Ophthalmol. 2007 Sep; 91(9):1251-2. . View in PubMed
Deposition of exon-skipping splice isoform of human retinal G protein-coupled receptor from retinal pigment epithelium into Bruch's membrane Mol Vis. 2007 Jul 19; 13:1203-14. . View in PubMed
Lemon juice and Candida endophthalmitis in crack-cocaine misuse Br J Ophthalmol. 2007 May; 91(5):702-3. . View in PubMed
Direct detection of reactive nitrogen species in experimental autoimmune uveitis Korean J Ophthalmol. 2007 Mar; 21(1):21-7. . View in PubMed
Differences in clinical findings between Caucasians and African Americans with biopsy-proven sarcoidosis Ophthalmology. 2007 Feb; 114(2):325-33. . View in PubMed
Conjunctival epithelium in pars plana vitrectomy specimens Retina. 2007 Jan; 27(1):55-8. . View in PubMed
Aetiological, clinical and metabolic profile of hypokalaemic periodic paralysis in adults: a single-centre experience Natl Med J India. 2006 Sep-Oct; 19(5):246-9. . View in PubMed
Evaluation of the effect on outcomes of the route of administration of corticosteroids in acute Vogt-Koyanagi-Harada disease Am J Ophthalmol. 2006 Jul; 142(1):119-24. . View in PubMed
Comparative study of two sets of criteria for the diagnosis of Vogt-Koyanagi-Harada disease Am J Ophthalmol. 2006 Apr; 141(4):778-9; author reply 779. . View in PubMed
Ab interno trabeculectomy: development of a novel device (Trabectome) and surgery for open-angle glaucoma J Glaucoma. 2006 Feb; 15(1):68-73. . View in PubMed
Evaluation of subconjunctival triamcinolone for nonnecrotizing anterior scleritis Ophthalmology. 2005 Oct; 112(10):1814-20. . View in PubMed
Atypical presentation of multiple evanescent white dot syndrome involving granular lesions of varying size Am J Ophthalmol. 2005 May; 139(5):935-7. . View in PubMed
Initial evaluation of subcutaneous daclizumab treatments for noninfectious uveitis: a multicenter noncomparative interventional case series Ophthalmology. 2005 May; 112(5):764-70. . View in PubMed
Histopathologic features of conjunctival filtering blebs Arch Ophthalmol. 2005 Feb; 123(2):166-70. . View in PubMed
Endoretinal biopsy in establishing the diagnosis of uveitis: a clinicopathologic report of three cases Ocul Immunol Inflamm. 2005 Feb; 13(1):79-83. . View in PubMed
Bartonella henselae infection presenting as a unilateral panuveitis simulating Vogt-Koyanagi-Harada syndrome Am J Ophthalmol. 2004 Dec; 138(6):1063-5. . View in PubMed
HLA-DRB1 and -DQB1 alleles in mestizo patients with Vogt-Koyanagi-Harada's disease in Southern California Hum Immunol. 2004 Dec; 65(12):1477-82. . View in PubMed
Lattice corneal dystrophy associated with the Ala546Asp and Pro551Gln missense changes in the TGFBI gene Am J Ophthalmol. 2004 Nov; 138(5):772-81. . View in PubMed
Human leukocyte antigen A29 subtypes associated with birdshot retinochoroidopathy Am J Ophthalmol. 2004 Oct; 138(4):631-4. . View in PubMed
Limited macular translocation: a clinicopathologic case report Ophthalmology. 2004 Jun; 111(6):1209-14. . View in PubMed
An unusual clinical phenotype of Avellino corneal dystrophy associated with an Arg124His beta iG-H3 mutation in an African-American woman Am J Ophthalmol. 2004 Apr; 137(4):765-7. . View in PubMed
Effects of a new dexamethasone-delivery system (Surodex) on experimental intraocular inflammation models Graefes Arch Clin Exp Ophthalmol. 2003 Nov; 241(11):927-33. . View in PubMed
Detection of histoplasma capsulatum DNA in lesions of chronic ocular histoplasmosis syndrome Arch Ophthalmol. 2003 Nov; 121(11):1551-5. . View in PubMed
Bilateral neuroretinopathy with multiple retinal arterial aneurysms Arch Ophthalmol. 2003 Aug; 121(8):1206-7. . View in PubMed
Conjunctival ulcers in Behçet's disease Ophthalmology. 2003 Jun; 110(6):1137-41. . View in PubMed
Late-onset bacterial endophthalmitis following glaucoma drainage implantation Ophthalmic Surg Lasers Imaging. 2003 Mar 01; 34(2):128-30. . View in PubMed
Late-onset bacteria endophthalmitis following glaucoma drainage implantation Ophthalmic Surg Lasers Imaging. 2003 Mar-Apr; 34(2):128-30. . View in PubMed
Histopathology of corneal melting associated with diclofenac use after refractive surgery J Cataract Refract Surg. 2003 Feb; 29(2):250-6. . View in PubMed
Highly selective inhibitor of inducible nitric oxide synthase enhances S-antigen-induced uveitis Curr Eye Res. 2003 Jan; 26(1):1-7. . View in PubMed
Association of herpesviruses in the aqueous humor of patients with serpiginous choroiditis: a polymerase chain reaction-based study Ocul Immunol Inflamm. 2002 Dec; 10(4):253-61. . View in PubMed
Lymphoepithelial carcinoma of the lacrimal gland Arch Ophthalmol. 2002 Dec; 120(12):1745-8. . View in PubMed
Cytomegalovirus retinitis in the era of combined highly active antiretroviral therapy Ophthalmol Clin North Am. 2002 Dec; 15(4):529-36viii. . View in PubMed
Diagnosis of toxoplasmic retinochoroiditis with atypical clinical features Am J Ophthalmol. 2002 Aug; 134(2):196-203. . View in PubMed
An assessment of polymorphonuclear leukocyte rigidity in HIV-infected individuals after immune recovery Invest Ophthalmol Vis Sci. 2002 Jun; 43(6):1857-61. . View in PubMed
A prospective evaluation of subconjunctival injection of triamcinolone acetonide for resistant anterior scleritis Ophthalmology. 2002 Apr; 109(4):798-805; discussion 805-7. . View in PubMed
Clinicopathological report of cerebroocular myopathy syndrome Am J Ophthalmol. 2002 Apr; 133(4):559-61. . View in PubMed
Detection of docosahexaenoic acid hydroperoxides in retina by gas chromatography/mass spectrometry Methods Mol Biol. 2002; 186:29-35. . View in PubMed