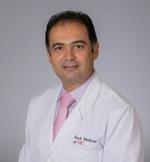 Nima Momenin
Assistant Professor of Clinical Radiology
Radiology
1500 San Pablo St.
Health Sciences Campus
Los Angeles
Contact
Radiology Society of North America Research & Education Foundation: Roentgen Resident/Fellow Research Award in Recognition of Outstanding Radiologic Research, 2016
Wayne State University: Resident Research Award, 2015
Brunner gland hamartoma, ACR case in point 2018. . View in PubMed
Splenic and mediastinal sarcoidosis, ACR case in point 2017. . View in PubMed
Is a sonographic Murphy's sign grading system helpful? Oral presentation at Wayne State University Resident Research Night. 2015. . View in PubMed
Unilateral twin ectopic pregnancy, ACR case in point 2015. . View in PubMed
Is Bullet trajectography important? Oral presentation at RSNA annual meeting. 2014.. View in PubMed
Right-Sided tension pneumothorax secondary to Boerhaave's syndrome Emergency Radiology. 2014; 21:431–471. . View in PubMed
Low pleural fluid-to-serum glucose gradient indicates pleuroperitoneal communication in peritoneal dialysis patients: presentation of two cases and a review of the literature Nephrol Dial Transplant. 2012 Mar; 27(3):1212-9. . View in PubMed
Voice recognition versus transcriptionist for radiology reporting and progress in report quality over time Oral presentation at RSNA annual meeting. 2012. . View in PubMed
Vitamin D-dependent rickets type II: report of a novel mutation in the vitamin D receptor gene Arch Iran Med. 2008 May; 11(3):330-4. . View in PubMed
Dr. Momenin is certified in diagnostic radiology by the American Board of Radiology with subspecialty training in abdominal imaging. He received his medical degree from Shahid Beheshti University of Medical Sciences in Tehran. He completed transitional year internship and diagnostic radiology residency at Wayne State University in Detroit, Michigan. Then completed abdominal imaging fellowship at Cleveland Clinic in Ohio. After fellowship Dr. Momenin has been assistant professor of radiology in the abdominal section of academic institutions; University of California, Davis Medical Center and University Hospitals of Cleveland/Case Western Reserve University.

Dr. Momenin currently is an assistant professor of radiology in the body section of department of radiology at keck school of medicine at the university of southern California. He attends on the abdominal imaging services at the Los Angeles County-USC hospital, Norris Cancer Center, and Keck Medical Center.

His primary duties include interpretation abdominal imaging studies (CT, MRI, and plain film radiographs), interpretation ultrasound examinations (head/neck, soft tissues, abdominal, and pelvic, as well as contrast-enhanced ultrasound), performing Gastrointestinal and Genitourinary fluoroscopic studies, ultrasound and CT guided procedures. Also, he involves in mentoring and teaching fellows, residents, and medical students on service. In addition, his research interests focusing on gastrointestinal, genitourinary, and oncologic imaging. He has presented his research at national and international meetings including Radiological Society of North America and American Society of Emergency Radiology from which he has received honors such as Roentgen Resident/Fellow Research Award from RSNA.