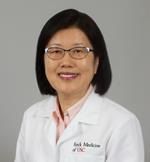 Osun Kwon, MD
Associate Professor of Clinical Medicine
IRD 813 2020 Zonal Ave.
Health Sciences Campus
Los Angeles
Dr. Kwon's areas of research interest are tubular and vascular pathogenesis of ischemic acute kidney injury and repair, mechanism of reduction in renal solute clearance in acute kidney injury and chronic kidney disease, and bio markers of acute kidney injury and chronic kidney disease.

Dr. Kwon earned her medical degree from Kyung-Hee University College of Medicine. She then went on to complete her PhD in Medicine/Pharmacokinetics, followed by a Nephrology Fellowship at Stanford University School of Medicine.

Dr. Kwon's clinical areas of expertise:

MULTIORGAN TRANSPLANT CLINIC

Dr. Kwon served as a leading transplant physician in academic medical centers across the country. She has extensive experience in the care of patients with kidney and multiple organ transplants. She has published extensively on post-transplant kidney injury recovery.
Kyung-Hee University College of Medicine: The Best Alumnus 2006, 2007
Kyung-Hee University College of Medicine: Summa Cum Laude, 1981
Single dose of alemtuzumab induction with steroid-free maintenance immunosuppression in pancreas transplantation Transplantation. 2011 Sep 27; 92(6):678-85. . View in PubMed
Bone marrow-derived endothelial progenitor cells and endothelial cells may contribute to endothelial repair in the kidney immediately after ischemia-reperfusion J Histochem Cytochem. 2010 Aug; 58(8):687-94. . View in PubMed
Simultaneous monitoring of multiple urinary cytokines may predict renal and patient outcome in ischemic AKI Ren Fail. 2010 Jul; 32(6):699-708. . View in PubMed
Outcomes of transplantation of single pediatric renal allografts equal to or more than 6 cm in length Transplantation. 2010 Mar 27; 89(6):710-3. . View in PubMed
Diminished NO generation by injured endothelium and loss of macula densa nNOS may contribute to sustained acute kidney injury after ischemia-reperfusion Am J Physiol Renal Physiol. 2009 Jan; 296(1):F25-33. . View in PubMed
Renal organic anion transporter 1 is maldistributed and diminishes in proximal tubule cells but increases in vasculature after ischemia and reperfusion Am J Physiol Renal Physiol. 2008 Dec; 295(6):F1807-16. . View in PubMed
Preservation of peritubular capillary endothelial integrity and increasing pericytes may be critical to recovery from postischemic acute kidney injury Am J Physiol Renal Physiol. 2008 Aug; 295(2):F351-9. . View in PubMed
Netrin-1 and kidney injuryII. Netrin-1 is an early biomarker of acute kidney injury. Am J Physiol Renal Physiol. 2008 Apr; 294(4):F731-8. . View in PubMed
Alteration in renal organic anion transporter 1 after ischemia/reperfusion in cadaveric renal allografts J Histochem Cytochem. 2007 Jun; 55(6):575-84. . View in PubMed
An anti-inflammatory and antioxidant nutritional supplement for hypoalbuminemic hemodialysis patients: a pilot/feasibility study J Ren Nutr. 2005 Jul; 15(3):318-31. . View in PubMed
Urinary actin, interleukin-6, and interleukin-8 may predict sustained ARF after ischemic injury in renal allografts Am J Kidney Dis. 2003 May; 41(5):1074-87. . View in PubMed
Ischemia induces alterations in actin filaments in renal vascular smooth muscle cells Am J Physiol Renal Physiol. 2002 Jun; 282(6):F1012-9. . View in PubMed
Creatinine reduction ratio and 24-hour creatinine excretion on posttransplant day two: simple and objective tools to define graft function J Am Soc Nephrol. 2002 Jun; 13(6):1645-9. . View in PubMed
Determinants of hypofiltration during acute renal allograft rejection J Am Soc Nephrol. 2002 Mar; 13(3):773-8. . View in PubMed