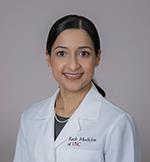 Priya Jayachandran
Assistant Professor of Clinical Medicine
Director of LAC Breast Medical Oncology and Genomics
Medicine
1520 San Pablo St.
Health Sciences Campus
Los Angeles
Contact
Prognostic impact of performance status on the outcomes of immune checkpoint inhibition strategies in patients with dMMR/MSI-H metastatic colorectal cancer Eur J Cancer. 2022 Sep; 172:171-181. . View in PubMed
Genetic variants involved in the cGAS-STING pathway predict outcome in patients with metastatic colorectal cancer: Data from FIRE-3 and TRIBE trials Eur J Cancer. 2022 Sep; 172:22-30. . View in PubMed
Germline Polymorphisms in Genes Involved in the Antioxidant System Predict the Efficacy of Cetuximab in Metastatic Colorectal Cancer Patients Enrolled in FIRE-3 Trial Clin Colorectal Cancer. 2022 May 23. . View in PubMed
Disease characterization in liquid biopsy from HER2-mutated, non-amplified metastatic breast cancer patients treated with neratinib NPJ Breast Cancer. 2022 Feb 18; 8(1):22. . View in PubMed
Ascites and resistance to immune checkpoint inhibition in dMMR/MSI-H metastatic colorectal and gastric cancers J Immunother Cancer. 2022 02; 10(2). . View in PubMed
Germline polymorphisms in genes maintaining the replication fork predict the efficacy of oxaliplatin and irinotecan in patients with metastatic colorectal cancer Br J Cancer. 2022 01; 126(1):72-78. . View in PubMed
Molecular characteristics and clinical outcomes of patients with Neurofibromin 1-altered metastatic colorectal cancer Oncogene. 2022 01; 41(2):260-267. . View in PubMed
fdrci: FDR confidence interval selection and adjustment for large-scale hypothesis testing Bioinform Adv. 2022; 2(1):vbac047. . View in PubMed
Clinical Significance of Circulating Tumor Cell Induced Epithelial-Mesenchymal Transition in Patients with Metastatic Colorectal Cancer by Single-Cell RNA-Sequencing Cancers (Basel). 2021 Sep 28; 13(19). . View in PubMed
Clinical Pharmacokinetics of Oral Sodium Selenite and Dosing Implications in the Treatment of Patients with Metastatic Cancer Drugs R D. 2021 Jun; 21(2):169-178. . View in PubMed
Nomogram to predict the outcomes of patients with microsatellite instability-high metastatic colorectal cancer receiving immune checkpoint inhibitors J Immunother Cancer. 2021 08; 9(8). . View in PubMed
Germ line polymorphisms of genes involved in pluripotency transcription factors predict efficacy of cetuximab in metastatic colorectal cancer Eur J Cancer. 2021 06; 150:133-142. . View in PubMed
A Mechanistic In Vivo/Ex Vivo Pharmacokinetic-Pharmacodynamic Model of Tenofovir for HIV Prevention CPT Pharmacometrics Syst Pharmacol. 2021 03; 10(3):179-187. . View in PubMed
Multidisciplinary sarcoma tumor board: adolescent and young adult soft tissue sarcoma-myxoid liposarcoma and alveolar soft part sarcoma Chin Clin Oncol. 2020 Oct; 9(5):67. . View in PubMed
Results from a Phase 1 Study of Sodium Selenite in Combination with Palliative Radiation Therapy in Patients with Metastatic Cancer Transl Oncol. 2019 Nov; 12(11):1525-1531. . View in PubMed
SATB2 and CDX2 are prognostic biomarkers in DNA mismatch repair protein deficient colon cancer Mod Pathol. 2019 07; 32(8):1217-1231. . View in PubMed
Loss of SATB2 Expression in Colorectal Carcinoma Is Associated With DNA Mismatch Repair Protein Deficiency and BRAF Mutation Am J Surg Pathol. 2018 10; 42(10):1409-1417. . View in PubMed
Immune Reconstitution Inflammatory Syndrome in Patients with AIDS and Disseminated Coccidioidomycosis: A Case Series and Review of the Literature J Int Assoc Provid AIDS Care. 2017 Nov/Dec; 16(6):540-545. . View in PubMed
Repeat Courses of Stereotactic Radiosurgery (SRS), Deferring Whole-Brain Irradiation, for New Brain Metastases After Initial SRS Int J Radiat Oncol Biol Phys. 2015 Aug 01; 92(5):993-999. . View in PubMed
Smad4 inactivation predicts for worse prognosis and response to fluorouracil-based treatment in colorectal cancer J Clin Pathol. 2015 May; 68(5):341-5. . View in PubMed
LEF-1 is frequently expressed in colorectal carcinoma and not in other gastrointestinal tract adenocarcinomas: an immunohistochemical survey of 602 gastrointestinal tract neoplasms Appl Immunohistochem Mol Morphol. 2014 Nov-Dec; 22(10):728-34. . View in PubMed
Postchemoradiotherapy positron emission tomography predicts pathologic response and survival in patients with esophageal cancer Int J Radiat Oncol Biol Phys. 2012 Oct 01; 84(2):471-7. . View in PubMed
Clinicopathologic and molecular features of sporadic early-onset colorectal adenocarcinoma: an adenocarcinoma with frequent signet ring cell differentiation, rectal and sigmoid involvement, and adverse morphologic features Mod Pathol. 2012 Aug; 25(8):1128-39. . View in PubMed
BRAF-mutated, microsatellite-stable adenocarcinoma of the proximal colon: an aggressive adenocarcinoma with poor survival, mucinous differentiation, and adverse morphologic features Am J Surg Pathol. 2012 May; 36(5):744-52. . View in PubMed
Sex disparities in postoperative outcomes after neurosurgical intervention: findings from the UMEND project Neurosurgery. 2012 Apr; 70(4):959-64; discussion 964. . View in PubMed
Postoperative outcomes following closed head injury and craniotomy for evacuation of hematoma in patients older than 80 years J Neurosurg. 2012 Jan; 116(1):234-45. . View in PubMed
Interfractional uncertainty in the treatment of pancreatic cancer with radiation Int J Radiat Oncol Biol Phys. 2010 Feb 01; 76(2):603-7. . View in PubMed
Dr. Jayachandran specializes in Breast Medical Oncology. She is an Assistant Professor of Clinical Medicine at Keck and also serves as the Director of Breast Medical Oncology and Genomics at the LAC+USC Medical Center. She graduated from Stanford University and the University of Michigan Medical School before completing her residency in Internal Medicine at UCSF Fresno and fellowship in Hematology/Oncology at USC. She is active in research with a focus on clinical trials, translational studies, biomarkers, and improving access to care. She enjoys teaching fellows, residents, and medical students.