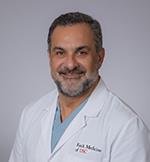 Ramyar Mahdavi
Clinical Associate Professor of Medicine (Clinician Educator)
Medicine
IRD 720 2020 Zonal Avenue
Off Campus
Los Angeles
Contact
37-year-old man • cough • increasing shortness of breath • pleuritic chest pain • Dx? J Fam Pract. 2021 04; 70(3):143-149.. View in PubMed
Comparison of Sample Adequacy and Diagnostic Yield of 19- and 22-G EBUS-TBNA Needles J Bronchology Interv Pulmonol. 2018 Oct; 25(4):264-268. . View in PubMed
A 55-Year-Old Man with a Trachea Undressed Ann Am Thorac Soc. 2017 07; 14(7):1212-1215. . View in PubMed
Resident performed two-point compression ultrasound is inadequate for diagnosis of deep vein thrombosis in the critically III J Thromb Thrombolysis. 2014 Apr; 37(3):298-302. . View in PubMed
Successful use of noninvasive ventilation in pregnancy Eur Respir Rev. 2014 Mar 01; 23(131):142-4. . View in PubMed
Focused renal sonography performed and interpreted by internal medicine residents J Ultrasound Med. 2013 Nov; 32(11):2007-12. . View in PubMed
Agreement between SPECT V/Q scan and CT angiography in patients with high clinical suspicion of PE Ann Nucl Med. 2013 Nov; 27(9):834-8. . View in PubMed
Carotid stenting and bivalirudin with and without vascular closure: 3-year analysis of procedural outcomes Catheter Cardiovasc Interv. 2010 Feb 15; 75(3):420-6. . View in PubMed
My interest is providing care for patients with benign and malignant central airway obstruction, lung cancer and diseases of the pleura. My goal is to provide expeditious care in a multidisciplinary fashion with outstanding communication to both the patient and the referring physicians.

In addition to airway obstruction from malignancy, an interventional pulmonary specialist treats non-malignant central airway obstruction due to diseases such as tracheal or sub-glottic stenosis, tracheobronchomalacia, relapsing polychondritis, relapsing respiratory papillomatosis, Wegener's granulomatosis and foreign body removal.

Patients with lung nodules or masses as well as hilar and mediastinal adenopathy are evaluated and treated in a multidisciplinary approach with members of interventional pulmonology, medical oncology, thoracic surgery and radiation oncology.