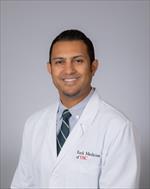 Ravi Shankar
Clinical Associate Professor of Medicine (Practitioner)
Medicine
1520 San Pablo St.
Health Sciences Campus
Los Angeles
Contact
Los Angeles Magazine: LA Top Doc Award, 2022
Los Angeles Magazine: LA Top Doc Award, 2020
Los Angeles Magazine: LA Top Doc Award, 2018
Dr Ravi Shankar is a Clinical Associate Professor of Medicine and specializes in Hematology/Oncology. He completed his Internal Medicine Residency at the Cedars-Sinai Medical Center, and from there he went on to pursue his specialty in Hematology/Oncology at Harbor-UCLA Medical Center in Torrance, CA. Dr. Shankar has been in practice as an Oncologist since 2014, initially primarily as a clinician seeing the breadth of benign and malignant hematology conditions as well as solid malignancies. He has had a profound interest in clinical research throughout his career and has taken an active role in the research programs in his previous positions. Further, he has had a keen interest in academics and has given multiple didactic talks to the Oncology nursing staff, been the primary speaker at a Genetics CME to community physicians, and also presented a Ground Rounds lecture on Breast Cancer. Is it because of these latter two interests that Dr Shankar chose to make the transition from a community practice to this academic role. In his free time, he enjoys spending time with his wife and three young and rambunctous children.