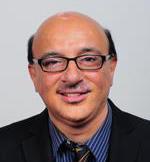 Raymond Waliany, MD
Clinical Assistant Professor of Family Medicine (Part-Time);Medical Director, PA Program
HSA Unit 7 A-11 168 1000 S. Fremont Avenue
Health Sciences Campus
Alhambra
Raymond Waliany, M.D. is currently serving as Medical Director and Assistant Professor of Family Medicine at the Keck School of Medicine of the University of Southern California. Dr. Waliany was born and raised in South Asia, where he also received his medical education. He did one year of residency from 1989 to 1990 at Oak Forest Hospital, Illinois in Geriatric and Chronic Disease where he received the best Resident Award. In 1990, he started his internship in Internal Medicine at Cook County Hospital in Chicago. From 1991 to 1993, he completed his residency in Internal Medicine at LAC-USC Medical Center. He then completed three years of fellowship in Hematology/Oncology from 1993 to 1996 at LAC-USC Medical Center. Dr. Waliany worked in the Emergency Room at LAC-USC Medical Center from 1994 to 2006 and in the Emergency Room/Urgent Care at California Hospital from 1998 to 2012. He also extensively worked in Primary Care Medicine from 1996 to 2008.
Since December 2008, Dr. Waliany has also worked as the Medical Director of the Correctional Treatment Center in the Los Angeles County Sheriff's Department. Since being appointed to this position, he has made numerous positive changes in the Medical Services Bureau at the Sheriff's Department, where he is also the Chairperson of the Peer Review Committee. He has received three awards by the Sheriff's Department for his outstanding services, the most recent one awarded on July 2012. On August 23, 2012, Dr. Waliany was promoted as Chief Physician II at the Los Angeles County Sheriff's Department.
Dr. Waliany has also done volunteer services, including speaking in inner city churches on medical subjects. Last year, he provided his services as part of the Baker to Vegas medical team. He is a physician, teacher and an administrator who loves to practice and teach medicine.