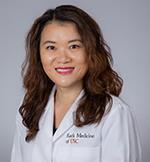 Sandy Zhang-Nunes
Associate Professor of Clinical Ophthalmology
Chief of Oculofacial Plastics Services
Ophthalmology
HC4 4900 1450 San Pablo Street
Health Sciences Campus
Los Angeles
Contact
Sarnoff Foundation Research Award: American Neurological Association Travel Award, 2005
: Howard Hughes Medical Research Fellowship Award, 2005
: Phi Beta Kappa Honor Society, 2003
: Community Connection Award for Leadership in Alternative Spring Break, 2003
: Sigma Xi Honor Society, 2003
: Hans-Lukas Teuber Award for Outstanding Research and Academics in Brain and Cognitive Sciences, 2003
: MIT Excellent Academic Record, 2002
: Olympus Titan Award, 1999
: National Beta Club Scholarship, 1999
: Discover Card Scholarship, 1999
: National Merit Scholar, 1999
: Zonta Club Scholarship, 1999
Ultrahigh field (7T) MRI for assessment of orbitofacial structures Orbit. 2022 May 23; 1. . View in PubMed
Clinical activity of PD-1 inhibition in the treatment of locally advanced or metastatic basal cell carcinoma J Immunother Cancer. 2022 05; 10(5). . View in PubMed
Focused ultrasound stimulation on meibomian glands for the treatment of evaporative dry eye Exp Biol Med (Maywood). 2022 03; 247(6):519-526. . View in PubMed
Lateral orbital wall anomaly in a patient with thyroid eye disease Orbit. 2021 Aug 17; 1-4. . View in PubMed
Imaging of the post-operative orbit and associated complications J Clin Neurosci. 2021 Jul; 89:437-447. . View in PubMed
Thyroid eye disease with choroidal folds Orbit. 2021 Jun; 40(3):206-214. . View in PubMed
Prospective in vivo evaluation of three different hyaluronic acid gels to varying doses of hyaluronidase with long-term follow-up J Plast Reconstr Aesthet Surg. 2021 Apr; 74(4):874-880. . View in PubMed
Response of twelve different hyaluronic acid gels to varying doses of recombinant human hyaluronidase J Plast Reconstr Aesthet Surg. 2021 Apr; 74(4):881-889. . View in PubMed
Safety and Efficacy of an Augmented Intense Pulse Light Protocol for Dry Eye Syndrome and Blepharitis Photobiomodul Photomed Laser Surg. 2021 Mar; 39(3):178-184. . View in PubMed
Evaluating the Safety and Efficacy of a Topical Formulation Containing Epidermal Growth Factor, Tranexamic Acid, Vitamin C, Arbutin, Niacinamide and Other Ingredients as Hydroquinone 4% Alternatives to Improve Hyperpigmentation: A Prospective, Randomized, Controlled Split Face Study J Cosmet Sci. 2020 Sep/Oct; 71(5):263-290. . View in PubMed
Organogenesis and distribution of the ocular lymphatic vessels in the anterior eye JCI Insight. 2020 07 09; 5(13). . View in PubMed
Clinical Update on Checkpoint Inhibitor Therapy for Conjunctival and Eyelid Melanoma Int Ophthalmol Clin. 2020; 60(2):77-89. . View in PubMed
Optic Neuropathy due to an Ethmoid Mucocele: A Case Report and Literature Review Case Rep Ophthalmol. 2019 May-Aug; 10(2):227-234. . View in PubMed
Evolving Minimally Invasive Techniques for Tear Trough Enhancement Ophthalmic Plast Reconstr Surg. 2015 Jul-Aug; 31(4):306-9. . View in PubMed
Minimally invasive options for the brow and upper lid Facial Plast Surg Clin North Am. 2015 May; 23(2):153-66. . View in PubMed
Minimally invasive surgical adjuncts to upper blepharoplasty Facial Plast Surg Clin North Am. 2015 May; 23(2):137-51. . View in PubMed
Characterization and outcomes of repeat orbital decompression for thyroid-associated orbitopathy Orbit. 2015 Apr; 34(2):57-65. . View in PubMed
Late adult onset optic pathway astrocytoma J Clin Neurosci. 2013 Nov; 20(11):1610-2. . View in PubMed
Late central visual recovery after traumatic globe displacement into the maxillary sinus Ophthalmic Plast Reconstr Surg. 2012 Jan-Feb; 28(1):e17-9. . View in PubMed
A novel approach to clinical-radiological correlations: Anatomo-Clinical Overlapping Maps (AnaCOM): method and validation Neuroimage. 2007 Oct 01; 37(4):1237-49. . View in PubMed
Homeostatic plasticity of GABAergic synaptic transmission in mice lacking GAT1 Biochem Biophys Res Commun. 2007 Sep 21; 361(2):499-504. . View in PubMed
Antibody-mediated clearance of amyloid-beta peptide from cerebral amyloid angiopathy revealed by quantitative in vivo imaging J Neurosci. 2007 Feb 21; 27(8):1973-80. . View in PubMed
AIDS dementia complex in China J Clin Neurosci. 2007 Jan; 14(1):8-11. . View in PubMed
Characterization of amyloid deposition in the APPswe/PS1dE9 mouse model of Alzheimer disease Neurobiol Dis. 2006 Dec; 24(3):516-24. . View in PubMed
The cerebral beta-amyloid angiopathies: hereditary and sporadic Brain Pathol. 2006 Jan; 16(1):30-9. . View in PubMed
Sandy X. Zhang-Nunes, MD, earned her undergraduate degrees at the Massachusetts Institute of Technology and her medical degree at the Johns Hopkins University School of Medicine. She then completed her ophthalmology residency at Jules Stein Eye Institute UCLA and completed a prestigious two-year American Society of Ophthalmic Plastic Surgery Fellowship based at Ophthalmic Surgeons and Consultants of Ohio in Columbus. Her clinical interests involve eyelid and eyebrow lifting surgeries for both cosmesis and functional reasons (blepharoplasty, ptosis surgery, endoscopic brow lifts), cosmetic lower eyelid, midface and full face surgery, reconstruction after Mohs (tumor) excisions, orbital disease, such as thyroid eye disease, tumors, fractures, eyelid malpositions from aging and congenital anomalies, blepharospasm and hemifacial spasm, cosmetic laser and light therapy, Botox and fillers.

Dr. Zhang-Nunes treats each patient with care, addressing concerns to achieve the most natural and optimal results as possible. She also enjoys teaching, having published numerous articles in peer-reviewed journals and book chapters, as well as lecturing and presenting research nationally and internationally.

Dr. Zhang-Nunes's research focuses on patients with thyroid eye disease. She also conducts studies related to imaging of eyelid and orbital structures, comparison of cosmetic neurotoxins, and dissolution rate of various hyaluronic acid gel fillers. Dr. Zhang-Nunes performs blepharoplasty and brow surgery corrections and studies their clinical outcomes.