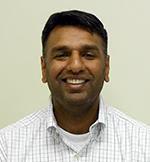 Srikumar Nair
Clinical Associate Professor of Pediatrics (Clinician Educator)
Pediatrics
CHLA 4650 W. Sunset Blvd.
Off Campus
Los Angeles
Contact
Infant with Asymmetric Crying Facies Neoreviews. 2023 01 01; 24(1):47-50. . View in PubMed
Compassionate extubation protocol to improve team communication and support in the neonatal intensive care unit J Perinatol. 2021 09; 41(9):2355-2362. . View in PubMed
The Adverse Impact of Unplanned Extubation in a Cohort of Critically Ill Neonates Respir Care. 2019 Dec; 64(12):1500-1507. . View in PubMed
Infant with Clinical Evidence of Pulmonary Hypoplasia: A Case Report Cureus. 2017 May 30; 9(5):e1298. . View in PubMed
Dr. Srikumar's research interests are in quality improvement and medical (simulation) education.