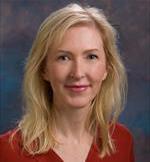 Wende Gibbs, MD
Assistant Professor of Clinical Radiology
HCT 1520 San Pablo St
Off Campus
Los Angeles
Dr. Gibbs joined the faculty in 2014 after completing a two-year neuroradiology fellowship at the Barrow Neurological Institute. At USC, Dr. Gibbs is the director of spine imaging and intervention and head of interventional neuroradiology at Norris Cancer Center. She is a member of the multidisciplinary spine oncology team and performs diagnostic and pain management procedures at Keck Hospital and LA County Hospital.

Dr. Gibbs has focused her research, service, and education efforts on spine imaging. She is a frequently invited speaker at national and international radiology society, national education, and multidisciplinary meetings, including RSNA, ASNR, ASSR, and WNRS. She has authored/coauthored multiple book chapters, peer-reviewed journal articles, and abstracts, scientific talks, and exhibits, receiving awards from RSNA and ASNR. Dr. Gibbs serves on the American Board of Radiology Neuroradiology Core Committee as well as the ASNR Education, CME, and Technical Exhibits Committees. She is on the executive committee of the American Society of Spine Radiology. She is a member of the AJNR editorial board as well as AJNR Podcast Editor and host. She is a reviewer for six journals and an abstract reviewer for five societies. In addition, Dr. Gibbs is a member of the American Coolege of Radiology committee for Image-guided Steroid Injection Practice standards and guidelines.

Dr. Gibbs is also interested in medical education and professionalism and ethics, having served on the California Medical Association Council on Ethical Affairs and University of California, Irvine Medical Ethics Committee. She is passionate about patient-centered imaging, patient safety, MRI safety at Keck Hospital and the outpatient imaging center, as well as radiology quality improvement, communication, and value. She has been voted a Los Angeles Top Doctor in 2017, and Pasadena Top Doctor in 2016 and 2017.
: Pasadena Top Doctor, 2017
: Los Angeles Top Doctor, 2017
: Ooops. Something went wrong., 2017
: Pasadena Top Doctor, 2016
: Ooops. Something went wrong., 2016
A new MRI tag-based method to non-invasively visualize cerebrospinal fluid flow Childs Nerv Syst. 2018 Sep; 34(9):1677-1682. . View in PubMed
A new MRI tag-based method to non-invasively visualize cerebrospinal fluid flow Childs Nerv Syst. 2018 Jun 06. . View in PubMed
Imaging Of Spinal Tumors: What The Surgeon And The Radiation Oncologist Want To Know American Roentgen Ray Society Annual Meeting Categorical Course: Oncologic Imaging, from Diagnosis to Cure. 2016. . View in PubMed
C1-2 Puncture: A Safe, Efficacious, and Potentially Underutilized Technique Neurographics. 2016. . View in PubMed
Imaging Spinal Infection Journal of Infectious Disease 2016;3(2):84-91. 2016. . View in PubMed
Conventional and Advanced Imaging of Spine Oncologic Disease, Non-Operative Post-Treatment Effects, & Unique Spinal Conditions Neurosurgery. 2016. . View in PubMed
The effects of SENSE on PROPELLER imaging Magn Reson Med. 2015 Dec; 74(6):1598-608. . View in PubMed
Revised motion estimation algorithm for PROPELLER MRI Magn Reson Med. 2014 Aug; 72(2):430-7. . View in PubMed
Pituitary Problem Solving with Modern Imaging Techniques Barrow Quarterly Vol 25, No 1, 2013. 2013. . View in PubMed
AIRP best cases in radiologic-pathologic correlation: cerebral fat embolism syndrome in sickle cell ß-thalassemia Radiographics. 2012 Sep-Oct; 32(5):1301-6. . View in PubMed
Bilateral lymphadenopathy in a young woman Proc (Bayl Univ Med Cent). 2008 Oct; 21(4):430-2. . View in PubMed
Diagnosis of congenital unicuspid aortic valve by 64-slice cardiac computed tomography Proc (Bayl Univ Med Cent). 2008 Apr; 21(2):139. . View in PubMed
Evaluation of a novel EEG preamplifier J Clin Neurophysiol. 2006 Jun; 23(3):258-64. . View in PubMed
Acute hemorrhagic leukoencephalitis: neuroimaging features and neuropathologic diagnosis J Comput Assist Tomogr. 2005 Sep-Oct; 29(5):689-93. . View in PubMed