Faculty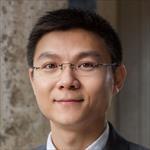 Back to Index
Zhongwei Li, PhD
Assistant Professor of Medicine and Stem Cell Biology and Regenerative Medicine
MMR 618 1333 San Pablo St.
Off Campus
Los Angeles
zhongwei.li@med.usc.edu
Overview
Organ transplantation saves lives. However, the gap between organ supply and organ demand is ever increasing. Kidneys account for more than 80% of the donor organs needed by patients awaiting transplantation. Thus, it is an urgent task to find ways to build transplantable kidneys. My research aims to bridge basic studies of kidney organogenesis and translational applications of stem/progenitor cell-based kidney regeneration and disease modeling, with the long-term goal of rebuilding the kidney. State-of-the-art stem cell technologies and engineering methodologies are combined in my research to achieve these goals.
Awards
Institute of Scientific and Technical Information of China (ISTIC): Top 100 Influential Research Articles in China (2012), 2013
Tsinghua University: Outstanding Ph.D. Thesis Award, 2012
Tsinghua University: Outstanding Ph.D. Graduate Award, 2012
Ray Wu Memorial Fund: Ray Wu Prize, 2012
City of Beijing: Outstanding Ph.D. Graduate Award, 2012
Johnson & Johnson: "Johnson & Johnson Asia Outstanding Thesis Award in Bio-tech", 1st Prize , 2012
Sichuan University: Outstanding Undergraduate Award, 2007
Sichuan University: Outstanding Undergraduate Thesis Award, 2007
Publications
. Derivation of Pluripotent Stem Cells with In Vivo Embryonic and Extraembryonic PotencyCell. 2017 Apr 06; 169(2):243-257. e25. View in: PubMed
. Activin/Smad2-induced Histone H3 Lys-27 Trimethylation (H3K27me3) Reduction Is Crucial to Initiate Mesendoderm Differentiation of Human Embryonic Stem Cells J Biol Chem. 2017 01 27; 292(4):1339-1350. View in: PubMed
. 3D Culture Supports Long-Term Expansion of Mouse and Human Nephrogenic Progenitors Cell Stem Cell. 2016 10 06; 19(4):516-529. View in: PubMed
. Activin Regulates Self-renewal and Differentiation of Trophoblast Stem Cells by Down-regulating the X Chromosome Gene Bcor J Biol Chem. 2015 Sep 04; 290(36):22019-29. View in: PubMed
. An alternative pluripotent state confers interspecies chimaeric competency Nature. 2015 May 21; 521(7552):316-21. View in: PubMed
. BMP induces cochlin expression to facilitate self-renewal and suppress neural differentiation of mouse embryonic stem cells J Biol Chem. 2013 Mar 22; 288(12):8053-60. View in: PubMed
. Functions of BMP signaling in embryonic stem cell fate determination Exp Cell Res. 2013 Jan 15; 319(2):113-9. View in: PubMed
. TGF-ß in Human Disease (Chapter 2) 2013. View in: PubMed
. Fine-tune of intrinsic ERK activity by extrinsic BMP signaling in mouse embryonic stem cells Protein Cell. 2012 Jun; 3(6):401-4. View in: PubMed
. Where PI3K/Akt meets Smads: the crosstalk determines human embryonic stem cell fate Cell Stem Cell. 2012 Mar 02; 10(3):231-2. View in: PubMed
. BMP4 Signaling Acts via dual-specificity phosphatase 9 to control ERK activity in mouse embryonic stem cells Cell Stem Cell. 2012 Feb 03; 10(2):171-82. View in: PubMed
. Smad2 mediates Activin/Nodal signaling in mesendoderm differentiation of mouse embryonic stem cells Cell Res. 2010 Dec; 20(12):1306-18. View in: PubMed
. Genome-wide mapping of SMAD target genes reveals the role of BMP signaling in embryonic stem cell fate determination Genome Res. 2010 Jan; 20(1):36-44. View in: PubMed