Faculty
Department of Family Medicine faculty members, both physicians and scientists, are world-renown in their subspecialties. Faculty members are passionate in their clinical care and research practices, as well as being mentors for medical students and trainees. The department also invests significant funds to provide protected time and lab space for junior faculty to perform research.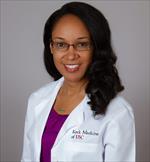 Renee Monique Poole, MD, MMM
Clinical Assistant Professor of Family Medicine (Clinician Educator)
1520 San Pablo Street
Health Sciences Campus
Los Angeles
Renee M. Poole, MD is a Board-Certified family physician bringing over 13 years of experience facilitating positive changes for all age groups in the disadvantaged and underserved community. Her core clinical expertise is in preventive medicine and effective management of chronic illnesses and conditions such as diabetes and hypertension.

"I am passionate about creating continuity of care with every family member and empowering individuals to modify their behaviors and improve their overall health, while integrating a holistic approach including the physical, mental and even spiritual in their care," shared Poole.

Poole is a certified physician executive, with a graduate degree in medical management from USC Marshall School of Business and has four years of junior executive level administration experience with a focus on quality and clinical operations improvement. Poole is a servant leader with a leadership style best described as objective focused, which enables providers and support staff alignment and collaboration.

Poole earned her undergraduate degree from University of California, Los Angeles and graduated from the Saint Louis University School of Medicine in 2005 with a distinction in community service. Thereafter, she completed her family medicine residency program at Advocate Christ Medical Center, Illinois, obtained her board certification in family medicine and was awarded the Degree of Fellow by the American Academy of Family Physicians. Poole has served as a part-time faculty member and clinical preceptor at the University of Chicago Pritzker School of Medicine and University of Southern California, Keck School of Medicine.

She is an active member Association of Black Women Physician, Alpha Kappa Alpha Sorority, Inc. and American Academy of Family Physicians. In her spare time, she enjoys traveling, the arts and volunteerism.