Faculty
Department of Surgery faculty members, both physicians and scientists, are world-renown in their subspecialties. Faculty members are passionate in their clinical care and research practices, as well as being mentors for medical students and trainees. The department also invests significant funds to provide protected time and lab space for junior faculty to perform research.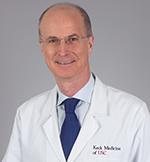 Namir Katkhouda
Professor of Surgery;Section Chief, Bariatric Surgery
1510 San Pablo St.
Health Sciences Campus
Los Angeles
Namir Katkhouda, MD, is a world authority in laparoscopic surgery, having pioneered the first laparoscopic vagotomy for the treatment of gastro duodenal ulcer disease. He is an innovator in the laparoscopic approach to advanced procedures, including liver surgery, aortic surgery, gastric resections, and hernia repair. He has written 100 peer-reviewed articles, presented over 250 scientific papers, written 100 book chapters, and published 3 books in the field of laparoscopic surgery. He has trained more than 800 surgeons on laparoscopic techniques worldwide and graduated 25 fellows in minimally invasive surgery.

Dr. Katkhouda offers his patients all laparoscopic approaches for weight loss surgery, including hand-sewn laparoscopic Roux-en-Y gastric bypass and revisional weight loss surgery. His current research includes virtual reality in laparoscopic surgery, minimally invasive approaches to bariatric surgery and research in the physiology of laparoscopic surgery.

Dr. Katkhouda came to the University of Southern California from France in 1993, and is currently a professor of surgery and chief of the Minimally Invasive Surgery Program in the department of surgery. He serves as a governor on the board of the Society of American Gastrointestinal Endoscopic Surgeons, and sits on the editorial board of many prestigious, peer-reviewed surgical journals. He is member of the Southwestern Surgical Congress, the European and French Society of Endoscopic Surgery, and is an honorary member of the Mexican and Asian Society of Laparoscopic Surgery. In addition, Dr. Katkhouda is a fellow of the American and French College of Surgeons. Dr. Katkhouda completed his medical degree at the University of Montpellier, France followed by his residency and fellowship at the University of Nice, School of Medicine, also in France. He was later appointed vice chairman and director of surgical endoscopy in the University's department of surgery. He received his board certification in surgery in 1987. Dr. Katkhouda was awarded, in 1997, France's highest honor and was made Knight of the French Legion of Honor for his important contributions in laparoscopic surgery.
Pasadena Magazine: Top Doctor, 2011
: Knighthood of the Legion of Honor, 2006
Safety and efficacy of robotic-assisted groin hernia repair J Robot Surg. 2020 Aug 10. . View in PubMed
Management of complex ventral hernias Hernia. 2020 Apr; 24(2):233-234. . View in PubMed
Management of lateral abdominal hernias Hernia. 2020 Apr; 24(2):353-358. . View in PubMed
Comment on "Objective Evidence of Reflux Control After Magnetic Sphincter Augmentation: 1 Year Results From a Post Approval Study" Ann Surg. 2020 Mar 27. . View in PubMed
Routine esophageal manometry is not useful in patients with normal videoesophagram Surg Endosc. 2019 05; 33(5):1650-1653. . View in PubMed
Impact of Gastric Banding Versus Metformin on ß-Cell Function in Adults With Impaired Glucose Tolerance or Mild Type 2 Diabetes Diabetes Care. 2018 12; 41(12):2544-2551. . View in PubMed
Gastric cancer in the young: An advanced disease with poor prognostic features J Surg Oncol. 2017 Mar; 115(4):371-375. . View in PubMed
Efficacy of magnetic sphincter augmentation in patients with large hiatal hernias Surg Endosc. 2017 05; 31(5):2096-2102. . View in PubMed
Requesting Patient Characteristics for Readmissions Noted in "Single-site Robotic Cholecystectomy in a Broadly Inclusive Patient Population: A Prospective Study" Ann Surg. 2017 04; 265(4):e34-e35. . View in PubMed
Post-Nissen Dysphagia and Bloating Syndrome: Outcomes After Conversion to Toupet Fundoplication J Gastrointest Surg. 2017 03; 21(3):441-445. . View in PubMed
A Durable Laparoscopic Technique for the Repair of Large Paraesophageal Hernias Am Surg. 2016 Oct; 82(10):911-915. . View in PubMed
Intraoperative assessment of the effects of laparoscopic sleeve gastrectomy on the distensibility of the lower esophageal sphincter using impedance planimetry Surg Endosc. 2016 11; 30(11):4904-4909. . View in PubMed
Charges, outcomes, and complications: a comparison of magnetic sphincter augmentation versus laparoscopic Nissen fundoplication for the treatment of GERD Surg Endosc. 2016 08; 30(8):3225-30. . View in PubMed
Lower omental t-regulatory cell count is associated with higher fasting glucose and lower ß-cell function in adults with obesity Obesity (Silver Spring). 2016 06; 24(6):1274-82. . View in PubMed
Percutaneous cholecystostomy versus laparoscopic cholecystectomy in patients with acute cholecystitis and failed conservative management: a matched-pair analysis Surg Laparosc Endosc Percutan Tech. 2014 Dec; 24(6):523-7. . View in PubMed
Magnetic sphincter augmentation with the LINX device for gastroesophageal reflux disease after US. Food and Drug Administration approval. Am Surg. 2014 Oct; 80(10):1034-8. . View in PubMed
Outcomes following laparoscopic transhiatal esophagectomy for esophageal cancer Surg Endosc. 2014 Feb; 28(2):492-9. . View in PubMed
Biologic versus nonbiologic mesh in ventral hernia repair: a systematic review and meta-analysis World J Surg. 2014 Jan; 38(1):40-50. . View in PubMed
Argon beam coagulation versus fibrin sealant for hemostasis following liver resection: a randomized study in a porcine model Hepatogastroenterology. 2013 Jul-Aug; 60(125):1110-6. . View in PubMed
Single-access laparoscopic cholecystectomy versus classic laparoscopic cholecystectomy: a systematic review and meta-analysis of randomized controlled trials Surg Laparosc Endosc Percutan Tech. 2013 Jun; 23(3):235-43. . View in PubMed
Thirty-day outcomes of laparoscopic versus open appendectomy in elderly using ACS/NSQIP database Surg Endosc. 2013 Apr; 27(4):1061-71. . View in PubMed
Minimally invasive surgical approach for the treatment of gastroparesis Surg Endosc. 2013 Jan; 27(1):61-6. . View in PubMed
Evaluation and treatment of patients with cardiac disease undergoing bariatric surgery Surg Obes Relat Dis. 2012 Sep-Oct; 8(5):634-40. . View in PubMed
Laparoscopic vs open appendectomy in obese patients: outcomes using the American College of Surgeons National Surgical Quality Improvement Program database J Am Coll Surg. 2012 Jul; 215(1):88-99; discussion 99-100. . View in PubMed
Meta-analysis of randomized trials comparing antibiotic therapy with appendectomy for acute uncomplicated (no abscess or phlegmon) appendicitis Surg Infect (Larchmt). 2012 Apr; 13(2):74-84. . View in PubMed
Laparoscopic versus open anterior abdominal wall hernia repair: 30-day morbidity and mortality using the ACS-NSQIP database Ann Surg. 2011 Oct; 254(4):641-52. . View in PubMed
Laparoscopic appendectomy: new concepts World J Surg. 2011 Jul; 35(7):1515-8. . View in PubMed
Laparoscopic versus open appendectomy for the obese patient: a subset analysis from a prospective, randomized, double-blind study Surg Endosc. 2011 Apr; 25(4):1276-80. . View in PubMed
Significant reduction of wound infections with daily probing of contaminated wounds: a prospective randomized clinical trial Arch Surg. 2011 Apr; 146(4):448-52. . View in PubMed
Fibrin glue for intraperitoneal laparoscopic mesh fixation: a comparative study in a swine model Surg Endosc. 2011 Mar; 25(3):737-48. . View in PubMed
Establishing an acute care surgery service: lessons learned from the epidemiology of emergent non-trauma patients and increasing utilization of laparoscopy J Trauma. 2010 Oct; 69(4):938-42. . View in PubMed
A new technique for minimally invasive abdominal wall reconstruction of complex incisional hernias: totally laparoscopic component separation and incisional hernia repair Surg Technol Int. 2010 Oct; 20:185-91. . View in PubMed
Single-port-access (SPA) cholecystectomy: a multi-institutional report of the first 297 cases Surg Endosc. 2010 Aug; 24(8):1854-60. . View in PubMed
In the era of routine use of CT scan for acute abdominal pain, should all adults with small bowel intussusception undergo surgery? Am Surg. 2009 Oct; 75(10):958-61.. View in PubMed
Prospective assessment of axial back pain symptoms before and after bariatric weight reduction surgery Spine J. 2009 Jun; 9(6):454-63. . View in PubMed
A new and standardized approach for trocar placement in laparoscopic Roux-en-Y gastric bypass Surg Endosc. 2009 Mar; 23(3):659-62. . View in PubMed
Obesity should not influence the management of appendicitis Surg Endosc. 2008 Dec; 22(12):2601-5. . View in PubMed
Application of fibrin glue after hepatectomy might still be justified Ann Surg. 2008 Feb; 247(2):399-400; author reply 400. . View in PubMed
Malpractice, standards and surgical journals Surg Endosc. 2006 Sep; 20(9):1339-40. . View in PubMed
Laparoscopic appendectomy significantly reduces length of stay for perforated appendicitis Surg Endosc. 2006 Mar; 20(3):495-9. . View in PubMed
Laparoscopic versus open appendectomy: a prospective, randomized, double-blind study Adv Surg. 2006; 40:1-19. . View in PubMed
Early ductal decompression versus conservative management for gallstone pancreatitis with ampullary obstruction: a prospective randomized clinical trial Ann Surg. 2006 Jan; 243(1):33-40. . View in PubMed
Laparoscopic versus open appendectomy: a prospective randomized double-blind study Ann Surg. 2005 Sep; 242(3):439-48; discussion 448-50. . View in PubMed
New hemostatic agents in general open and laparoscopic surgery Surg Technol Int. 2004; 13:65-70. . View in PubMed
A new technique for laparoscopic hernia repair using fibrin sealant Surg Technol Int. 2004; 12:120-6. . View in PubMed
Severe trauma is not an excuse for prolonged antibiotic prophylaxis Arch Surg. 2002 May; 137(5):537-41; discussion 541-2. . View in PubMed
André Toupet: surgeon technician par excellence Ann Surg. 2002 Apr; 235(4):591-9. . View in PubMed
Internal hernia as a complication of laparoscopic nissen fundoplication Surg Laparosc Endosc Percutan Tech. 2002 Apr; 12(2):115-6. . View in PubMed
Laparoscopic management of the perforated viscus Semin Laparosc Surg. 2002 Mar; 9(1):46-53. . View in PubMed
Laparoscopic splenectomy J Laparoendosc Adv Surg Tech A. 2001 Dec; 11(6):383-90. . View in PubMed
Healing of traumatic diaphragm injuries: comparison of laparoscopic versus open techniques in an animal model J Surg Res. 2001 Oct; 100(2):189-91. . View in PubMed
Selective nonoperative management in 1,856 patients with abdominal gunshot wounds: should routine laparotomy still be the standard of care? Ann Surg. 2001 Sep; 234(3):395-402; discussion 402-3.. View in PubMed
Predictors of response after laparoscopic splenectomy for immune thrombocytopenic purpura Surg Endosc. 2001 May; 15(5):484-8. . View in PubMed
Intraabdominal abscess rate after laparoscopic appendectomy Am J Surg. 2000 Dec; 180(6):456-9; discussion 460-1. . View in PubMed
Once more, with feeling: handoscopy or the rediscovery of the virtues of the surgeon's hand Surg Endosc. 2000 Nov; 14(11):985-6. . View in PubMed
Laparoscopic repair of chronic intrathoracic gastric volvulus Surgery. 2000 Nov; 128(5):784-90. . View in PubMed
Images of interestGastrointestinal: complications of fundoplication. J Gastroenterol Hepatol. 2000 Oct; 15(10):1221. . View in PubMed
Laparoscopic management of benign liver disease Surg Clin North Am. 2000 Aug; 80(4):1203-11. . View in PubMed
Laparoscopic splenectomy Surg Clin North Am. 2000 Aug; 80(4):1285-97. . View in PubMed
Management of duodenal perforation after endoscopic retrograde cholangiopancreatography and sphincterotomy Ann Surg. 2000 Aug; 232(2):191-8. . View in PubMed
Laparoscopic management of benign cystic lesions of the liver J Hepatobiliary Pancreat Surg. 2000; 7(2):212-7. . View in PubMed
Possibilities of laparoscopic liver resection J Hepatobiliary Pancreat Surg. 2000; 7(1):1-8. . View in PubMed
Is laparoscopic approach to lumbar spine fusion worthwhile? Am J Surg. 1999 Dec; 178(6):458-61.. View in PubMed
Laparoscopic extraperitoneal inguinal hernia repairA safe approach based on the understanding of rectus sheath anatomy. Surg Endosc. 1999 Dec; 13(12):1243-6. . View in PubMed
Laparoscopic repair of perforated duodenal ulcers: outcome and efficacy in 30 consecutive patients Arch Surg. 1999 Aug; 134(8):845-8; discussion 849-50. . View in PubMed
A new form of access for endo-organ surgeryThe initial experience with percutaneous endoscopic gastrostomy. Surg Endosc. 1999 Aug; 13(8):738-41. . View in PubMed
Laparoscopic finger-assisted technique (fingeroscopy) for treatment of complicated appendicitis J Am Coll Surg. 1999 Jul; 189(1):131-3. . View in PubMed
Laparoscopic management of benign solid and cystic lesions of the liver Ann Surg. 1999 Apr; 229(4):460-6. . View in PubMed
Orthotopic liver transplantation with and without peritoneal drainage: a comparative study Transplant Proc. 1999 Feb-Mar; 31(1-2):556-7. . View in PubMed
Laparoscopic splenectomy for hematologic disease Adv Surg. 1999; 33:141-61. . View in PubMed
Laparoscopic splenectomy: outcome and efficacy in 103 consecutive patients Ann Surg. 1998 Oct; 228(4):568-78. . View in PubMed
An improved technique for laparoscopic highly selective vagotomy using harmonic shears Surg Endosc. 1998 Aug; 12(8):1051-4. . View in PubMed
Laparoscopic liver surgeryA report on 28 patients. Surg Endosc. 1998 Apr; 12(4):331-4. . View in PubMed
Long-term results of a prospective randomized comparison of total fundic wrap (Nissen-Rossetti) or semifundoplication (Toupet) for gastro-oesophageal reflux Br J Surg. 1997 Feb; 84(2):281. . View in PubMed
Laparoscopic resection of solid liver tumours Br J Surg. 1996 Mar; 83(3):334-5. . View in PubMed
Laparoscopic evaluation of penetrating thoracoabdominal traumatic injuries Surg Endosc. 1996 Jan; 10(1):19-22. . View in PubMed
[Elective treatment of duodenal ulcer by laparoscopic posterior troncular vagotomy and anterior seromyotomy] Chirurgie. 1996; 121(5):335-9. . View in PubMed
Laparoscopic treatment of gastroesophageal reflux disease--defining a gold standard Surg Endosc. 1995 Jul; 9(7):765-7. . View in PubMed
Laparoscopic splenectomy Surg Technol Int. 1995; IV:159-62. . View in PubMed
Laparoscopic management of complications of peptic ulcer disease Surg Technol Int. 1995; IV:121-6. . View in PubMed
Laparoscopic surgery: surgical education in the People's Republic of China Surg Laparosc Endosc. 1994 Aug; 4(4):277-83. . View in PubMed
Peptic ulcer surgery in 1994 Endosc Surg Allied Technol. 1994 Apr; 2(2):87-90. . View in PubMed
Laparoscopic posterior vagotomy and anterior seromyotomy Endosc Surg Allied Technol. 1994 Apr; 2(2):95-9. . View in PubMed
Laparoscopic rossetti fundoplication Surg Technol Int. 1994; 3:207-14. . View in PubMed
Laparoscopic treatment of peptic ulcer disease and its complications Surg Technol Int. 1994; 3:215-9. . View in PubMed
Management of problems in laparoscopic surgery of the biliary tract Ann Chir Gynaecol. 1994; 83(2):93-9. . View in PubMed
Laparoscopic surgery of the liver Surg Technol Int. 1994; 3:173-9. . View in PubMed
[Diagnostic laparoscopy and laparoscopic surgery--their development and outlook] Khirurgiia (Sofiia). 1994; 47(1):28-30. . View in PubMed
Laparoscopy-assisted aortobifemoral bypass Surg Laparosc Endosc. 1993 Oct; 3(5):425-9. . View in PubMed
Laparoscopic treatment of inguinal herniasA personal approach. Endosc Surg Allied Technol. 1993 Aug; 1(4):193-7. . View in PubMed
[Dissection of the Calot's triangle by the celioscopic approach] Presse Med. 1993 Mar 27; 22(11):535-7. . View in PubMed
Laparoscopic vagotomy for chronic duodenal ulcer disease World J Surg. 1993 Jan-Feb; 17(1):34-9. . View in PubMed
Endolaparoscopic palliation of pancreatic cancer Surg Laparosc Endosc. 1992 Sep; 2(3):241-3. . View in PubMed
Laser resection of a liver hydatid cyst under videolaparoscopy Br J Surg. 1992 Jun; 79(6):560-1. . View in PubMed
Laparoscopic fenestration of biliary cysts Surg Laparosc Endosc. 1991 Sep; 1(3):162-5. . View in PubMed
A new technique of surgical treatment of chronic duodenal ulcer without laparotomy by videocoelioscopy Am J Surg. 1991 Mar; 161(3):361-4. . View in PubMed
[Treatment of duodenal ulcer by posterior trunk vagotomy and anterior fundic seromyotomy under video-laparoscopyPreliminary note with presentation of a film]. Chirurgie. 1990; 116(6-7):546-50; discussion 550-1. . View in PubMed
[Hydatid cyst of the pancreas responsible for chronic recurrent pancreatitis] Presse Med. 1988 Oct 29; 17(38):2021-3. . View in PubMed
[Complications of biliary lithiasisEtiology, diagnosis, principles of drug therapy and surgery]. Rev Prat. 1988 Jun 23; 38(19):1309-14. . View in PubMed
Pancreatic cancer in mother and daughter Lancet. 1986 Sep 27; 2(8509):747. . View in PubMed