Faculty
Department of Surgery faculty members, both physicians and scientists, are world-renown in their subspecialties. Faculty members are passionate in their clinical care and research practices, as well as being mentors for medical students and trainees. The department also invests significant funds to provide protected time and lab space for junior faculty to perform research.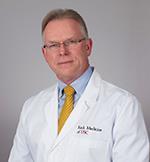 Vaughn Alden Starnes
Chair and Distinguished Professor of Surgery;H. Russell Smith Foundation Chair for Stem Cell and Cardiovascular Thoracic Research
1520 San Pablo St.
Health Sciences Campus
Los Angeles
Dr. Starnes is a Distinguished Professor and Chair of the Department of Surgery. As the founding Executive Director of the USC CardioVascular Thoracic Institute, Dr. Starnes has built an interdisciplinary powerhouse comprised of clinicians and basic scientists who are exploring better and more innovative ways of treating heart disease. Under his leadership, USC surgeons have conducted more than 15,000 open heart surgeries to repair and replace valves or create coronary artery bypasses, and more than 10,000 surgeries for diseases of the lungs, esophagus and chest wall.

Dr. Starnes earned his medical degree from the University of North Carolina, Chapel Hill, and did his general surgery training at Vanderbilt University, where he also completed two years of research in cardiothoracic physiology and pharmacology. He completed two years at Stanford University as a resident in cardiovascular surgery, and one year as chief resident in cardiac transplantation under the mentorship of cardiothoracic transplant pioneer Dr. Norman Shumway.

Dr. Starnes accepted a fellowship in pediatric cardiovascular surgery at the Hospital for Sick Children in London (Now the Great Ormond Street Hospital) in 1987. When he returned to Stanford, he was appointed director of Stanford's heart-lung transplantation program. He joined USC in July 1992 and was appointed Chairman of the Department of Cardiothoracic Surgery in 1997 and Chairman of the Department of Surgery in 2008.

Dr. Starnes pioneered the living-related double lobar lung transplant in 1993. He and his surgical team also performed Southern California's first robotic heart operation in 2001 as part of the clinical trial evaluating the use of a remote surgical system. He has an ongoing interest in congenital heart disease and in minimally invasive repair and replacement of the valves of the heart.

In addition to his clinical work, Dr. Starnes is a distinguished researcher. He is actively involved in exploring stem-cell therapy for heart failure and congenital heart defects and in clinical trials investigating new valve technology, including percutaneous heart valve replacement.

Dr. Starnes is the current Vice President of the American Association for Thoracic Surgery. He will be the 100th president of the AATS in 2019-2020.
U.S. News and World Report: Children's Hospital Los Angeles Cardiac Program, #3, 2015
Pasadena Magazine: Top Doctor, 2014
University of North Carolina, Chapel Hill: Distinguished Medical Alumnus Award, 2013
Pasadena Magazine: Top Doctor, 2011
Castle Connolly Medical Ltd: List of America's Top Doctors, 2011
USC: Presidential Medallion, 2008
Castle Connolly Medical Ltd: America's Top Doctors - New York, 2004
Cardiovascular computed tomographic angiography as a patient avatar for virtual surgical planning: Repair of a Raghib syndrome variant in middle adulthood J Cardiovasc Comput Tomogr. 2020 Jul 18. . View in PubMed
Biventricular Repair in Interrupted Aortic Arch and Ventricular Septal Defect with Small LVOT Ann Thorac Surg. 2020 Jun 26. . View in PubMed
American Association for Thoracic Surgery: Maintaining the mission during the coronavirus disease 2019 (COVID-19) pandemic J Thorac Cardiovasc Surg. 2020 09; 160(3):737-739. . View in PubMed
Cardiovascular Computed Tomographic Angiography as a Virtual Patient Avatar for Individualized Surgical Planning of Complex Anomalous Coronary Artery Anatomy World J Pediatr Congenit Heart Surg. 2019 07; 10(4):502-503. . View in PubMed
Eating well at your first job J Thorac Cardiovasc Surg. 2018 10; 156(4):1585-1586. . View in PubMed
Arch Augmentation via Median Sternotomy for Coarctation of Aorta With Proximal Arch Hypoplasia Ann Thorac Surg. 2018 10; 106(4):1214-1219. . View in PubMed
Anomalous Origin of the Left Coronary Artery From the Pulmonary Artery (ALCAPA): CCTA Demonstration of Anatomy Relevant to Adult Ischemic Cardiomyopathy Presentation and Utilization of Images for Virtual Surgical Planning World J Pediatr Congenit Heart Surg. 2018 05; 9(3):347-349. . View in PubMed
Cardiovascular Magnetic Resonance of the Ross II Procedure: Long-Term Postoperative Imaging World J Pediatr Congenit Heart Surg. 2017 05; 8(3):398-399. . View in PubMed
A comparison of aortic valve replacement via an anterior right minithoracotomy with standard sternotomy: a propensity score analysis of 492 patients Eur J Cardiothorac Surg. 2016 Feb; 49(2):456-63. . View in PubMed
Arterioplasty for Right Ventricular Outflow Tract Obstruction After Arterial Switch Is a Durable Procedure Ann Thorac Surg. 2015 Jul; 100(1):122-7; discussion 127-8. . View in PubMed
Age-Related Outcomes of the Ross Procedure Over 20 Years Ann Thorac Surg. 2015 Jun; 99(6):2077-83; discussion 2084-5. . View in PubMed
Concurrent aortic valvular disease and pulmonary sequestration: clinical implications Tex Heart Inst J. 2014 Dec; 41(6):649-52. . View in PubMed
Contemporary use of balloon aortic valvuloplasty in the era of transcatheter aortic valve implantation Tex Heart Inst J. 2014 Oct; 41(5):469-76. . View in PubMed
Anomalous coronary arteries: cardiovascular computed tomographic angiography for surgical decisions and planning World J Pediatr Congenit Heart Surg. 2013 Apr; 4(2):142-54. . View in PubMed
Breast implants and minimally invasive cardiac surgery: a case series Ann Plast Surg. 2012 Jul; 69(1):10-3. . View in PubMed
A novel reconstruction of the left superior vena cava J Thorac Cardiovasc Surg. 2012 Apr; 143(4):981-2. . View in PubMed
Ascending aortitis and aortic valve endocarditis in an infant J Thorac Cardiovasc Surg. 2010 Apr; 139(4):e90-1. . View in PubMed
All cardiac right ventricular outpouches are not created equal Pediatr Cardiol. 2009 Oct; 30(7):954-7. . View in PubMed
Can the Kawashima procedure be performed in younger patients? Ann Thorac Surg. 2009 Aug; 88(2):581-6; discussion 586-7.. View in PubMed
Differential branch pulmonary artery growth after the Norwood procedure with right ventricle-pulmonary artery conduit versus modified Blalock-Taussig shunt in hypoplastic left heart syndrome J Thorac Cardiovasc Surg. 2009 Jun; 137(6):1342-8. . View in PubMed
Cardiovascular magnetics resonance diagnosis of cystic tumor of the atrioventricular node J Cardiovasc Magn Reson. 2009 Apr 30; 11:13. . View in PubMed
A novel surgical approach to left main coronary artery giant aneurysm thrombosis in a child with a history of Kawasaki disease J Thorac Cardiovasc Surg. 2009 Apr; 137(4):1030-2. . View in PubMed
A novel approach to the surgical correction of scimitar syndrome J Thorac Cardiovasc Surg. 2007 Feb; 133(2):573-4. . View in PubMed
Current surgical therapy for Ebstein anomaly in neonates J Thorac Cardiovasc Surg. 2006 Dec; 132(6):1285-90. . View in PubMed
Dimethyl celecoxib as a novel non-cyclooxygenase 2 therapy in the treatment of non-small cell lung cancer J Thorac Cardiovasc Surg. 2005 Nov; 130(5):1406-12. . View in PubMed
Ascending aortic extension for enlargement of the aortopulmonary space in children with pulmonary artery stenosis Ann Thorac Surg. 2005 Nov; 80(5):1647-51. . View in PubMed
Does the site of insertion of a systemic-pulmonary shunt influence growth of the pulmonary arteries? Ann Thorac Surg. 2005 Feb; 79(2):636-40.. View in PubMed
A decade of living lobar lung transplantation: perioperative complications after 253 donor lobectomies Am J Transplant. 2004 Aug; 4(8):1283-8. . View in PubMed
A decade of living lobar lung transplantation: recipient outcomes J Thorac Cardiovasc Surg. 2004 Jan; 127(1):114-22. . View in PubMed
Bordetella bronchiseptica infection in pediatric lung transplant recipients Pediatr Transplant. 2003 Oct; 7(5):413-7. . View in PubMed
Cyclooxygenase-2 inhibition decreases primary and metastatic tumor burden in a murine model of orthotopic lung adenocarcinoma J Thorac Cardiovasc Surg. 2003 Oct; 126(4):1129-33. . View in PubMed
Does lung growth occur when mature lobes are transplanted into children? Pediatr Transplant. 2002 Dec; 6(6):500-4.. View in PubMed
Clinical findings and lung pathology in children with cystic fibrosis Am J Respir Crit Care Med. 2002 Apr 15; 165(8):1172-5. . View in PubMed
Dyspnea lusoria: compression of the pulmonary artery by a Kommerell's diverticulum Ann Thorac Surg. 2002 Jan; 73(1):312-3. . View in PubMed
Dual cell seeding and the use of zymogen tissue plasminogen activator to improve cell retention on polytetrafluoroethylene grafts J Vasc Surg. 2001 Aug; 34(2):337-43. . View in PubMed
Characteristics of immunoglobulin gene usage of the xenoantibody binding to gal-alpha(1,3)gal target antigens in the gal knockout mouse Transplantation. 2001 Jul 15; 72(1):147-55. . View in PubMed
A novel paracorporeal method for isolated rodent lung reperfusion Transplantation. 2001 May 15; 71(9):1244-8. . View in PubMed
Bronchiolitis obliterans is not the primary cause of death in pediatric living donor lobar lung transplant recipients J Heart Lung Transplant. 2001 May; 20(5):491-6. . View in PubMed
Building a clinical cardiothoracic surgical program: a multi-institutional model J Thorac Cardiovasc Surg. 2001 Apr; 121(4 Suppl):S8-11. . View in PubMed
Consensus statement on the live organ donor JAMA. 2000 Dec 13; 284(22):2919-26. . View in PubMed
Angiogenesis and morphogenesis of murine fetal distal lung in an allograft model Am J Physiol Lung Cell Mol Physiol. 2000 May; 278(5):L1000-7. . View in PubMed
Angiotensin II has multiple profibrotic effects in human cardiac fibroblasts Circulation. 2000 Mar 14; 101(10):1130-7. . View in PubMed
Comparison of outcomes between living donor and cadaveric lung transplantation in children Ann Thorac Surg. 1999 Dec; 68(6):2279-83; discussion 2283-4. . View in PubMed
Addition of a water-soluble alpha-tocopherol analogue to University of Wisconsin solution improves endothelial viability and decreases lung reperfusion injury J Surg Res. 1999 Sep; 86(1):145-9. . View in PubMed
A comparison of the new preservation solution Celsior to Euro-Collins and University of Wisconsin solutions in lung reperfusion injury Transplantation. 1999 Jan 15; 67(1):152-5. . View in PubMed
EMAP II: a modulator of neovascularization in the developing lung Am J Physiol. 1999 02; 276(2):L365-75. . View in PubMed
Aortic intramural hematoma presenting as angina J Clin Anesth. 1998 Nov; 10(7):603-5. . View in PubMed
Combined carotid endarterectomy and coronary artery bypass grafting in asymptomatic carotid artery stenosis Am Surg. 1998 Oct; 64(10):993-7. . View in PubMed
Addition of aprotinin to organ preservation solutions decreases lung reperfusion injury Ann Thorac Surg. 1998 Jul; 66(1):225-30. . View in PubMed
Elective transplant pneumonectomy J Pediatr Surg. 1998 Apr; 33(4):655-6. . View in PubMed
Addition of a mast cell stabilizing compound to organ preservation solutions decreases lung reperfusion injury J Thorac Cardiovasc Surg. 1998 Mar; 115(3):631-6; discussion 636-7. . View in PubMed
Continuous versus intermittent furosemide infusion in critically ill infants after open heart operations Ann Thorac Surg. 1997 Oct; 64(4):1133-9. . View in PubMed
Downregulation of cyclin G1 expression by retrovirus-mediated antisense gene transfer inhibits vascular smooth muscle cell proliferation and neointima formation Circulation. 1997 Jul 15; 96(2):628-35. . View in PubMed
A new organ preservation solution, Celsior, is superior to Euro-Collins and University of Wisconsin solutions in decreasing lung reperfusion injury Transplant Proc. 1997 Feb-Mar; 29(1-2):1357-8. . View in PubMed
Bilateral lobar transplantation utilizing living related donors Artif Organs. 1996 Oct; 20(10):1110-1. . View in PubMed
Clamshell for pulmonary atresia, ventricular septal defect, and aortopulmonary collaterals Ann Thorac Surg. 1996 Oct; 62(4):1247-8. . View in PubMed
Aortic root replacement with the pulmonary autograft in children with complex left heart obstruction Ann Thorac Surg. 1996 Aug; 62(2):442-8; discussion 448-9. . View in PubMed
Blood loss and transfusion requirements in cystic fibrosis patients undergoing heart-lung or lung transplantation J Cardiothorac Vasc Anesth. 1995 Feb; 9(1):59-62. . View in PubMed
Analysis of bronchoalveolar lavage from human lung transplant recipients by flow cytometry Respir Med. 1995 Jan; 89(1):27-34. . View in PubMed
[Intrathoracic half-working heart and lung transplantation in the rat] Kyobu Geka. 1994 Sep; 47(10):809-11. . View in PubMed
Cytokine gene expression in human cardiac allograft recipients Transpl Immunol. 1994 Sep; 2(3):199-207. . View in PubMed
Current surgical management of tetralogy of Fallot Ann Thorac Surg. 1994 Jul; 58(1):211-5. . View in PubMed
Aspergillosis of the posterior mediastinum Ann Thorac Surg. 1994 May; 57(5):1240-3. . View in PubMed
Distribution of TCR alpha beta+ and TCR gamma delta+ lymphocytes in bronchoalveolar lavage from human lung transplant recipients Transplantation. 1993 Oct; 56(4):1031-4. . View in PubMed
Cytokine gene expression in human lung transplant recipients Transplantation. 1993 Oct; 56(4):956-61. . View in PubMed
Can a few good cells now mend a broken heart? J Clin Invest. 1993 Sep; 92(3):1115-6.. View in PubMed
Cellular mechanisms underlying differential rejection of sequential heart and lung allografts in rats Transplantation. 1993 Mar; 55(3):650-5. . View in PubMed
Computer-assisted densitometric analysis for quantification of cell surface antigen expression in monkey cardiac allografts: correspondence to histopathologic grade of rejection Transplant Proc. 1993 Feb; 25(1 Pt 2):924-7. . View in PubMed
Current trends in lung transplantationLobar transplantation and expanded use of single lungs. J Thorac Cardiovasc Surg. 1992 Oct; 104(4):1060-5; discussion 1065-6. . View in PubMed
Cytokine gene expression in rejecting cardiac allografts Transplantation. 1992 Aug; 54(2):326-32. . View in PubMed
Communication between the two pleural cavities after major cardiothoracic surgery: relevance to percutaneous intervention Radiology. 1992 Aug; 184(2):461-2. . View in PubMed
Palliationtransplantationor both? J Thorac Cardiovasc Surg. 1992 Jul; 104(1):189-94; discussion 194-5. . View in PubMed
Cystic fibrosisTarget population for lung transplantation in North America in the 1990s. J Thorac Cardiovasc Surg. 1992 May; 103(5):1008-14. . View in PubMed
A controlled trial of ganciclovir to prevent cytomegalovirus disease after heart transplantation N Engl J Med. 1992 Apr 30; 326(18):1182-6. . View in PubMed
Anesthesia for bilateral single-lung transplantation J Cardiothorac Vasc Anesth. 1992 Apr; 6(2):201-3. . View in PubMed
Cardiac growth after pediatric heart transplantation Circulation. 1992 Apr; 85(4):1433-9. . View in PubMed
Assessment of cardiac allograft rejection with electrophysiology of the conduction system and histopathology of the ventricle J Heart Lung Transplant. 1992 Mar-Apr; 11(2 Pt 1):280-8. . View in PubMed
Durability of porcine valves at fifteen years in a representative North American patient population J Thorac Cardiovasc Surg. 1992 Feb; 103(2):238-51; discussion 251-2. . View in PubMed
Cardiac function after domino-donor heart transplantation Am J Cardiol. 1992 Jan 01; 69(1):113-6. . View in PubMed
Clinical experience with the Novacor ventricular assist systemBridge to transplantation and the transition to permanent application. J Thorac Cardiovasc Surg. 1991 Oct; 102(4):578-86; discussion 586-7. . View in PubMed
Ebstein's anomaly appearing in the neonateA new surgical approach. J Thorac Cardiovasc Surg. 1991 Jun; 101(6):1082-7. . View in PubMed
Clinical significance of hyperbilirubinemia in patients with pulmonary hypertension undergoing heart-lung transplantation J Heart Lung Transplant. 1991 Mar-Apr; 10(2):317-21. . View in PubMed
Cystic fibrosis patients who have undergone heart-lung transplantation benefit from maxillary sinus antrostomy and repeated sinus lavage Transplant Proc. 1991 Feb; 23(1 Pt 2):1207-8. . View in PubMed
Changes in cardiac morphology and function following single-lung transplantation Transplant Proc. 1991 Feb; 23(1 Pt 2):1226-7. . View in PubMed
Acute lung rejection after heart-lung transplantation: correlation of findings on chest radiographs with lung biopsy results AJR Am J Roentgenol. 1990 Jul; 155(1):23-7. . View in PubMed
Eight-year results of cyclosporine-treated patients with cardiac transplants J Thorac Cardiovasc Surg. 1990 Mar; 99(3):500-9. . View in PubMed
Cardiac retransplantation in the cyclosporine era Ann Thorac Surg. 1989 Sep; 48(3):350-5. . View in PubMed
Cytomegalovirus infection is associated with cardiac allograft rejection and atherosclerosis JAMA. 1989 Jun 23-30; 261(24):3561-6. . View in PubMed
Comparison of cyclosporin A and G with and without azathioprine regarding immunosuppressive efficacy, toxicity, and pharmacokinetics in Lewis rats J Heart Transplant. 1988 Sep-Oct; 7(5):359-69. . View in PubMed
Comparison of cardiac rejection in heart and heart-lung transplantation J Heart Transplant. 1987 Nov-Dec; 6(6):352-6. . View in PubMed
Cardiac transplantation in children and adolescents Circulation. 1987 Nov; 76(5 Pt 2):V43-7. . View in PubMed
Distant graft procurement for combined heart and lung transplantation using pulmonary artery flush and simple topical hypothermia for graft preservation Ann Thorac Surg. 1987 Jun; 43(6):670-3. . View in PubMed
Aortic and inferior vena cava resection for renal cell carcinoma invading an aberrant renal vein J Cardiovasc Surg (Torino). 1987 May-Jun; 28(3):282-5. . View in PubMed
Donor management and organ procurement Top Emerg Med. 1986 Oct; 8(3):65-70. . View in PubMed
A reconsideration of cerebral perfusion in aortic arch replacement Ann Thorac Surg. 1986 Sep; 42(3):273-81. . View in PubMed
Current status of heart and lung transplantation World J Surg. 1986 Jun; 10(3):442-9. . View in PubMed
Effects of pulmonary restriction on hypercapnic responses of heart-lung transplant recipients J Appl Physiol (1985). 1991 Jul; 71(1):322-7. . View in PubMed
Comparative effects of verapamil, nifedipine, and diltiazem on contractile function in the isolated immature and adult rabbit heart Pediatr Res. 1984 Oct; 18(10):948-52. . View in PubMed
Barrett's esophagusA surgical entity. Arch Surg. 1984 May; 119(5):563-7. . View in PubMed
Administration of prostacyclin prevents ventricular fibrillation following coronary occlusion in conscious dogs J Cardiovasc Pharmacol. 1982 Sep-Oct; 4(5):765-9. . View in PubMed