Faculty
Department of Surgery faculty members, both physicians and scientists, are world-renown in their subspecialties. Faculty members are passionate in their clinical care and research practices, as well as being mentors for medical students and trainees. The department also invests significant funds to provide protected time and lab space for junior faculty to perform research.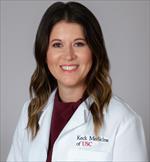 Lara Morgan Oberle
Assistant Professor of Clinical Orthopaedic Surgery
Orthopaedic Surgery
Toyota Sports Performance Center - Orthopaedic Clinic
Health Sciences Campus
El Segundo
Contact
Lara Morgan Oberle, MD, is a primary care, sports and exercise medicine physician who specializes in sports medicine and the medical care of athletes. After earning her medical degree from the Indiana University School of Medicine, Dr. Oberle completed her residency in internal medicine and a fellowship in primary care sports medicine. She is a team physician for USC intercollegiate athletes and the Los Angeles Kings professional hockey team.

Dr. Oberle believes human bodies are made to be active and bases her care on the movement patterns and function of the body. When making a diagnosis and determining treatment, she places importance on tracing each injury back to how the body was functioning when it was injured. Not only does this approach optimize each patient's recovery, she understands that this knowledge is crucial to prevent future issues.