Faculty
Department of Surgery faculty members, both physicians and scientists, are world-renown in their subspecialties. Faculty members are passionate in their clinical care and research practices, as well as being mentors for medical students and trainees. The department also invests significant funds to provide protected time and lab space for junior faculty to perform research.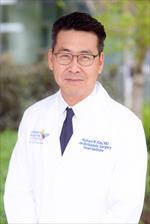 Richard W. Kim
Associate Professor of Clinical Surgery
Surgery
4661 Sunset Blvd.
Health Sciences Campus
Los Angeles
Contact
Association of Damaging Variants in Genes With Increased Cancer Risk Among Patients With Congenital Heart Disease JAMA Cardiol. 2020 Oct 21. . View in PubMed
A simplified approach to bicuspidization of the unicuspid aortic valve Ann Thorac Surg. 2020 Jun 30. . View in PubMed
Veterinarians' attitudes and practices regarding opioid-related vet shopping practices in tri-state Appalachian counties: an exploratory study BMC Vet Res. 2020 Jun 22; 16(1):210. . View in PubMed
EM-mosaic detects mosaic point mutations that contribute to congenital heart disease Genome Med. 2020 04 29; 12(1):42. . View in PubMed
Using the Multitheory Model to Predict Initiation and Sustenance of Physical Activity Behavior Among Osteopathic Medical Students J Am Osteopath Assoc. 2019 Aug 01; 119(8):479-487. . View in PubMed
Further percutaneous dilation of a Melody® valve in the mitral position to accommodate somatic growth in a small child: lessons learned Cardiol Young. 2019 Feb; 29(2):235-237. . View in PubMed
Utilizing Multi-Theory Model in Determining Intentions to Smoking Cessation Among Smokers Tob Use Insights. 2019; 12:1179173X19843524. . View in PubMed
A novel, data-driven conceptualization for critical left heart obstruction Comput Methods Programs Biomed. 2018 Oct; 165:107-116. . View in PubMed
Morphology of intramural ventricular septal defects: Clinical imaging and autopsy correlation Ann Pediatr Cardiol. 2018 Sep-Dec; 11(3):308-311. . View in PubMed
Melody Mitral Valve Replacement Is No Longer an Experimental Procedure Circ Cardiovasc Interv. 2018 11; 11(11):e007455. . View in PubMed
Exercise restriction is not associated with increasing body mass index over time in patients with anomalous aortic origin of the coronary arteries Cardiol Young. 2017 Oct; 27(8):1538-1544. . View in PubMed
Epicardial Epithelial-to-Mesenchymal Transition in Heart Development and Disease J Clin Med. 2016 Feb 19; 5(2). . View in PubMed
Recent advancements in understanding endogenous heart regeneration-insights from adult zebrafish and neonatal mice Semin Cell Dev Biol. 2016 10; 58:34-40. . View in PubMed
Atrial Thrombus in a Neonate: A Diagnostic Challenge AJP Rep. 2015 Apr; 5(1):e18-21. . View in PubMed
Tgfbr2 disruption in postnatal smooth muscle impairs aortic wall homeostasis J Clin Invest. 2014 Feb; 124(2):755-67. . View in PubMed
miR-1 mediated suppression of Sorcin regulates myocardial contractility through modulation of Ca2+ signaling J Mol Cell Cardiol. 2012 May; 52(5):1027-37. . View in PubMed
Modified Starnes procedure in a neonate with severe tricuspid regurgitation Ann Thorac Surg. 2012 Feb; 93(2):658-9. . View in PubMed
Activation of human vascular cells decreases their expression of transforming growth factor-beta Atherosclerosis. 2011 Dec; 219(2):417-24. . View in PubMed
Postoperative biomarkers predict acute kidney injury and poor outcomes after pediatric cardiac surgery J Am Soc Nephrol. 2011 Sep; 22(9):1737-47. . View in PubMed
Incidence, risk factors, and outcomes of acute kidney injury after pediatric cardiac surgery: a prospective multicenter study Crit Care Med. 2011 Jun; 39(6):1493-9. . View in PubMed
Transatrial lead implantation using the 4-Fr lumenless pacing lead and delivery system in young adults with congenital heart disease Pacing Clin Electrophysiol. 2009 Dec; 32(12):e40-2. . View in PubMed
Invited commentary Ann Thorac Surg. 2008 Jun; 85(6):2099. . View in PubMed
Interferon-gamma induces X-linked inhibitor of apoptosis-associated factor-1 and Noxa expression and potentiates human vascular smooth muscle cell apoptosis by STAT3 activation J Biol Chem. 2008 Mar 14; 283(11):6832-42. . View in PubMed
Minimally invasive resection of papillary fibroelastoma in a high-risk patient J Cardiovasc Med (Hagerstown). 2007 Aug; 8(8):639-41. . View in PubMed
Surgical correction of aortico-left ventricular tunnel Semin Thorac Cardiovasc Surg Pediatr Card Surg Annu. 2006; 177-9. . View in PubMed
Richard W. Kim, MD, FACS, completed his training at the University of Pennsylvania and the Children's Hospital of Philadelphia under Dr. Thomas Spray and has been mentored by Dr. Vaughn Starnes for nearly a decade. He is an expert in the surgical repair of congenital heart defects and routinely performs complex neonatal procedures and multiple re-do operations. He has extensive operative experience for all forms of single ventricle lesions including Norwood palliation for Hypoplastic Left Heart Syndrome. He is actively funded by the National Institutes of Health (NIH) and has co-authored recent publications in Nature, Science, Nature Communications, and Nature Genetics.

Dr. Kim seeks to leverage cutting-edge gene discovery platforms to advance the clinical management of children undergoing congenital heart surgery. By using machine learning algorithms to relate genetic changes to functional or physiologic differences in how individual children respond to cardiac surgery, he hopes to develop new paradigms in pediatric cardiac surgery that optimize patient care by tailoring surgery to each individual patient.