Faculty
Department of Surgery faculty members, both physicians and scientists, are world-renown in their subspecialties. Faculty members are passionate in their clinical care and research practices, as well as being mentors for medical students and trainees. The department also invests significant funds to provide protected time and lab space for junior faculty to perform research.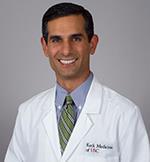 Armin Kiankhooy
Assistant Professor Of Clinical Surgery;Director of Wellness for the Department of Surgery;Director of Mechanical Support in Cardiothoracic Surgery
1520 San Pablo Street
Health Sciences Campus
Los Angeles
Armin Kiankhooy, MD, is board certified in Cardiothoracic Surgery and specializes in the surgical treatment of advanced heart and lung failure and atrial fibrillation. He earned his medical degree from the University of Minnesota School of Medicine in Minneapolis, Minnesota. After graduation, he completed his General Surgery residency at the University of Vermont and then went on to complete a fellowship in Cardiothoracic surgery at the University of Virginia in Charlottesville, Virginia. Dr. Kiankhooy then completed an advanced heart and lung failure fellowship at Cedars-Sinai Medical Center, with a focus on heart and lung transplantation and mechanical circulatory support, including the total artificial heart.

Dr. Kiankhooy provides the most advanced treatments for heart failure and also offers advanced minimally invasive surgical treatments for atrial fibrillation. Using small incisions and specialized cameras and instruments, Dr. Kiankhooy has restored normal sinus rhythm in many patients with chronic or long-standing atrial fibrillation.

Dr. Kiankhooy has received numerous awards, including the Arnold P. Gold Foundation Humanism in Medicine award and Alpha Omega Alpha recognition for excellence in scholarship.
Substernal subcutaneous implantable cardioverter-defibrillator lead placement for the management of inappropriate shocks HeartRhythm Case Rep. 2019 Aug; 5(8):407-410. . View in PubMed
Successful rescue therapy with venovenous extracorporeal membrane oxygenation for re-expansion pulmonary oedema in a patient with one lung Eur J Cardiothorac Surg. 2019 Mar 01; 55(3):582-584. . View in PubMed
Leading Efforts to Increase Organ Donation Through Professionalization of Organ Procurement Organizations and Establishment of Organ and Tissue Donor Registries Transplant Proc. 2016 Jan-Feb; 48(1):10-4. . View in PubMed
Predictors of early recurrence for node-negative t1 to t2b non-small cell lung cancer Ann Thorac Surg. 2014 Oct; 98(4):1175-83. . View in PubMed
Thrombin generation and fibrin clot formation under hypothermic conditions: an in vitro evaluation of tissue factor initiated whole blood coagulation J Crit Care. 2014 Feb; 29(1):24-30. . View in PubMed
Angiographic embolization is safe and effective therapy for blunt abdominal solid organ injury in children J Trauma. 2010 Mar; 68(3):526-31. . View in PubMed
Fait accompli: suicide in a rural trauma setting J Trauma. 2009 Aug; 67(2):366-71. . View in PubMed
Percutaneous image-guided aspiration and sclerosis of adventitial cystic disease of the femoral vein Cardiovasc Intervent Radiol. 2009 Jul; 32(4):812-6. . View in PubMed
Initial resection of potentially viable tissue is not optimal treatment for grades II-IV pancreatic injuries World J Surg. 2009 Feb; 33(2):221-7. . View in PubMed