Faculty
Department of Surgery faculty members, both physicians and scientists, are world-renown in their subspecialties. Faculty members are passionate in their clinical care and research practices, as well as being mentors for medical students and trainees. The department also invests significant funds to provide protected time and lab space for junior faculty to perform research.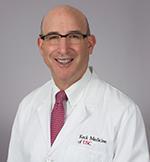 Robbin Gerald Cohen, MD
Professor of Clinical Surgery;Director, Huntington Memorial Hospital Cardiothoracic and Lung Cancer Surgery Program
1520 San Pablo St.
Health Sciences Campus
Los Angeles
Dr. Cohen, a native of Cheyenne, Wyoming, graduated with honors from the University of Colorado School of Medicine. He completed training programs in general surgery, vascular surgery, cardiothoracic surgery, and heart and lung transplantation at Stanford University Hospital, under the supervision of heart surgery pioneer Norman Shumway. He holds a Masters of Medical Management from the USC/Marshall School of Business and is particularly interested in clinical program development.

Since joining the USC faculty in 1993, Dr. Cohen has served as Vice-Chairman for Clinical Affairs for the Department of Cardiothoracic Surgery, Co-Director of the USC Lung Transplant program, and Co-Director of the Aortic Center at USC. He has held leadership positions in the American Association for Thoracic Surgery, Society of Thoracic Surgery, and is a past President of the Western Thoracic Surgical Association. He has won numerous teaching awards, and has written extensively and lectured worldwide on adult cardiac surgery, lung transplantation, and minimally invasive heart and lung surgery. As the medical director for USC's Genetic Aortic and Related Conditions Center (GARD), Dr. Cohen is particularly interested in inherited conditions of the aorta and aortic valve. For more than a decade, Dr. Cohen has been regularly included in Castle Connolly's America's Top Doctors, Consumer Research Council's Guide to America's Top Surgeons, Los Angeles Magazine's "Southern California Super Doctors", and Pasadena Magazine's "Top Doctors."
The Disparity Between Public Utilization and Surgeon Awareness of the STS Patient Education Website Ann Thorac Surg. 2020 Jul; 110(1):284-289. . View in PubMed
No Informed Consent/No Mitral Valve Surgery Ann Thorac Surg. 2019 12; 108(6):1607. . View in PubMed
Selective Aortic Arch and Root Replacement in Repair of Acute Type A Aortic Dissection Ann Thorac Surg. 2018 Feb; 105(2):505-512. . View in PubMed
When a Patient Dies: How I Teach It Ann Thorac Surg. 2017 Oct; 104(4):1108-1110. . View in PubMed
Surgery for Diseases of the Aortic Root Cardiol Clin. 2017 Aug; 35(3):321-329. . View in PubMed
Acute Type A Aortic Dissection Cardiol Clin. 2017 Aug; 35(3):331-345. . View in PubMed
Evaluation of Hemodynamic Performance of Aortic Valve Bioprostheses in a Model of Oversizing Ann Thorac Surg. 2017 Jun; 103(6):1866-1876. . View in PubMed
Early trifecta valve failure: Warning shot or unfair scrutiny? J Thorac Cardiovasc Surg. 2017 10; 154(4):1241-1242.. View in PubMed
Outcomes after mitral valve repair: A single-center 16-year experienceJ Thorac Cardiovasc Surg. 2017 09; 154(3):822-830. e2. . View in PubMed
Value in cardiac surgery: The price of saving J Thorac Cardiovasc Surg. 2017 07; 154(1):199. . View in PubMed
Type A Aortic Dissection Repair: How I Teach It Ann Thorac Surg. 2017 Jan; 103(1):14-17. . View in PubMed
A comparison of aortic valve replacement via an anterior right minithoracotomy with standard sternotomy: a propensity score analysis of 492 patients Eur J Cardiothorac Surg. 2016 Feb; 49(2):456-63. . View in PubMed
The patent internal thoracic artery graft: Increased degree of difficulty for left-sided pulmonary resections J Thorac Cardiovasc Surg. 2015 Sep; 150(3):536-7. . View in PubMed
Percutaneous versus surgical drainage of malignant pericardial effusion: Still no tiebreaker J Thorac Cardiovasc Surg. 2014 Nov; 148(5):2294-5. . View in PubMed
Exercise Hemodynamics and Quality of Life after Aortic Valve Replacement for Aortic Stenosis in the Elderly Using the Hancock II Bioprosthesis Cardiol Res Pract. 2014; 2014:151282. . View in PubMed
Occult metastases in lymph nodes predict survival in resectable non-small-cell lung cancer: report of the ACOSOG Z0040 trial J Clin Oncol. 2011 Nov 10; 29(32):4313-9. . View in PubMed
Our "default future" J Thorac Cardiovasc Surg. 2011 Nov; 142(5):961-6. . View in PubMed
Arch and visceral/renal debranching combined with endovascular repair for thoracic and thoracoabdominal aortic aneurysms J Vasc Surg. 2011 Jul; 54(1):30-40; discussion 40-1. . View in PubMed
Thoracic aortic stent-grafting for acute, complicated, type B aortic dissections Ann Vasc Surg. 2011 Apr; 25(3):333-9. . View in PubMed
Industry-generated charts for the selection of stented aortic valve prostheses: clinical tool or marketing ploy? Ann Thorac Surg. 2011 Apr; 91(4):1001-2.. View in PubMed
Pleural space problems after living lobar transplantation J Heart Lung Transplant. 2005 Dec; 24(12):2086-90. . View in PubMed
A decade of living lobar lung transplantation: recipient outcomes J Thorac Cardiovasc Surg. 2004 Jan; 127(1):114-22. . View in PubMed