Faculty
Department of Surgery faculty members, both physicians and scientists, are world-renown in their subspecialties. Faculty members are passionate in their clinical care and research practices, as well as being mentors for medical students and trainees. The department also invests significant funds to provide protected time and lab space for junior faculty to perform research.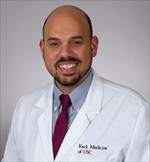 Scott Atay
Assistant Professor Of Clinical Surgery
1520 San Pablo Street
Health Sciences Campus
Los Angeles
Dr. Atay specializes in thoracic surgery, with an emphasis on malignant diseases of the chest, including esophageal cancer. He completed his surgical training at Beth Israel Deaconess Medical Center, Harvard Medical School, followed by thoracic fellowship training at MD Anderson Cancer Center. This training included a focus on advanced surgical techniques, both standard minimally invasive (VATS) as well as robotic surgery. He obtained further training at the National Instituties of Health (NIH), NCI Surgery Branch, completing a clinical research fellowship in surgical oncology. At the National Cancer Institute his research focused on genetic alterations in malignant pleural mesothelioma. His current clinical and research efforts focus on multimodality (chemotherapy, immunotherapy, radiation) treatment in addition to surgery for patients with both early and advanced stage disease. When treating patients with cancer, optimal outcomes can only be achieved when multiple specialties come together to provide a comprehensive mulitdisciplinary treatment plan. As part of the USC/Norris Cancer Center patients have access to skilled clinicians, cutting-edge research and clinical trials, as well as a wide array of additional support services. Dr. Atay is committed to delivering compassionate, high quality care, driven by the most up-to-date evidence.
Trends in pneumonectomy for treatment of small-cell lung cancer Asian Cardiovasc Thorac Ann. 2020 Sep 02; 218492320955054. . View in PubMed
Sequence of biologic therapies and surgery affects survival in non-small cell lung cancer J Surg Oncol. 2020 Aug; 122(2):320-327. . View in PubMed
A systematic review of paraneoplastic syndromes associated with thymoma: Treatment modalities, recurrence, and outcomes in resected casesJ Thorac Cardiovasc Surg. 2020 Jul; 160(1):306-314. e14. . View in PubMed
Commentary: To scan or not to scan: No longer the question for mesothelioma patients after pleurectomy J Thorac Cardiovasc Surg. 2020 Jan 11. . View in PubMed
Disparities in Guideline-Concordant Treatment for Pathologic N1 Non-Small Cell Lung Cancer Ann Thorac Surg. 2020 05; 109(5):1512-1520. . View in PubMed
The Effect of Socioeconomic Status on Treatment and Mortality in Non-Small Cell Lung Cancer Patients Ann Thorac Surg. 2020 01; 109(1):225-232. . View in PubMed
Trimodality vs Chemoradiation and Salvage Resection in cN2 Stage IIIA Non-Small Cell Lung Cancer Semin Thorac Cardiovasc Surg. 2020; 32(1):153-159. . View in PubMed
Enhancing the study of enhanced recovery after thoracic surgery: methodology and population-based approaches for the future J Thorac Dis. 2019 Mar; 11(Suppl 4):S612-S618. . View in PubMed
Disparities in the surgical management of early stage non-small cell lung cancer: how far have we come? J Thorac Dis. 2019 Mar; 11(Suppl 4):S596-S611.. View in PubMed
Search for the Higgs Boson Decaying to Two Muons in Proton-Proton Collisions at sqrt[s]=13? TeV. Phys Rev Lett. 2019 Jan 18; 122(2):021801.. View in PubMed
Search for Dark Matter Particles Produced in Association with a Top Quark Pair at sqrt[s]=13? TeV. Phys Rev Lett. 2019 Jan 11; 122(1):011803.. View in PubMed
Commentary: Simple math is not so straightforward with stereotactic body radiotherapy for colorectal carcinoma metastases J Thorac Cardiovasc Surg. 2019 10; 158(4):1242-1243. . View in PubMed
A Modern Reaffirmation of Surgery as the Optimal Treatment for Solitary Fibrous Tumors of the Pleura Ann Thorac Surg. 2019 03; 107(3):941-946. . View in PubMed
Sublobar or Suboptimal: Does Tumor Spread through Air Spaces Signify the End of Sublobar Resections for T1N0 Adenocarcinomas? J Thorac Oncol. 2019 01; 14(1):11-12.. View in PubMed
Measurement of differential cross sections for inclusive isolated-photon and photon+jet production in proton-proton collisions at s=13TeV Eur Phys J C Part Fields. 2019; 79(1):20. . View in PubMed
Combined measurements of Higgs boson couplings in proton-proton collisions at s=13Te Eur Phys J C Part Fields. 2019; 79(5):421. . View in PubMed
Measurement of associated production of a W boson and a charm quark in proton-proton collisions at s=13Te Eur Phys J C Part Fields. 2019; 79(3):269. . View in PubMed
Azimuthal separation in nearly back-to-back jet topologies in inclusive 2- and 3-jet events in pp collisions at s=13Te Eur Phys J C Part Fields. 2019; 79(9):773. . View in PubMed
02Te. Eur Phys J C Part Fields. 2019; 79(8):702. . View in PubMed
Study of the underlying event in top quark pair production in pp collisions at 13 Te Eur Phys J C Part Fields. 2019; 79(2):123. . View in PubMed
02TeV. Eur Phys J C Part Fields. 2019; 79(3):277. . View in PubMed
02??TeV Using Isolated Photon-Tagged Jets. Phys Rev Lett. 2018 Dec 14; 121(24):242301. . View in PubMed
Observation of the Z? TeV. Phys Rev Lett. 2018 Oct 05; 121(14):141801.. View in PubMed
Search for Pair-Produced Resonances Each Decaying into at Least Four Quarks in Proton-Proton Collisions at sqrt[s]=13? TeV. Phys Rev Lett. 2018 Oct 05; 121(14):141802.. View in PubMed
Phys Rev Lett. 2018 Aug 31; 121(9):092002. . View in PubMed
16? TeV. Phys Rev Lett. 2018 Aug 24; 121(8):082301.. View in PubMed
02? TeV. Phys Rev Lett. 2018 Aug 10; 121(6):062002.. View in PubMed
Search for Physics Beyond the Standard Model in Events with High-Momentum Higgs Bosons and Missing Transverse Momentum in Proton-Proton Collisions at 13 TeV Phys Rev Lett. 2018 Jun 15; 120(24):241801. . View in PubMed
Observation of tt[over ¯]H Production Phys Rev Lett. 2018 Jun 08; 120(23):231801. . View in PubMed
Search for Heavy Neutral Leptons in Events with Three Charged Leptons in Proton-Proton Collisions at sqrt[s]=13? TeV. Phys Rev Lett. 2018 Jun 01; 120(22):221801.. View in PubMed
Search for Narrow Resonances in the b-Tagged Dijet Mass Spectrum in Proton-Proton Collisions at sqrt[s]=8? TeV. Phys Rev Lett. 2018 May 18; 120(20):201801.. View in PubMed
02? TeV. Phys Rev Lett. 2018 May 18; 120(20):202301.. View in PubMed
Search for the X(5568) State Decaying into B_{s}^{0}p^{±} in Proton-Proton Collisions at sqrt[s]=8? TeV. Phys Rev Lett. 2018 May 18; 120(20):202005.. View in PubMed
02? TeV. Phys Rev Lett. 2018 Apr 06; 120(14):142302.. View in PubMed
Observation of Correlated Azimuthal Anisotropy Fourier Harmonics in pp and p+Pb Collisions at the LHC Phys Rev Lett. 2018 Mar 02; 120(9):092301. . View in PubMed
Observation of Electroweak Production of Same-Sign W Boson Pairs in the Two Jet and Two Same-Sign Lepton Final State in Proton-Proton Collisions at sqrt[s]=13? TeV. Phys Rev Lett. 2018 Feb 23; 120(8):081801.. View in PubMed
Inclusive Search for a Highly Boosted Higgs Boson Decaying to a Bottom Quark-Antiquark Pair Phys Rev Lett. 2018 Feb 16; 120(7):071802. . View in PubMed
Search for new physics in dijet angular distributions using proton-proton collisions at s=13TeV and constraints on dark matter and other models Eur Phys J C Part Fields. 2018; 78(9):789. . View in PubMed
Measurement of charged particle spectra in minimum-bias events from proton-proton collisions at s=13TeV Eur Phys J C Part Fields. 2018; 78(9):697. . View in PubMed
Search for new physics in events with a leptonically decaying Z boson and a large transverse momentum imbalance in proton-proton collisions at s = 13 TeV Eur Phys J C Part Fields. 2018; 78(4):291. . View in PubMed
Predictors of trimodality therapy and trends in therapy for malignant pleural mesothelioma Eur J Cardiothorac Surg. 2018 05 01; 53(5):960-966. . View in PubMed
Search for third-generation scalar leptoquarks decaying to a top quark and a t lepton at s=13Te Eur Phys J C Part Fields. 2018; 78(9):707. . View in PubMed
Measurement of b hadron lifetimes in pp collisions at s=8TeV Eur Phys J C Part Fields. 2018; 78(6):457. . View in PubMed
Eur Phys J C Part Fields. 2018; 78(9):708. . View in PubMed
Eur Phys J C Part Fields. 2018; 78(2):165. . View in PubMed
Measurement of differential cross sections for Z boson production in association with jets in proton-proton collisions at s=13TeV Eur Phys J C Part Fields. 2018; 78(11):965. . View in PubMed
Measurement of the weak mixing angle using the forward-backward asymmetry of Drell-Yan events in pp collisions at 8 TeV Eur Phys J C Part Fields. 2018; 78(9):701. . View in PubMed
Search for standard model production of four top quarks with same-sign and multilepton final states in proton-proton collisions at s=13TeV Eur Phys J C Part Fields. 2018; 78(2):140. . View in PubMed
Measurement of prompt and nonprompt charmonium suppression in PbPb collisions at 502 TeV. Eur Phys J C Part Fields. 2018; 78(6):509. . View in PubMed
Measurement of the top quark mass with lepton+jets final states using pp collisions at s=13TeV Eur Phys J C Part Fields. 2018; 78(11):891. . View in PubMed
Observation of Top Quark Production in Proton-Nucleus Collisions Phys Rev Lett. 2017 Dec 15; 119(24):242001. . View in PubMed
Perioperative Outcomes of Patients Undergoing Lobectomy on Clopidogrel Ann Thorac Surg. 2017 Dec; 104(6):1821-1828. . View in PubMed
Search for Evidence of the Type-III Seesaw Mechanism in Multilepton Final States in Proton-Proton Collisions at sqrt[s]=13? TeV. Phys Rev Lett. 2017 Dec 01; 119(22):221802.. View in PubMed
Phys Rev Lett. 2017 Oct 13; 119(15):151802. . View in PubMed
Long-Term Survival Outcomes of Cancer-Directed Surgery for Malignant Pleural Mesothelioma: Propensity Score Matching Analysis J Clin Oncol. 2017 Oct 10; 35(29):3354-3362. . View in PubMed
Adjuvant chemotherapy following trimodality therapy for esophageal carcinoma-Is the evidence sufficient? J Thorac Dis. 2017 Oct; 9(10):3626-3629.. View in PubMed
Search for Low Mass Vector Resonances Decaying to Quark-Antiquark Pairs in Proton-Proton Collisions at sqrt[s]=13? TeV. Phys Rev Lett. 2017 Sep 15; 119(11):111802.. View in PubMed
Systolic anterior motion of the mitral valve-the mechanism of postural hypotension following left intrapericardial pneumonectomy J Thorac Dis. 2017 Apr; 9(4):E354-E357. . View in PubMed
Compromise Not Required Semin Thorac Cardiovasc Surg. 2017; 29(3):426-427. . View in PubMed
Fluctuations in Spinal Cord Perfusion Pressure: A Harbinger of Delayed Paraplegia After Thoracoabdominal Aortic Repair Semin Thorac Cardiovasc Surg. 2017; 29(4):451-459. . View in PubMed
Redo aortic root replacement reutilizing 22-year patent modified Cabrol grafts Eur J Cardiothorac Surg. 2017 04 01; 51(4):794-796. . View in PubMed
Search for new phenomena with the MT2 variable in the all-hadronic final state produced in proton-proton collisions at s=13TeV Eur Phys J C Part Fields. 2017; 77(10):710. . View in PubMed
Search for heavy resonances that decay into a vector boson and a Higgs boson in hadronic final states at s=13TeV Eur Phys J C Part Fields. 2017; 77(9):636. . View in PubMed
Search for physics beyond the standard model in events with two leptons of same sign, missing transverse momentum, and jets in proton-proton collisions at s=13TeV Eur Phys J C Part Fields. 2017; 77(9):578. . View in PubMed
Mithramycin Depletes Specificity Protein 1 and Activates p53 to Mediate Senescence and Apoptosis of Malignant Pleural Mesothelioma Cells Clin Cancer Res. 2016 Mar 01; 22(5):1197-210. . View in PubMed
Empyema necessitans caused by actinomycosis: A case report Int J Surg Case Rep. 2016; 23:182-5. . View in PubMed
Surgery for Li Fraumeni syndrome: pushing the limits of surgical oncology Am J Clin Oncol. 2015 Feb; 38(1):98-102. . View in PubMed
Telomerase variant A279T induces telomere dysfunction and inhibits non-canonical telomerase activity in esophageal carcinomas PLoS One. 2014; 9(7):e101010. . View in PubMed
Aryl hydrocarbon receptor-induced adrenomedullin mediates cigarette smoke carcinogenicity in humans and mice Cancer Res. 2012 Nov 15; 72(22):5790-800. . View in PubMed
Mithramycin represses basal and cigarette smoke-induced expression of ABCG2 and inhibits stem cell signaling in lung and esophageal cancer cells Cancer Res. 2012 Aug 15; 72(16):4178-92. . View in PubMed
Efficacy of chloroquine in the treatment of Plasmodium vivax malaria in Turkey Ann Trop Med Parasitol. 2004 Jul; 98(5):447-51. . View in PubMed
SPECT brain perfusion abnormalities in mild or moderate traumatic brain injury Clin Nucl Med. 1998 May; 23(5):309-17. . View in PubMed