Faculty
Department of Surgery faculty members, both physicians and scientists, are world-renown in their subspecialties. Faculty members are passionate in their clinical care and research practices, as well as being mentors for medical students and trainees. The department also invests significant funds to provide protected time and lab space for junior faculty to perform research.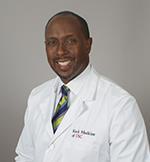 Vincent L. Rowe
Professor of Clinical Surgery;Director, Pediatric Vascular Surgery at Children's Hospital Los Angeles
1520 San Pablo St.
Health Sciences Campus
Los Angeles
Dr. Rowe holds the title of Professor of Surgery at the Keck School of Medicine of USC. He is both the Chief of Vascular Surgery Service and newly appointed Program Director of the Vascular Surgery Residency. Dr. Rowe maintains an active vascular surgery practice at USC University and Children's Hospital, while still maintaining his responsibilities at LAC+USC Medical Center.

Dr. Rowe received his Bachelor of Arts in Biophysics from the University of California Berkeley in 1987. After earning his medical degree from the University of Southern California School of Medicine, he completed his surgical residency at Kaiser Permanente Medical Center in Los Angeles. In 1996, he returned to USC as a Clinical Instructor of Surgery, Division of Vascular Surgery, and subsequently completed a two-year Vascular Surgery Fellowship at the University of Tennessee Medical Center in Knoxville Tennessee. In 1999, Dr. Rowe re-joined the faculty at USC, as an Assistant Professor of Surgery, Division of Vascular Surgery and Endovascular Therapy.

In recognition of Dr. Rowe's commitment to surgical education, he received the Outstanding Leader in Surgical Education Award by the Keck USC School of Medicine Medical Faculty Assembly in 2003, Outstanding Teacher of the Year by the Keck USC School of Medicine, Department of Surgery in 2001, and won the C.J. Berne Outstanding Faculty Teaching Award in 2000, 2004 and 2008 from the Surgical Residents of the USC Department of Surgery.

Dr. Rowe is certified by the American Board of Surgery, with added qualifications in Vascular Surgery and has specialty training in endovascular surgery. He is a member of the Society for Clinical Vascular Surgery, Western Vascular Society, Peripheral Vascular Society, Pacific Coast Surgical Association, and the Los Angeles Surgical Society. He is a Fellow of the American College of Surgeons and a Distinguished Fellow of Society for Vascular Surgery. He has held leadership positions in the Western Vascular, Southern California Vascular, and Los Angeles Surgical societies and currently serves as the Membership Chairman for the Southern California Chapter of the American College of Surgeons.

Dr Rowe has contributed to the surgical literature with over 80 peer reviewed manuscripts, abstracts and textbook chapters. He has made numerous scientific presentations at local, regional and national society meetings. He serves as the senior editor for the Vascular Section of the E-medicine online textbook. His major research interests include lower extremity peripheral arterial disease (PAD), vascular access for hemodialysis and traumatic vascular injuries.

Dr. Rowe donates time as a missionary surgeon in Honduras.
Pasadena Magazine: Top Doctor, 2011
Surgical Residents of the USC Department of Surgery: C.J. Berne Outstanding Faculty Teaching Award, 2004
Keck USC School of Medicine: Alpha Omega Alpha Medical Honors Society Honorary Alumni Member, 2004
Keck USC School of Medicine: Outstanding Leader in Surgical Education, Recognition Award Medical Faculty Assembly, 2003
Keck USC School of Medicine, Department of Surgery: Outstanding Teacher of the Year, 2000-2001
Surgical Residents of the USC Department of Surgery: C.J. Berne Outstanding Faculty Teaching Award, 2000
University of Tennessee, Vascular Surgery: Fellowship, 1997-1999
Repair of Delayed Type 1a Endoleak using Fenestrated and Parallel EndograftsAnn Vasc Surg. 2018 May; 49:309. e7-309. e15. . View in PubMed
Use of Double-Barrel Gore Excluder Bifurcated Endografts for Renal Artery Incorporation in an Urgent Endovascular Repair of a Thoracoabdominal Aortic AneurysmAnn Vasc Surg. 2018 May; 49:309. e1-309. e6. . View in PubMed
Antegrade in situ fenestrated endovascular repair of a ruptured thoracoabdominal aortic aneurysm J Vasc Surg Cases Innov Tech. 2020 Sep; 6(3):416-421. . View in PubMed
Functional ambulatory status as a potential adjunctive decision-making tool following wound, level of ischemia, and severity of foot infection assessment J Vasc Surg. 2020 Aug; 72(2):738-746. . View in PubMed
Popliteal artery injuriesLess ischemic time may lead to improved outcomes. Injury. 2020 Jul 23; 8946. . View in PubMed
Methicillin-resistant Staphylococcus aureus portends a poor prognosis after endovascular repair of mycotic aortic aneurysms and aortic graft infections J Vasc Surg. 2020 Jul; 72(1):276-285. . View in PubMed
Predictors of Major Adverse Limb Events after Open Forefoot Amputation in Patients with Chronic Limb-Threatening Ischemia Ann Vasc Surg. 2020 Jul; 66:614-620. . View in PubMed
Telehealth-guided home-based maggot debridement therapy for chronic complex wounds: Peri- and post-pandemic potential Int Wound J. 2020 Jun 18. . View in PubMed
Brachial Artery Injuries Operative Management and Predictors of Outcome Ann Vasc Surg. 2020 Jun 02. . View in PubMed
Improved survival with angiotensin-converting enzyme inhibitors and angiotensin receptor blockers in chronic limb-threatening ischemia J Vasc Surg. 2020 Apr 08. . View in PubMed
Therapeutic Window of Clopidogrel and Ticagrelor in Patients With Critical Limb-Threatening Ischemia J Cardiovasc Pharmacol Ther. 2020 03; 25(2):158-163. . View in PubMed
"The Renal Foot" - Angiographic Pattern of Patients with Chronic Limb Threatening Ischemia and End-Stage Renal Disease Cardiovasc Revasc Med. 2020 01; 21(1):118-121. . View in PubMed
Impact of proximal seal zone length and intramural hematoma on clinical outcomes and aortic remodeling after thoracic endovascular aortic repair for aortic dissections J Vasc Surg. 2019 Apr; 69(4):987-995. . View in PubMed
How to Create a Hot Foot Line to Prevent Diabetes-Related Amputations: Instant Triage for Emergency Department and Inpatient Consultations J Am Podiatr Med Assoc. 2019 Mar; 109(2):174-179. . View in PubMed
Is It Really Mandatory to Harvest the Contralateral Saphenous Vein for Use in Repair of Traumatic Injuries? Vasc Endovascular Surg. 2018 Oct; 52(7):548-549.. View in PubMed
Postoperative Development of Abdominal Compartment Syndrome among Patients Undergoing Endovascular Aortic Repair for Ruptured Abdominal Aortic Aneurysms Ann Vasc Surg. 2018 May; 49:289-294. . View in PubMed
Switch to Ticagrelor in critical limb ischemia antiplatelet study (STT-CLIPS) Cardiovasc Revasc Med. 2018 Apr - May; 19(3 Pt B):319-323. . View in PubMed
Early cannulation of bovine carotid artery grafts (Artegraft) after primary vascular access and fistula revision procedures J Vasc Surg. 2018 12; 68(6):1865-1871. . View in PubMed
Prevalence of high on-treatment (aspirin and clopidogrel) platelet reactivity in patients with critical limb ischemia Cardiovasc Revasc Med. 2018 07; 19(5 Pt A):516-520. . View in PubMed
Reply J Vasc Surg. 2018 05; 67(5):1639-1640. . View in PubMed
Controversies and evidence for cardiovascular disease in the diverse Hispanic population J Vasc Surg. 2018 03; 67(3):960-969. . View in PubMed
Building a scalable diabetic limb preservation program: four steps to success Diabet Foot Ankle. 2018; 9(1):1452513. . View in PubMed
Surgical Management of Perforated Inferior Vena Cava Filters Ann Vasc Surg. 2017 Jul; 42:25-31. . View in PubMed
Multilayered Parallel Endografting for Urgent Endovascular Repair of a Severely Angulated Thoracoabdominal Aortic Aneurysm Ann Vasc Surg. 2017 Jul; 42:56-61. . View in PubMed
Increased risk of mortality after lower extremity bypass in individuals with acute kidney injury in the Vascular Quality Initiative J Vasc Surg. 2017 Apr; 65(4):1055-1061. . View in PubMed
Comparison of intravascular ultrasound- and centerline computed tomography-determined aortic diameters during thoracic endovascular aortic repair J Vasc Surg. 2017 10; 66(4):1184-1191. . View in PubMed
Vascular surgery: An essential hospital resource in modern health care J Vasc Surg. 2017 06; 65(6):1786-1792. . View in PubMed
Outcomes of Critical Limb Ischemia in an Urban, Safety Net Hospital Population with High WIfI Amputation Scores Ann Vasc Surg. 2017 Jan; 38:84-89. . View in PubMed
Do Antiplatelet and Anticoagulation Agents Matter after Repair of Traumatic Arterial Injuries? Am Surg. 2016 Oct; 82(10):968-972.. View in PubMed
Remodeling of abdominal aortic branch perfusion after thoracic endovascular aortic repair for aortic dissections J Vasc Surg. 2016 10; 64(4):902-11. . View in PubMed
Sartorius Muscle Flaps for Vascular Groin Wound Complications Am Surg. 2015 Nov; 81(11):1163-9. . View in PubMed
Outcomes of completion imaging for lower extremity bypass in the Vascular Quality Initiative J Vasc Surg. 2015 Aug; 62(2):412-6. . View in PubMed
Use of completion imaging during infrainguinal bypass in the Vascular Quality Initiative J Vasc Surg. 2015 May; 61(5):1258-63. . View in PubMed
Vein harvesting technique for infrainguinal arterial bypass with great saphenous vein and its association with surgical site infection and graft patencyJ Vasc Surg. 2015 May; 61(5):1264-71. e2. . View in PubMed
Treatment options for late type III endoleaks after endovascular aneurysm repairAnn Vasc Surg. 2015 Apr; 29(3):594. e5-9. . View in PubMed
Compliance with surgical follow-up does not influence fistula maturation in a county hospital population Ann Vasc Surg. 2014 Nov; 28(8):1847-52. . View in PubMed
Outcomes after abdominal aortic aneurysm repair requiring a suprarenal cross-clamp J Vasc Surg. 2014 Oct; 60(4):893-9. . View in PubMed
Outcomes with arteriovenous fistulas in a pediatric population J Vasc Surg. 2014 Jul; 60(1):170-4. . View in PubMed
Agreement among observers in the assignment of TransAtlantic Inter-Society Consensus classification and runoff score J Vasc Surg. 2013 Nov; 58(5):1254-8. . View in PubMed
Use of unconventional dialysis access in patients with no viable alternative Ann Vasc Surg. 2013 Apr; 27(3):332-6. . View in PubMed
A prospective study of carbon dioxide digital subtraction versus standard contrast arteriography in the detection of endoleaks in endovascular abdominal aortic aneurysm repairs Ann Vasc Surg. 2013 Jan; 27(1):38-44. . View in PubMed
Development of a flexible implantable sensor for postoperative monitoring of blood flow J Ultrasound Med. 2012 Nov; 31(11):1795-802. . View in PubMed
The results of a needs assessment to guide a vascular surgery skills simulation curriculum Ann Vasc Surg. 2012 Feb; 26(2):198-204. . View in PubMed
Safety of carbon dioxide digital subtraction angiography Arch Surg. 2011 Dec; 146(12):1428-32. . View in PubMed
Disease progression after initial surgical intervention for Takayasu arteritis J Vasc Surg. 2011 Nov; 54(5):1345-51. . View in PubMed
Arch and visceral/renal debranching combined with endovascular repair for thoracic and thoracoabdominal aortic aneurysms J Vasc Surg. 2011 Jul; 54(1):30-40; discussion 40-1. . View in PubMed
Thoracic aortic stent-grafting for acute, complicated, type B aortic dissections Ann Vasc Surg. 2011 Apr; 25(3):333-9. . View in PubMed
Clinical outcomes and implications of failed infrainguinal endovascular stents J Vasc Surg. 2011 Mar; 53(3):658-66; discussion 667. . View in PubMed
Impact of race on infrainguinal angioplasty and stenting Ann Vasc Surg. 2011 Feb; 25(2):204-9. . View in PubMed
A prospective clinical evaluation of the effects of intraoperative systemic anticoagulation in patients undergoing arteriovenous fistula surgery Am Surg. 2010 Oct; 76(10):1112-4. . View in PubMed
Late outcomes of endovascular and open revascularization for nonatherosclerotic renal artery disease Arch Surg. 2010 Sep; 145(9):832-9. . View in PubMed
Ultrasound-determined diameter measurements are more accurate than axial computed tomography after endovascular aortic aneurysm repair J Vasc Surg. 2010 Jun; 51(6):1381-7; discussion 1387-9. . View in PubMed
Racial and ethnic differences in patterns of treatment for acute peripheral arterial disease in the United States, 1998-2006 J Vasc Surg. 2010 Apr; 51(4 Suppl):21S-26S. . View in PubMed
Patterns of treatment for peripheral arterial disease in the United States: 1996-2005 J Vasc Surg. 2009 Apr; 49(4):910-7. . View in PubMed
Acute arterial occlusion secondary to trauma Semin Vasc Surg. 2009 Mar; 22(1):25-8. . View in PubMed
Endovascular management of mycotic aortic aneurysms and associated aortoaerodigestive fistulas Ann Vasc Surg. 2009 Jan-Feb; 23(1):81-9. . View in PubMed
Heparin-platelet factor 4 antibodies are frequent after vascular surgery but are not a frequent cause of graft thrombosis or thrombocytopenia J Vasc Surg. 2008 Aug; 48(2):377-81. . View in PubMed
Internal jugular, subclavian, and axillary deep venous thrombosis and the risk of pulmonary embolism Vascular. 2008 Mar-Apr; 16(2):73-9. . View in PubMed
Race independently impacts outcome of infrapopliteal bypass for symptomatic arterial insufficiency Vasc Endovascular Surg. 2007 Oct-Nov; 41(5):397-401. . View in PubMed
Preliminary retrograde visceral artery reconstruction for thoracoabdominal aortic aneurysms Ann Vasc Surg. 2007 Mar; 21(2):123-8. . View in PubMed
Carbon dioxide digital subtraction angiography-assisted endovascular aortic aneurysm repair in the azotemic patient J Vasc Surg. 2007 Mar; 45(3):451-8; discussion 458-60. . View in PubMed
Recanalization of a thrombosed carotid artery following endarterectomy Ann Vasc Surg. 2007 Mar; 21(2):172-7. . View in PubMed
Technology penetration of endovascular aortic aneurysm repair in southern California Ann Vasc Surg. 2006 Nov; 20(6):796-802. . View in PubMed
Current trends in the management of iatrogenic cervical carotid artery injuries Vasc Endovascular Surg. 2006 Oct-Nov; 40(5):354-61. . View in PubMed
Current guidelines produce competent endovascular surgeons J Vasc Surg. 2006 May; 43(5):992-8; discussion 998. . View in PubMed
Insulin resistance of muscle protein metabolism in aging FASEB J. 2006 Apr; 20(6):768-9. . View in PubMed
Treatment options for traumatic pseudoaneurysms of the paravisceral abdominal aorta Ann Vasc Surg. 2005 Sep; 19(5):613-8. . View in PubMed
Neointimal hyperplasia on a cell-seeded polytetrafluoroethylene graft is promoted by transfer of tissue plasminogen activator gene and inhibited by transfer of nitric oxide synthase gene J Vasc Surg. 2005 Jan; 41(1):122-9. . View in PubMed
Advances in vascular imaging Surg Clin North Am. 2004 Oct; 84(5):1189-202v. . View in PubMed
Influence of transmetatarsal amputation in patients requiring lower extremity distal revascularization Am Surg. 2004 Oct; 70(10):845-9. . View in PubMed
Basilic vein transposition fistula: a good option for maintaining hemodialysis access site options? J Vasc Surg. 2004 May; 39(5):1043-7.. View in PubMed
Renal revascularization in Takayasu arteritis-induced renal artery stenosis J Vasc Surg. 2004 Apr; 39(4):749-57. . View in PubMed
Endovascular management of iliac vein occlusive disease Ann Vasc Surg. 2004 Mar; 18(2):228-33. . View in PubMed
The vasculopathic patient: uncommon surgical emergencies Emerg Med Clin North Am. 2003 Nov; 21(4):803-15. . View in PubMed
Analysis of 185 iliac vessel injuries: risk factors and predictors of outcome Arch Surg. 2003 Nov; 138(11):1187-93; discussion 1193-4. . View in PubMed
Smooth muscle cells improve endothelial cell retention on polytetrafluoroethylene grafts in vivo J Vasc Surg. 2003 Sep; 38(3):557-63. . View in PubMed
Rupture of a previously thrombosed thoracoabdominal aneurysm Ann Vasc Surg. 2003 Mar; 17(2):143-7. . View in PubMed
Technical consideration in the management of chronic mesenteric ischemia Am Surg. 2002 Dec; 68(12):1088-92. . View in PubMed
Anticoagulation is an effective treatment for aortic mural thrombi J Vasc Surg. 2002 Oct; 36(4):713-9. . View in PubMed
Hypoplasia of the descending thoracic and abdominal aorta: a report of two cases and review of the literature J Vasc Surg. 2002 Oct; 36(4):844-8. . View in PubMed
Concomitant vascular procedures for malignancies with vascular invasion Arch Surg. 2002 Aug; 137(8):901-6; discussion 906-7. . View in PubMed
Clinical importance of the "seat belt sign" in blunt trauma to the neck Am Surg. 2002 May; 68(5):441-5. . View in PubMed
Does surgical intervention significantly prolong the patency of failed angioaccess grafts previously treated with percutaneous techniques? Ann Vasc Surg. 2002 Mar; 16(2):197-200.. View in PubMed
Initial experience with dorsal venous arch arterialization for limb salvage Ann Vasc Surg. 2002 Mar; 16(2):187-92. . View in PubMed
The utility of preoperative routine carotid artery duplex scanning in patients undergoing aortic valve replacement Ann Vasc Surg. 2002 Mar; 16(2):163-7. . View in PubMed
Injury induced neointima formation and its inhibition by retrovirus-mediated transfer of nitride oxide synthase gene in an in-vitro human saphenous vein culture model Atherosclerosis. 2002 Mar; 161(1):113-22. . View in PubMed
Shank vessel injuries Surg Clin North Am. 2002 Feb; 82(1):91-104xx. . View in PubMed
Penetrating cardiac injuries: a complex challenge Injury. 2001 Sep; 32(7):533-43. . View in PubMed
Dual cell seeding and the use of zymogen tissue plasminogen activator to improve cell retention on polytetrafluoroethylene grafts J Vasc Surg. 2001 Aug; 34(2):337-43. . View in PubMed
Abdominal vascular injuries: the trauma surgeon's challenge Surg Today. 2001; 31(11):949-57. . View in PubMed
Penetrating cardiac injuries: a complex challenge Surg Today. 2001; 31(12):1041-53. . View in PubMed
Vascular smooth muscle cell apoptosis in aneurysmal, occlusive, and normal human aortas J Vasc Surg. 2000 Mar; 31(3):567-76. . View in PubMed
Abdominal vascular injuriesThe trauma surgeon's challenge. Ann Chir Gynaecol. 2000; 89(1):71-8. . View in PubMed
Penetrating cardiac injuriesA complex challenge. Ann Chir Gynaecol. 2000; 89(2):155-66. . View in PubMed
Limb ischemia secondary to open pelvic fractures: a rare combination Tenn Med. 1999 Apr; 92(4):137-9. . View in PubMed
Combined carotid endarterectomy and coronary artery bypass grafting in asymptomatic carotid artery stenosis Am Surg. 1998 Oct; 64(10):993-7. . View in PubMed
Extended resection for locally advanced colorectal carcinoma Ann Surg Oncol. 1997 Mar; 4(2):131-6. . View in PubMed
Simultaneous correction of malrotation and gastroesophageal reflux in infants Am Surg. 1996 Oct; 62(10):800-2. . View in PubMed
Operative treatment of gastroesophageal reflux in low birth weight infants Am Surg. 1995 Oct; 61(10):874-6. . View in PubMed