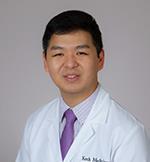 Brian Song
Assistant Professor Of Clinical Ophthalmology
Director of Education, USC Department of Ophthalmology
Residency Program Director
Ophthalmology
HC4 4700 1450 San Pablo Street
Health Sciences Campus
Los Angeles
Contact
Rates and Patterns of Diagnostic Conversion from Anatomical Narrow Angle to Primary Angle-Closure Glaucoma in the United States Ophthalmol Glaucoma. 2023 Mar-Apr; 6(2):169-176. . View in PubMed
A Mechanistic Model of Aqueous Humor Flow to Study Effects of Angle Closure on Intraocular Pressure Transl Vis Sci Technol. 2023 01 03; 12(1):16. . View in PubMed
Effectiveness of glaucoma screening and factors associated with follow-up adherence among glaucoma suspects in a safety net teleretinal screening program Ophthalmol Glaucoma. 2022 Nov 01. . View in PubMed
Racial and Sociodemographic Disparities in the Detection of Narrow Angles before Detection of Primary Angle-Closure Glaucoma in the United States Ophthalmol Glaucoma. 2022 Jul-Aug; 5(4):388-395. . View in PubMed
Restoration of Vision in Severe, Cicatricial, Ocular Surface Disease With the Boston Keratoprosthesis Type II Am J Ophthalmol. 2022 11; 243:42-54. . View in PubMed
Intrasession Repeatability and Intersession Reproducibility of Macular Vessel Parameters on Optical Coherence Tomography Angiography in Glaucomatous and Non-Glaucomatous Eyes Curr Eye Res. 2022 07; 47(7):1068-1076. . View in PubMed
Misdiagnosis of Orbital Foreign Body as Glaucoma Drainage Device J Emerg Med. 2022 07; 63(1):e22-e27. . View in PubMed
Super-Resolution Ultrasound Localization Microscopy for Visualization of the Ocular Blood Flow IEEE Trans Biomed Eng. 2022 05; 69(5):1585-1594. . View in PubMed
5 by 4. 5?mm Peripapillary Optical Coherence Tomography Angiography Scans in Glaucoma and Non-Glaucoma Eyes. J Glaucoma. 2022 09 01; 31(9):773-782. . View in PubMed
Wedge Defects on Optical Coherence Tomography Angiography of the Peripapillary Retina in Glaucoma: Prevalence and Associated Clinical Factors J Glaucoma. 2022 04 01; 31(4):242-249. . View in PubMed
Intrasession repeatability and intersession reproducibility of peripapillary OCTA vessel parameters in non-glaucomatous and glaucomatous eyes Br J Ophthalmol. 2021 11; 105(11):1534-1541. . View in PubMed
Steps to Measurement Floor of an Optical Microangiography Device in Glaucoma Am J Ophthalmol. 2021 11; 231:58-69. . View in PubMed
Hemiretinal Asymmetry in Peripapillary Vessel Density in Healthy, Glaucoma Suspect, and Glaucoma Eyes Am J Ophthalmol. 2021 10; 230:156-165. . View in PubMed
Glaucoma Expert-Level Detection of Angle Closure in Goniophotographs With Convolutional Neural Networks: The Chinese American Eye Study Am J Ophthalmol. 2021 06; 226:100-107. . View in PubMed
Runx2-Twist1 interaction coordinates cranial neural crest guidance of soft palate myogenesis Elife. 2021 01 22; 10. . View in PubMed
American Glaucoma Society Position Paper: Microinvasive Glaucoma Surgery Ophthalmol Glaucoma. 2020 Jan - Feb; 3(1):1-6. . View in PubMed
In Reply: Protocol For Titrated Endocycloplasty When Combined With Phacoemulsification in an Exclusive Cohort of Angle Closure Glaucoma J Glaucoma. 2019 12; 28(12):e178-e179. . View in PubMed
Differential Efficacy of Combined Phacoemulsification and Endocyclophotocoagulation in Open-angle Glaucoma Versus Angle-closure Glaucoma J Glaucoma. 2019 05; 28(5):473-480. . View in PubMed
Diabetic Retinopathy Assessment Variability Among Eye Care Providers in an Urban Teleophthalmology Program Telemed J E Health. 2019 04; 25(4):301-308. . View in PubMed
Fundus Densitometry Findings Suggest Optic Disc Hemorrhages in Primary Open-Angle Glaucoma Have an Arterial Origin Am J Ophthalmol. 2018 03; 187:108-116. . View in PubMed
A Practical Approach to Retinal Dystrophies Adv Exp Med Biol. 2018; 1085:245-259. . View in PubMed
A Novel Adaptive Deformable Model for Automated Optic Disc and Cup Segmentation to Aid Glaucoma Diagnosis J Med Syst. 2017 Dec 07; 42(1):20. . View in PubMed
The ISNT Rule: How Often Does It Apply to Disc Photographs and Retinal Nerve Fiber Layer Measurements in the Normal Population? Am J Ophthalmol. 2017 Dec; 184:19-27.. View in PubMed
Acquired Corneal Neuropathy and Photoallodynia Associated With Malposition of an Ex-PRESS Shunt J Glaucoma. 2017 Jan; 26(1):e19-e21. . View in PubMed
Trabeculectomy and Combined Phacoemulsification-Trabeculectomy: Outcomes and Risk Factors for Failure in Primary Angle Closure Glaucoma J Glaucoma. 2016 09; 25(9):763-9. . View in PubMed
Reply: To PMID 24874999 Am J Ophthalmol. 2015 Feb; 159(2):410-1. . View in PubMed
Bleb revision for resolution of hypotony maculopathy following primary trabeculectomyAm J Ophthalmol. 2014 Sep; 158(3):597-604. e1. . View in PubMed
Aqueous vascular endothelial growth factor and endothelin-1 levels in branch retinal vein occlusion associated with normal tension glaucoma J Glaucoma. 2013 Feb; 22(2):104-9. . View in PubMed
Intravitreal recombinant human erythropoietin: a safety study in rabbits Curr Eye Res. 2008 Sep; 33(9):750-60. . View in PubMed
Hemorrhagic complications from glaucoma surgery in patients on anticoagulation therapy or antiplatelet therapy Am J Ophthalmol. 2008 Apr; 145(4):736-746. . View in PubMed
Erythropoietin: a candidate neuroprotective agent in the treatment of glaucoma J Glaucoma. 2007 Sep; 16(6):567-71. . View in PubMed
Feasibility and efficacy of a mass switch from latanoprost to bimatoprost in glaucoma patients in a prepaid Health Maintenance Organization Ophthalmology. 2005 Dec; 112(12):2123-30. . View in PubMed
Brian J. Song, MD, MPH, FACS, specializes in the medical and surgical management of glaucoma, including advanced laser treatments, minimally invasive glaucoma surgery and cataract surgery.

Dr. Song serves as glaucoma fellowship director and director of education in the Department of Ophthalmology at the Keck School of Medicine of USC. He is also telehealth champion and physician quality champion for the USC Roski Eye Institute.

His research interests include evaluating new methods, such as telemedicine, to improve glaucoma detection. He is also working with collaborators to investigate ways to better evaluate the optic nerve and blood flow abnormalities in glaucoma using novel ultrasound and vascular imaging techniques.

He has conducted National Institutes of Health-sponsored research, evaluating glaucoma detection methods for diabetes patients, and has presented these and other findings both nationally and internationally. Dr. Song was a coauthor of the American Glaucoma Society Position Paper: Microinvasive Glaucoma Surgery and has received an Emerging Vision Scientist Award from the National Alliance for Eye and Vision Research.

Dr. Song was born in New Jersey but grew up in Houston, TX, before moving to Southern California and joining the USC Roski Eye Institute in 2019.