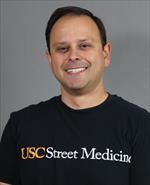 Camilo Zaks
Clinical Associate Professor of Family Medicine (Clinician Educator)
Medical Director for Street Medicine
Family Medicine
CAH 101 - 703 1400 S. Grand Avenue
Off Campus
Los Angeles
Contact
Camilo Zaks, MD, FAAFP, is the Medical Director of Street Medicine and a Clinical Associate Professor of Family Medicine. He received his undergraduate degree in Anthropology from Harvard University and his medical degree from the Keck School of Medicine at USC. Dr. Zaks completed his internship and residency in Family Medicine at Contra Costa Regional Medical Center in Martinez.

After residency training, Dr. Zaks joined the residency core faculty at the California Hospital/USC Family Medicine Residency Program. While he initially had a focus on inpatient Family Medicine and Obstetrics, after several years he transitioned into a leadership role as the Medical Director for the residency clinic at USC-Eisner Family Medical Center at California Hospital. During this time he developed a variety of curricula including procedures, ultrasound, and quality improvement.

Dr. Zaks then moved over to work for the Los Angeles County Department of Health Services, where he held a variety of positions and roles, including PCP at LAC+USC Primary Care West, Associate Medical Director of the San Fernando Valley Health Center Group, PCP and preceptor at Mid Valley CHC Family Medicine, Primary Care Women's Health Director for the Ambulatory Care Network, Attending Physician at Rancho Los Amigos National Rehabilitation Center, and had the honor and privilege to teach both UCLA Family Medicine and Charles Drew Family Medicine resident physicians. During the COVID pandemic, he was responsible for leading San Fernando Valley HCG's COVID testing and vaccination campaigns through cycles of continuous improvement.

Dr. Zaks has spent his career caring for vulnerable populations, teaching in medical education and working to improve health systems. He is excited to be back at Keck working to support care delivery to our most vulnerable patients. He is currently a fellow of the California Health Care Foundation's Health Care Leadership Program (Cohort 20).