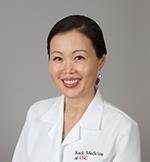 Ching-Fei Chang
Clinical Associate Professor of Medicine (Clinician Educator)
Medicine
IRD 720 2020 Zonal Avenue
Off Campus
Los Angeles
University of Southern California: Teacher of the Year: USC Pulmonary and Critical Care Fellowship Program, 2018
Global Health Summit: 1st Place Case Report Presentation, 2017
CHEST Conference: Best Case Report Oral Presentation: ICU Dilemmas Category, 2007
Southern California Pulmonary Research Symposium: Best Young Investigator Award, 2006
SCPRS: Best Young Investigator Award, 2006
: National Merit Finalist, 1990
University of California: U.C. Regents Scholar, 1990
Playing the odds: lung cancer surveillance after curative surgery Curr Opin Pulm Med. 2017 07; 23(4):298-304. . View in PubMed
The Importance of Being Adaptable: Developing Guidelines for Lung Nodule Evaluation in Asia Chest. 2016 10; 150(4):763-765. . View in PubMed
The five commandments of efficient and effective care in the initial evaluation of lung cancer Curr Opin Pulm Med. 2016 07; 22(4):319-26. . View in PubMed
Lynn Gerald, Cristine Berry Health Disparities in Respiratory Medicine. 2016; 237-264. . View in PubMed
The use and misuse of positron emission tomography in lung cancer evaluation Clin Chest Med. 2011 Dec; 32(4):749-62. . View in PubMed
Dr. Ching-Fei Chang began her academic career by graduating magna cum laude from the University of California-Berkeley in the field of Molecular and Cellular Biology. She subsequently studied medicine at the University of California-San Diego and completed her residency in internal medicine at Kaiser Permanente Los Angeles where she also served as chief resident in her final year. Intrigued by the complexities of intensive care medicine and lung physiology, she accepted a fellowship position in pulmonary and critical care medicine at Harbor-UCLA, and, after graduation, continued her interest in medical education by joining the faculty at the University of Southern California, Keck School of Medicine.

In 2007, Dr. Chang was made Director of Bronchoscopy at the LAC+USC Medical Center. Her top priority has been to transform this county hospital into one of the most cutting-edge centers of interventional pulmonology on the west coast. Under her leadership, it now offers advanced bronchoscopic diagnostic and therapeutic services such as endobronchial ultrasound, electromagnetic navigation, medical thoracoscopy, and bronchial thermoplasty, in addition to pre-existing capabilities of argon plasma coagulation, electrocautery, balloon dilation, and stent placement.

Complementing her interest in pulmonary procedures, Dr. Chang also has a professional focus and interest in lung cancer. She is an integral member of the USC Lung Cancer Program, and runs a weekly private practice clinic at the Norris Comprehensive Cancer Center which is devoted to not only the evaluation and management of lung nodules and masses, but also the treatment of pulmonary complications stemming from aggressive oncologic therapy. As part of the multidisciplinary lung cancer team, Dr. Chang provides the interventional pulmonary support for minimally-invasive approaches to the diagnosis of thoracic lesions.

Dr. Chang's other interests include critical care ultrasonography, simulation training, and medical education. She serves as an Associate Program Director and a Research Mentor for the USC Pulmonary and Critical Care Fellowship, which is one of the largest training programs in the nation with a total of 21 fellows. Each year, she organizes and teaches the first-year fellow Skills Simulation Workshop, as well as supervises the on-going Program Improvement Projects for the Division. She also provides ambulatory didactic teaching for the Internal Medicine program at LAC+USC and helps teach the Year Two pulmonary curriculum for the Keck School of Medicine. Dr. Chang has also been active in educating community physicians by organizing, chairing, and lecturing at several regional pulmonary conferences in the past 3 years, and recently received a Distinguished CHEST Educator national award for her years of service in teaching endobronchial ultrasound for the American College of Chest Physicians. She has also been nominated as a top doctor on multiple occasions for the Pasadena Magazine, LA Magazine, and Castle Connolly annual polls.