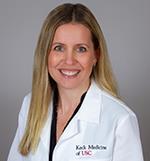 Dina R. Block
Clinical Assistant Professor of Medicine (Practitioner) Part-Time
Associate Director of USC Westside Diabetes Center
Medicine
1520 San Pablo St.
Health Sciences Campus
Los Angeles
Contact
After completing her undergraduate training at the University of Illinois at Urbana-Champaign, Dr. Block received her Medical Degree from the Sackler School of Medicine in Tel Aviv, Israel. She continued her training in Internal Medicine at Mt. Sinai Beth Israel Hospital and completed her training as an endocrinology fellow at NYU Medical Center. She remained at NYU as an Assistant Professor in the Department of Medicine before moving to Los Angeles in 2015. She held an appointment in the department of medicine at UCLA until 2018 when she joined the faculty at the Keck School of Medicine of USC. In her spare time, Dr. Block enjoys traveling, cooking, and spending time with her husband and two daughters.

Dr. Block's clinical interests include thyroid disorders, thyroid cancer, polycystic ovarian syndrome, and adrenal gland disorders.

The most important thing to Dr. Block is establishing a good relationship with her patients, one in which they feel heard and understood. She believes in working with her patients to provide the best possible care.