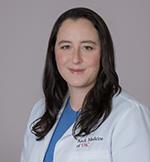 Emily Siegel
Assistant Professor of Clinical Surgery
Surgery
1520 San Pablo St.
Health Sciences Campus
Los Angeles
Contact
Axillary lymph node recurrence following wire-directed sentinel lymph node dissection for breast cancer patients with biopsy-proven axillary metastases prior to neoadjuvant chemotherapy at a safety net medical center J Surg Oncol. 2023 Mar 18. . View in PubMed
Changes in utilization of axillary dissection in women with invasive breast cancer and sentinel node metastasis after the ACOSOG Z0011 trial Breast J. 2021 03; 27(3):216-221. . View in PubMed
Emily L. Siegel, MD, is an Assistant Professor of Clinical Surgery at the Keck School of Medicine at USC. After attending Williams College for her undergraduate studies, she went on to receive her MD from the Keck School of Medicine and then trained in General Surgery at Cedars-Sinai Medical Center. After pursuing research interests in breast cancer, she finished her specialty training in Breast Oncology Surgery at H. Lee Moffitt Cancer Center in Tampa, Florida.
Dr. Siegel's professional interests include the surgical management of breast cancer and in transgender clinical care and research, and she has been published widely, including in both peer-reviewed journals and medical textbooks.

Dr. Siegel is a Los Angeles native and is committed to bringing the best possible care to her community.

Dr. Siegel is board-certified in general surgery and fellowship-trained in breast surgical oncology.