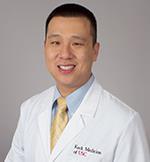 Eric Tan, MD
Assistant Professor of Clinical Orthopaedic Surgery
HC2 - 1520 San Pablo Street, #2000
Health Sciences Campus
Los Angeles
Eric W. Tan, MD is an assistant professor in the Department of Orthopaedic Surgery at the Keck School of Medicine of USC. He specializes in both common and complex problems of the foot and ankle, and he has a special interest in arthroscopic procedures, total ankle replacement, and reconstructive procedures.

Dr. Tan attended medical school and completed his orthopaedic surgery training at the Johns Hopkins Hospital, where he also served as resident physician for the Baltimore Orioles and the Johns Hopkins University athletics. He completed a foot and ankle fellowship at Union Memorial Hospital in Baltimore, Maryland under fellowship director Lew C. Schon, MD, prior to returning to southern California.

He is actively involved in scientific research and has authored articles and book chapters as well as presented work at various national and international meetings. Dr. Tan's areas of interest include foot and ankle arthritis, total ankle replacements, cartilage preservation and restoration, fractures of the foot and ankle, and application of stem cells in the treatment of various foot and ankle conditions. In addition, he is actively involved with numerous national organizations including the American Academy of Orthopaedic Surgeons, American Orthopaedic Association, and the American Orthopaedic Foot and Ankle Society.
Los Angeles Magazine: Super Doctors: Southern California Rising Star, 2017-2018
Pasadena Magazine: Top Doctor, 2017
Outcomes of flexor digitorum longus (FDL) tendon transfer in the treatment of Achilles tendon disorders Foot Ankle Surg. 2019 Jun; 25(3):303-309. . View in PubMed
Patient and Practice Trends in Total Ankle Replacement and Tibiotalar Arthrodesis in the United States From 2007 to 2013 J Am Acad Orthop Surg. 2019 Jan 15; 27(2):e77-e84. . View in PubMed
Clinical and Radiological Outcomes of Transfibular Total Ankle Arthroplasty Foot Ankle Int. 2019 Jan; 40(1):24-33. . View in PubMed
Fibular groove morphology and measurements on MRI: correlation with fibularis tendon abnormalities Surg Radiol Anat. 2019 Jan; 41(1):75-85. . View in PubMed
Histological and Gross Evaluation through Second-Look Arthroscopy of Osteochondral Lesions of the Talus after Failed Treatment with Particulated Juvenile Cartilage: A Case Series J Orthop Case Rep. 2018 Mar-Apr; 8(2):69-73. . View in PubMed
Bone-block arthrodesis procedure in failures of first metatarsophalangeal joint replacement Foot Ankle Surg. 2017 Sep; 23(3):163-167. . View in PubMed
Identifying the learning curve for total ankle replacement using a mobile bearing prosthesis Foot Ankle Surg. 2017 Jun; 23(2):76-83. . View in PubMed
Effect of Insurance on Rates of Total Ankle Arthroplasty Versus Arthrodesis for Tibiotalar Osteoarthritis Foot Ankle Int. 2017 Feb; 38(2):133-139. . View in PubMed
Post-Traumatic Periprosthetic Tibial and Fibular Fracture After Total Ankle Arthroplasty: A Case Report J Foot Ankle Surg. 2017 Jan - Feb; 56(1):196-200. . View in PubMed
Mesenchymal Stem Cell-Bearing Sutures for Tendon Repair and Healing in the Foot and Ankle Foot Ankle Clin. 2016 Dec; 21(4):885-890. . View in PubMed
Early Complications and Secondary Procedures in Transfibular Total Ankle Replacement Foot Ankle Int. 2016 Aug; 37(8):835-41. . View in PubMed
Early Weightbearing After Operatively Treated Ankle Fractures: A Biomechanical Analysis Foot Ankle Int. 2016 Jun; 37(6):652-8. . View in PubMed
Posterior Talar Shifting in Mobile-Bearing Total Ankle Replacement Foot Ankle Int. 2016 Mar; 37(3):281-7. . View in PubMed
Use of a Percutaneous Pointed Reduction Clamp Before Screw Fixation to Prevent Gapping of a Fifth Metatarsal Base Fracture: A Technique Tip J Foot Ankle Surg. 2016 Jan-Feb; 55(1):151-6. . View in PubMed
Safe Zone for Neural Structures in Medial Displacement Calcaneal Osteotomy: A Cadaveric and Radiographic Investigation Foot Ankle Int. 2015 Dec; 36(12):1493-8. . View in PubMed
Dysregulated TGF-ß signaling alters bone microstructure in a mouse model of Loeys-Dietz syndrome J Orthop Res. 2015 Oct; 33(10):1447-54. . View in PubMed
Scapular Winging: A Great Masquerader of Shoulder Disorders: AAOS Exhibit Selection J Bone Joint Surg Am. 2014 Jul 16; 96(14):e122. . View in PubMed
Upper-extremity peripheral nerve blocks in the perioperative pain management of orthopaedic patients: AAOS exhibit selection J Bone Joint Surg Am. 2013 Dec 18; 95(24):e197(1-13). . View in PubMed
Increased fracture risk and low bone mineral density in patients with loeys-dietz syndrome Am J Med Genet A. 2013 Aug; 161A(8):1910-4. . View in PubMed
Solitary plasmacytoma of the medial clavicle Am J Orthop (Belle Mead NJ). 2013 May; 42(5):230-2. . View in PubMed
Diagnostic errors in orthopedic surgery: evaluation of resident documentation of neurovascular examinations for orthopedic trauma patients Am J Med Qual. 2013 Jan-Feb; 28(1):60-8. . View in PubMed
Lower-extremity peripheral nerve blocks in the perioperative pain management of orthopaedic patients: AAOS exhibit selection J Bone Joint Surg Am. 2012 Nov 21; 94(22):e167. . View in PubMed
Malignant soft tissue tumors of the biceps muscle mistaken for proximal biceps tendon rupture Orthopedics. 2012 Oct; 35(10):e1548-52. . View in PubMed
Role of hematologic laboratory studies in the postoperative management of patients undergoing anterior cervical diskectomy and fusion Orthopedics. 2012 Jun; 35(6):e917-21. . View in PubMed
Postoperative incentive spirometry use Orthopedics. 2012 Jun; 35(6):e927-31. . View in PubMed
Enhanced biomechanical stiffness with large pins in the operative treatment of pediatric supracondylar humerus fractures J Pediatr Orthop. 2012 Mar; 32(2):201-5. . View in PubMed
Pin size influences sagittal alignment in percutaneously pinned pediatric supracondylar humerus fractures J Pediatr Orthop. 2010 Dec; 30(8):792-8. . View in PubMed
Intramuscular synovial cyst of the shoulder: a case report J Shoulder Elbow Surg. 2010 Apr; 19(3):e20-4. . View in PubMed
Species differences in group size and electrosensory interference in weakly electric fishes: implications for electrosensory processing Behav Brain Res. 2010 Mar 05; 207(2):368-76. . View in PubMed
Electrosensory interference in naturally occurring aggregates of a species of weakly electric fish, Eigenmannia virescens Behav Brain Res. 2005 Oct 14; 164(1):83-92. . View in PubMed
Effects of global electrosensory signals on motion processing in the midbrain of Eigenmannia J Comp Physiol A Neuroethol Sens Neural Behav Physiol. 2005 Sep; 191(9):865-72. . View in PubMed