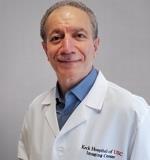 Farhood Saremi
Professor of Clinical Radiology
Radiology
GNH 3D321
Off Campus
Los Angeles
Contact
RSNA: Roentgen Resident/Fellow Research Award, 2001
Delayed Development of Multiple Pancreaticoduodenal Arcade Pseudoaneurysms after Abdominal TraumaAnn Vasc Surg. 2016 Oct; 36:297. e11-297. e15. . View in PubMed
Cardiac Outpouchings: Practical Approach to Normal Variants and Pathologic Conditions at CT and MRI Radiographics. 2023 05; 43(5):e220063. . View in PubMed
Left Atrial Appendage Mechanical Exclusion: Procedural Planning Using Cardiovascular Computed Tomographic Angiography J Thorac Imaging. 2020 Jul; 35(4):W107-W118. . View in PubMed
Myocardial Radiomics in Cardiac MRI AJR Am J Roentgenol. 2020 03; 214(3):536-545. . View in PubMed
En Bloc AngioVac Removal of Thoracic Aortic Mass Tex Heart Inst J. 2020 08 01; 47(4):315-318. . View in PubMed
Corrigendum to "Left Atrial Anatomy Relevant to Catheter Ablation" Cardiol Res Pract. 2020; 2020:3490543. . View in PubMed
Tricuspid Annular Diameter Measurement on Routine Chest CT Can Detect Significant Tricuspid Regurgitation AJR Am J Roentgenol. 2019 12; 213(6):W257-W263. . View in PubMed
Cardiovascular Computed Tomographic Angiography as a Virtual Patient Avatar for Individualized Surgical Planning of Complex Anomalous Coronary Artery Anatomy World J Pediatr Congenit Heart Surg. 2019 07; 10(4):502-503. . View in PubMed
Image Predictors of Treatment Outcome after Thoracic Aortic Dissection Repair Radiographics. 2018 Nov-Dec; 38(7):1949-1972. . View in PubMed
Relationship between the membranous septum and the virtual basal ring of the aortic root in candidates for transcatheter implantation of the aortic valve Clin Anat. 2018 May; 31(4):525-534. . View in PubMed
Variations in rotation of the aortic root and membranous septum with implications for transcatheter valve implantation Heart. 2018 06; 104(12):999-1005. . View in PubMed
Comprehensive Cross-sectional Imaging of the Pulmonary Veins Radiographics. 2017 Nov-Dec; 37(7):1928-1954. . View in PubMed
Fibrous Skeleton of the Heart: Anatomic Overview and Evaluation of Pathologic Conditions with CT and MR Imaging Radiographics. 2017 Sep-Oct; 37(5):1330-1351. . View in PubMed
A correlative study of aortic valve rotation angle and thoracic aortic sizes using ECG gated CT angiography Eur J Radiol. 2017 Apr; 89:60-66. . View in PubMed
Assessment of segmental myocardial blood flow and myocardial perfusion reserve by adenosine-stress myocardial arterial spin labeling perfusion imaging J Magn Reson Imaging. 2017 08; 46(2):413-420. . View in PubMed
Double-gated myocardial ASL perfusion imaging is robust to heart rate variation Magn Reson Med. 2017 05; 77(5):1975-1980. . View in PubMed
Cardiac MR Imaging in Acute Coronary Syndrome: Application and Image Interpretation Radiology. 2017 Jan; 282(1):17-32. . View in PubMed
Septal Atrioventricular Junction Region: Comprehensive Imaging in Adults Radiographics. 2016 Nov-Dec; 36(7):1966-1986. . View in PubMed
Extracardiac Pulmonary-Systemic Connection via Persistent Levoatriocardinal Vein in AdultsAnn Vasc Surg. 2016 Jul; 34:269. e1-7. . View in PubMed
Impaired fasting glucose is associated with increased severity of subclinical coronary artery disease compared to patients with diabetes and normal fasting glucose: evaluation by coronary computed tomographic angiography BMJ Open. 2016 08 16; 6(8):e005148. . View in PubMed
Computed Tomographic Diagnosis of Myocardial Fat Deposits in Sarcoidosis J Comput Assist Tomogr. 2015 Jul-Aug; 39(4):578-83. . View in PubMed
Imaging Evaluation of Tricuspid Valve: Analysis of Morphology and Function With CT and MRI AJR Am J Roentgenol. 2015 May; 204(5):W531-42. . View in PubMed
Coronary plaque characterization using CT AJR Am J Roentgenol. 2015 Mar; 204(3):W249-60. . View in PubMed
Modern day management of giant cell myocarditis Int J Cardiol. 2015 Jan 15; 178:82-4. . View in PubMed
Anatomical Basis for the Cardiac Interventional Electrophysiologist Biomed Res Int. 2015; 2015:547364. . View in PubMed
Left circumflex coronary-pulmonary artery fistula and transmediastinal participation of bronchial arteries best shown by CT Int J Cardiol. 2014 Dec 20; 177(3):e120-4. . View in PubMed
Epicardial adipose tissue volume as a marker of coronary artery disease severity in patients with diabetes independent of coronary artery calcium: findings from the CTRAD study Diabetes Res Clin Pract. 2014 Nov; 106(2):228-35. . View in PubMed
Left atrial appendage: anatomy and imaging landmarks pertinent to percutaneous transcatheter occlusion Heart. 2014 Oct; 100(20):1636-50. . View in PubMed
Paradoxical embolism: role of imaging in diagnosis and treatment planning Radiographics. 2014 Oct; 34(6):1571-92. . View in PubMed
Comparison of epicardial adipose tissue volume and coronary artery disease severity in asymptomatic adults with versus without diabetes mellitus Am J Cardiol. 2014 Sep 01; 114(5):686-91. . View in PubMed
CT and MR imaging of the pulmonary valve Radiographics. 2014 Jan-Feb; 34(1):51-71. . View in PubMed
Left atrial anatomy relevant to catheter ablation Cardiol Res Pract. 2014; 2014:289720. . View in PubMed
Anomalous left hepatic vein draining into coronary sinus imaged with multidetector computed tomography Clin Anat. 2013 Nov; 26(8):987-9. . View in PubMed
Incremental value of color coding in 3D volume rendered CT images for interpretation of complex cardiothoracic vascular malformations Int J Cardiol. 2013 Oct 12; 168(5):4692-8. . View in PubMed
Dual origin, course and supply in coronary artery system Int J Cardiol. 2013 Oct 12; 168(5):4970-4. . View in PubMed
Right to left shunting through communications between the left superior intercostal vein tributaries and the left atrium: a potential cause of paradoxical embolism Int J Cardiol. 2013 Sep 10; 167(6):2867-74. . View in PubMed
Syphilitic angina Am J Med. 2013 Sep; 126(9):e3-4. . View in PubMed
The art of color coding for three dimensional diagnostic mapping of unusual cardiothoracic vascular abnormalities Int J Cardiol. 2013 Jul 01; 166(3):e68-74. . View in PubMed
Morphological assessment of RVOT: CT and CMR imaging JACC Cardiovasc Imaging. 2013 May; 6(5):631-5. . View in PubMed
Assessment of post-atrial switch baffle integrity using a modified dual extremity injection cardiac computed tomography angiography technique Int J Cardiol. 2013 Jan 10; 162(2):e25-7. . View in PubMed
Right ventricular outflow tract imaging with CT and MRI: Part 2, Function AJR Am J Roentgenol. 2013 Jan; 200(1):W51-61. . View in PubMed
Right ventricular outflow tract imaging with CT and MRI: Part 1, Morphology AJR Am J Roentgenol. 2013 Jan; 200(1):W39-50. . View in PubMed
Coronary veins: comprehensive CT-anatomic classification and review of variants and clinical implications Radiographics. 2012 Jan-Feb; 32(1):E1-32. . View in PubMed
Caseous mitral annular calcification along the anterolateral annulus causing mild mitral regurgitation: multi-modality imaging and diagnosis Circ J. 2012; 76(12):2898-900. . View in PubMed
Coronary CTA assessment of coronary anomalies J Cardiovasc Comput Tomogr. 2012 Jan-Feb; 6(1):48-59. . View in PubMed
Coronary artery ostial atresia: diagnosis of conotruncal anastomotic collateral rings using CT angiography JACC Cardiovasc Imaging. 2011 Dec; 4(12):1320-3. . View in PubMed
Aberrant penetrating posterior descending artery from proximal right coronary artery Clin Anat. 2011 Nov; 24(8):956-8. . View in PubMed
Intravenous leiomyomatosis presenting as acute Budd-Chiari syndrome J Vasc Surg. 2011 Sep; 54(3):860-3. . View in PubMed
Posterior interatrial muscular connection between the coronary sinus and left atrium: anatomic and functional study of the coronary sinus with multidetector CT Radiology. 2011 Sep; 260(3):671-9. . View in PubMed
Quantification of epicardial adipose tissue: correlation of surface area and volume measurements Acad Radiol. 2011 Aug; 18(8):977-83. . View in PubMed
Eagle syndrome presenting with external carotid artery pseudoaneurysm Emerg Radiol. 2011 Jun; 18(3):263-5. . View in PubMed
Diffusion-weighted imaging of the abdomen at 3 T: image quality comparison with 15-T magnet using 3 different imaging sequences. J Comput Assist Tomogr. 2011 May-Jun; 35(3):317-25. . View in PubMed
Metastatic Ewing's Sarcoma to the Right Ventricle Images Paediatr Cardiol. 2011 Apr; 13(2):4-7. . View in PubMed
Multisite infective endocarditis with mural vegetations in the right atrium and right ventricle Circulation. 2011 Feb 01; 123(4):457-8. . View in PubMed
Effect of intravenous extracellular gadolinium based contrast medium on renal diffusion weighted images Acad Radiol. 2011 Feb; 18(2):174-83. . View in PubMed
Metabolic syndrome and ectopic fat deposition: what can CT and MR provide? Acad Radiol. 2010 Oct; 17(10):1302-12.. View in PubMed
Dual left anterior descending artery with dominant long left anterior descending artery ascending as posterior interventricular artery Ann Thorac Surg. 2010 Sep; 90(3):1022. . View in PubMed
Coronary venous aneurysm in patients without cardiac arrhythmia as detected by MDCT: an anatomic variant or a pathologic entity JACC Cardiovasc Imaging. 2010 Mar; 3(3):257-65. . View in PubMed
Study of hemodynamics of abdominal aortic dissection with ECG-gated CT J Cardiovasc Comput Tomogr. 2010 Mar-Apr; 4(2):147; author reply 147. . View in PubMed
Cardiac conduction system: delineation of anatomic landmarks with multidetector CT Indian Pacing Electrophysiol J. 2009 Nov 01; 9(6):318-33. . View in PubMed
Characterization of genitourinary lesions with diffusion-weighted imaging Radiographics. 2009 Sep-Oct; 29(5):1295-317. . View in PubMed
The role of computed tomography and magnetic resonance imaging in ablation procedures for treatment of atrial fibrillation Semin Ultrasound CT MR. 2009 Apr; 30(2):125-56. . View in PubMed
Isolated right ventricular infarction owing to anomalous origin of right coronary artery: role of MR and CT in diagnosis J Thorac Imaging. 2009 Feb; 24(1):34-7. . View in PubMed
Myocardial calcinosis in chronic renal failure J Radiol Case Rep. 2009; 3(2):16-9. . View in PubMed
64 multidetector CT in patent foramen ovale BMJ Case Rep. 2009; 2009:bcr2006097782. . View in PubMed
Imaging of patent foramen ovale with 64-section multidetector CT Radiology. 2008 Nov; 249(2):483-92. . View in PubMed
Bachmann Bundle and its arterial supply: imaging with multidetector CT--implications for interatrial conduction abnormalities and arrhythmias Radiology. 2008 Aug; 248(2):447-57. . View in PubMed
Optimizing cardiac MR imaging: practical remedies for artifacts Radiographics. 2008 Jul-Aug; 28(4):1161-87. . View in PubMed
MDCT of the S-shaped sinoatrial node artery AJR Am J Roentgenol. 2008 Jun; 190(6):1569-75. . View in PubMed
Right atrial cavotricuspid isthmus: anatomic characterization with multi-detector row CT Radiology. 2008 Jun; 247(3):658-68. . View in PubMed
Prevalence of left atrial appendage pseudothrombus filling defects in patients with atrial fibrillation undergoing coronary computed tomography angiography J Cardiovasc Comput Tomogr. 2008 May-Jun; 2(3):164-71. . View in PubMed
Multidetector computed tomography shows intramyocardial fat deposition J Cardiovasc Comput Tomogr. 2008 May-Jun; 2(3):152-63. . View in PubMed
Diagnosis of variants of single right coronary trunk using 64 multidetector computed tomography J Radiol Case Rep. 2008; 2(5):19-22. . View in PubMed
Arterial supply to sinuatrial and atrioventricular nodes: imaging with multidetector CT Radiology. 2008 Jan; 246(1):99-107; discussion 108-9. . View in PubMed
Multidetector computed tomography (MDCT) in diagnosis of "cor triatriatum sinister" J Cardiovasc Comput Tomogr. 2007 Dec; 1(3):172-4. . View in PubMed
Cardiac conduction system: anatomic landmarks relevant to interventional electrophysiologic techniques demonstrated with 64-detector CT Radiographics. 2007 Nov-Dec; 27(6):1539-65; discussion 1566-7. . View in PubMed
Detection of phrenic nerves and their relation to cardiac anatomy using 64-slice multidetector computed tomography Am J Cardiol. 2007 Jul 01; 100(1):133-7. . View in PubMed
Utility of cardiac MRI for diagnosis and post-treatment follow-up of lupus myocarditis Int J Cardiovasc Imaging. 2007 Jun; 23(3):347-52. . View in PubMed
64 multidetector CT in patent foramen ovale Heart. 2007 Apr; 93(4):505. . View in PubMed
MRI of cranial nerve enhancement AJR Am J Roentgenol. 2005 Dec; 185(6):1487-97. . View in PubMed
Area beam equalization: optimization and performance of an automated prototype system for chest radiography Acad Radiol. 2004 Apr; 11(4):377-89. . View in PubMed
Pharmacologic interventions in nuclear radiology: indications, imaging protocols, and clinical results Radiographics. 2002 May-Jun; 22(3):477-90. . View in PubMed
Hydatid cysts of the liver: long-term results of percutaneous treatment using a cutting instrument AJR Am J Roentgenol. 1995 Nov; 165(5):1163-7. . View in PubMed
Percutaneous drainage of hydatid cysts: use of a new cutting device to avoid leakage AJR Am J Roentgenol. 1992 Jan; 158(1):83-5. . View in PubMed
After receiving his medical degree and completing a radiology residency in 1988 from the University of Tehran, Dr. Saremi was employed as assistant professor of radiology at the same university. He also served as Chief of Radiology at Vali-Asr Hospital for four years and was later promoted to associate professor. During this period Dr. Saremi's main interest was interventional radiology. He published several articles on the subject.

Dr. Saremi moved to the United States in 1995 and entered the radiology residency program at USC before completing two fellowships in neuroradiology and body imaging. In 2002 he was appointed as associate professor of radiology at the University of California, Irvine and in three years, was promoted to professor of radiology with a joint appointment in medicine. He then served as Chief of Cardiothoracic section at UCI for seven years and completed subspecialty fellowships in Cardiovascular MRI at Duke Medical Center and Cardiovascular CT at UCI. During this period, he published more than 30 articles in cardiac imaging and contributed to four cardiac imaging books as main author or co-author.

Currently, his research is mainly focused on CT and MRI of the heart and specifically on cardiac conduction system and arrhythmias.