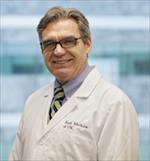 Gerhard Fuchs
Professor of Clinical Urology
Executive Director of the USC Institute of Urology (Beverly Hills)
Vice Chair of Education of the USC Institute of Urology
Director of Quality Assurance/Improvement of the USC Institute of Urology
Executive Director of the Men's Health Center
Urology
NOR 1441 Eastlake Ave
Health Sciences Campus
Los Angeles
Reply by Authors J Urol. 2023 05; 209(5):862. . View in PubMed
A Urine-based DNA Methylation Marker Test to Detect Upper Tract Urothelial Carcinoma: A Prospective Cohort Study J Urol. 2023 05; 209(5):854-862. . View in PubMed
The impact of male infertility faculty on urology residency training Andrologia. 2022 Sep; 54(8):e14457. . View in PubMed
Bladder Recurrence Following Diagnostic Ureteroscopy in Patients Undergoing Nephroureterectomy for Upper Tract Urothelial Cancer: Is Ureteral Access Sheath Protective? Urology. 2022 02; 160:142-146.. View in PubMed
Digital urologic education during COVID-19: the rise of the "webin-era" Minerva Urol Nephrol. 2021 04; 73(2):137-140. . View in PubMed
Impact of Covid-19 on the urology service in United States: perspectives and strategies to face a PandemicInt Braz J Urol. 2020 07; 46(suppl. 1):207-214. . View in PubMed
Thulium-Holmium:YAG Duo Laser in Conservative Upper Tract Urothelial Cancer Treatment: 13 Years Experience from a Tertiary National Referral Center J Endourol. 2019 11; 33(11):902-908. . View in PubMed
Long-Term Body Mass Index Trends After Living-Donor Nephrectomy Exp Clin Transplant. 2017 Oct; 15(5):521-526. . View in PubMed
Complications of stone disease in the 21st century--can noninvasive and minimally invasive treatment modalities improve the overall renal health of stone formers? J Urol. 2014 Nov; 192(5):1322-3.. View in PubMed
Management of stones associated with intrarenal stenosis: infundibular stenosis and caliceal diverticulum J Endourol. 2013 Dec; 27(12):1546-50. . View in PubMed
Improving flexible ureterorenoscope durability up to 100 procedures J Endourol. 2012 Oct; 26(10):1329-34. . View in PubMed
First collaborative experience with thulium laser ablation of localized upper urinary tract urothelial tumors using retrograde intra-renal surgery Arch Ital Urol Androl. 2011 Sep; 83(3):147-53. . View in PubMed
Percutaneous biopsy of renal cell carcinoma underestimates nuclear grade Urology. 2010 Sep; 76(3):610-3. . View in PubMed
Enlargement of accessory spleen after splenectomy can mimic a solitary adrenal tumor Urology. 2010 Mar; 75(3):561-2. . View in PubMed
A comparison of running suture versus figure-8 sutures as the initial step in achieving hemostasis during laparoscopic partial nephrectomy J Endourol. 2010 Mar; 24(3):421-4. . View in PubMed
Urolithiasis in adults with congenital megaureter Can Urol Assoc J. 2009 Dec; 3(6):E77-80. . View in PubMed
Adrenal metastasis with inferior vena cava tumor thrombus through adrenal vein Urology. 2009 Aug; 74(2):290-1. . View in PubMed
Delayed hematuria secondary to bleeding papilla--potential complication of laparoscopic partial nephrectomyUrology. 2009 May; 73(5):1163. e13-5. . View in PubMed
Video rounding system: a pilot study in patient care J Endourol. 2008 Jun; 22(6):1179-82. . View in PubMed
The Hem-o-lok clip is safe for laparoscopic nephrectomy: a multi-institutional review Urology. 2008 Apr; 71(4):593-6. . View in PubMed
Laparoscopic nephrectomy outcomes of elderly patients in the 21st century J Endourol. 2007 Nov; 21(11):1309-13. . View in PubMed
Simultaneous bilateral retrograde intrarenal surgery for stone disease in patients with significant comorbidities J Endourol. 2006 Oct; 20(10):761-5. . View in PubMed
Multi-institutional validation study of neural networks to predict duration of stay after laparoscopic radical/simple or partial nephrectomy J Urol. 2005 Oct; 174(4 Pt 1):1380-4. . View in PubMed
Bladder reconstitution with bone marrow derived stem cells seeded on small intestinal submucosa improves morphological and molecular composition J Urol. 2005 Jul; 174(1):353-9. . View in PubMed
Looped silk tie: surgical technique for management of the renal vein during laparoscopic live-donor nephrectomy J Endourol. 2005 Apr; 19(3):401-5. . View in PubMed
Simultaneous bilateral retrograde intrarenal surgery for bilateral complex upper tract stone disease Urology. 2005 Mar; 65(3):572-4. . View in PubMed
Newly designed laparoscopic retractable dissector and suture passer Urology. 2005 Feb; 65(2):374-7. . View in PubMed
Laparoscopic skills training using a webcam trainer J Urol. 2005 Jan; 173(1):180-3. . View in PubMed
Laparoscopic dismembered pyeloureteroplasty: a single institution's 3-year experience J Endourol. 2004 Oct; 18(8):765-9. . View in PubMed
Spontaneous, unremitting gross hematuria occurring one week after laparoscopic donor nephrectomy Int Braz J Urol. 2004 Sep-Oct; 30(5):398-9. . View in PubMed
Early experience with laparoscopic cryoablation in patients with small renal tumors and severe comorbidities J Endourol. 2003 Aug; 17(6):415-23. . View in PubMed
Endoscopic surgery for renal calculi Curr Opin Urol. 2003 May; 13(3):243-7. . View in PubMed
An internationally renowned surgeon, researcher, and educator with nearly 30 years of experience, Dr. Gerhard J. Fuchs specializes in minimally invasive procedures for treating kidney stones, as well as advanced endoscopic and urologic laparoscopic surgery.

Prior to joining USC, Dr. Fuchs served as the director of the Minimally Invasive Urology Program, Vice Chairman of Department of Surgery, Director for the Urology Residency and Fellowship programs, and the Medallion Chair in Minimally Invasive Urology at Cedars-Sinai Medical Center. Dr. Fuchs also was a clinical professor of urology at the David Geffen School of Medicine at the University of California Los Angeles (UCLA). Previously, Dr. Fuchs held a number of positions at UCLA, including Chief of Endourology, Stone Disease, and Laparoscopic Surgery.

Dr. Fuchs received both his undergraduate and medical degrees from University of Heidelberg in Germany. There he completed his internship in medicine, surgery and gynecology. He was awarded a doctoral degree by the University of Freiburg Medical School, Germany (the equivalent of a PhD in Europe). Residencies in General Surgery and Urology were completed at Tubingen University Medical School in Stuttgart, Germany. He is Board Certified through both the American and German Boards of Urology, and is a Fellow of the American College of Surgeons.