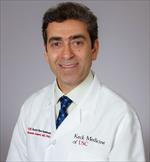 Hossein Ameri
Associate Professor of Clinical Ophthalmology
Director of USC Retinal Degeneration Center
Ophthalmology
HC4 4900 1450 San Pablo Street
Health Sciences Campus
Los Angeles
Contact
Department of Ophthalmology and Visual Sciences, University of Texas Medical Branch: Academic Achievement Award in Recognition of Exceptional Academic Performance, 2012
Department of Ophthalmology and Visual Sciences, University of Texas Medical Branch: Leadership Award in Recognition of Exemplary Performance as a Resident Leader, 2012
Department of Ophthalmology and Visual Sciences, University of Texas Medical Branch: Senior Resident Teaching Award: Outstanding Commitment to Educating Junior Colleagues with Clinical , 2012
Department of Ophthalmology and Visual Sciences, University of Texas Medical Branch: Senior Resident Teaching Award: Outstanding Commitment to Educating Junior Colleagues with Clinical, 2012
Department of Ophthalmology and Visual Sciences, University of Texas Medical Branch: Academic Achievement Award, 2011
Heed Ophthalmic Foundation: Heed Residents Retreat, 2011
Department of Ophthalmology and Visual Sciences, University of Texas Medical Branch: Residency Academic Achievement Award, 2010
Department of Ophthalmology, University of Southern California: Basic Science Award, 2007
Association for Research in Vision and Ophthalmology: International Travel Grant Award, 2007
Insights into Metabolic Activity and Structure of the Retina through Multiphoton Fluorescence Lifetime Imaging Microscopy in Mice Cells. 2022 Jul 22; 11(15). . View in PubMed
Visual Outcomes in Eyes With Neovascular Glaucoma and Anterior Segment Neovascularization Without Glaucoma Am J Ophthalmol. 2022 04; 236:1-11. . View in PubMed
Capillary density and caliber as assessed by optical coherence tomography angiography may be significant predictors of diabetic retinopathy severity PLoS One. 2022; 17(1):e0262996. . View in PubMed
Ischemic index and distribution of retinal capillary non-perfusion in neovascular glaucoma Front Biosci (Landmark Ed). 2022 01 17; 27(1):24. . View in PubMed
Acquired Vitelliform Macular Degeneration: Characteristics and Challenges of Managing Subretinal Fluid J Ophthalmic Vis Res. 2021 Oct-Dec; 16(4):582-591. . View in PubMed
Fundus Autofluorescence and Clinical Applications J Ophthalmic Vis Res. 2021 Jul-Sep; 16(3):432-461. . View in PubMed
Electroretinogram and Visual Field Correlation in Birdshot Chorioretinopathy Asia Pac J Ophthalmol (Phila). 2021 Feb 03; 10(2):208-211. . View in PubMed
Patterns of Autofluorescence in Common Genotypes of Retinitis Pigmentosa Ophthalmic Surg Lasers Imaging Retina. 2021 08; 52(8):426-431. . View in PubMed
Association of the Pattern of Retinal Capillary Non-Perfusion and Vascular Leakage with Retinal Neovascularization in Proliferative Diabetic Retinopathy J Curr Ophthalmol. 2021 Jan-Mar; 33(1):56-61. . View in PubMed
Relating Retinal Vascular Oxygen Saturation and Microvasculature Morphology at Progressive Stages of Diabetic Retinopathy Transl Vis Sci Technol. 2021 05 03; 10(6):4. . View in PubMed
Classification of advanced and early stages of diabetic retinopathy from non-diabetic subjects by an ordinary least squares modeling method applied to OCTA images Biomed Opt Express. 2020 Aug 01; 11(8):4666-4678. . View in PubMed
Reduced Expression of VEGF-A in Human Retinal Pigment Epithelial Cells and Human Muller Cells Following CRISPR-Cas9 Ribonucleoprotein-Mediated Gene Disruption Transl Vis Sci Technol. 2020 07; 9(8):23. . View in PubMed
Autofluorescence of choroidal vessels in Bietti's crystalline dystrophy BMJ Open Ophthalmol. 2020; 5(1):e000592. . View in PubMed
Optical coherence tomography imaging of presumed Cryptococcus neoformans infection localized to the retina J Curr Ophthalmol. 2019 Sep; 31(3):353-356. . View in PubMed
Retinal Gene Distribution and Functionality Implicated in Inherited Retinal Degenerations Can Reveal Disease-Relevant Pathways for Pharmacologic Intervention Pharmaceuticals (Basel). 2019 May 17; 12(2). . View in PubMed
Gene Therapy for Inherited Retinal Degeneration J Ocul Pharmacol Ther. 2019 03; 35(2):79-97. . View in PubMed
Enhanced Depth Navigation Through Augmented Reality Depth Mapping in Patients with Low Vision Sci Rep. 2019 08 02; 9(1):11230. . View in PubMed
Argus II Retinal Prosthesis Implantation in a Patient With a History Of Strabismus Surgery:A Surgical Technique Ophthalmic Surg Lasers Imaging Retina. 2019 02 01; 50(2):116-119. . View in PubMed
VISUAL AND ANATOMICAL OUTCOMES AFTER DIABETIC TRACTION AND TRACTION-RHEGMATOGENOUS RETINAL DETACHMENT REPAIR Retina. 2018 Oct; 38(10):1913-1919. . View in PubMed
Eplerenone as a novel treatment for persistent subretinal fluid following retinal detachment surgery Am J Ophthalmol Case Rep. 2018 Jun; 10:261-263. . View in PubMed
Implantation of multiple suprachoroidal electrode arrays in rabbits J Curr Ophthalmol. 2018 Mar; 30(1):68-73. . View in PubMed
Prospect of retinal gene therapy following commercialization of voretigene neparvovec-rzyl for retinal dystrophy mediated by RPE65 mutation J Curr Ophthalmol. 2018 Mar; 30(1):1-2. . View in PubMed
Retinal Anatomy and Electrode Array Position in Retinitis Pigmentosa Patients After Argus II Implantation: An International Study Am J Ophthalmol. 2018 09; 193:87-99. . View in PubMed
INTRAVENOUS IMMUNOGLOBULIN IN THE TREATMENT OF JUVENILE RETINITIS PIGMENTOSA-ASSOCIATED CYSTOID MACULAR EDEMA AND UVEITIS Retin Cases Brief Rep. 2018 Summer; 12(3):242-246. . View in PubMed
OCHROCONIS GALLOPAVA ENDOPHTHALMITIS SUCCESSFULLY TREATED WITH INTRAVITREAL VORICONAZOLE AND AMPHOTERICIN B Retin Cases Brief Rep. 2018 Fall; 12(4):310-313. . View in PubMed
Rapid Diagnostic for Point-of-Care Malaria Screening ACS Sens. 2018 07 27; 3(7):1264-1270. . View in PubMed
Acute hypotony maculopathy following the initiation of a topical aqueous suppressant in a patient with a history of panuveitis without prior filtering surgery Am J Ophthalmol Case Rep. 2017 Sep; 7:95-98. . View in PubMed
Atypical chronic central serous chorioretinopathy with cystoid macular edema: Therapeutic response to medical and laser therapy J Curr Ophthalmol. 2017 Jun; 29(2):133-135. . View in PubMed
Quantitative microvascular analysis of retinal venous occlusions by spectral domain optical coherence tomography angiography PLoS One. 2017; 12(4):e0176404. . View in PubMed
Widefield OCT Findings of a Patient With Stellate Nonhereditary Idiopathic Foveomacular Retinoschisis Ophthalmic Surg Lasers Imaging Retina. 2016 08 01; 47(8):774-7. . View in PubMed
Optical Coherence Tomography Angiography of Diabetic Retinopathy in Human Subjects Ophthalmic Surg Lasers Imaging Retina. 2015 Sep; 46(8):796-805. . View in PubMed
Type 3 neovascularization: evolution, association with pigment epithelial detachment, and treatment response as revealed by spectral domain optical coherence tomography Retina. 2015 Apr; 35(4):638-47. . View in PubMed
MULTIMODAL IMAGING OF GEOGRAPHIC AREAS OF RETINAL DARKENING Retin Cases Brief Rep. 2015; 9(4):347-51. . View in PubMed
Retinal prosthesis, potential future approaches Clin Exp Ophthalmol. 2014 Sep-Oct; 42(7):599-600. . View in PubMed
TWEAK/Fn14 pathway is a novel mediator of retinal neovascularization Invest Ophthalmol Vis Sci. 2014 Feb 10; 55(2):801-13. . View in PubMed
Leuprolide monotherapy for choroidal metastasis from prostate adenocarcinoma Arch Ophthalmol. 2012 Sep; 130(9):1225-6. . View in PubMed
Neuroretinitis with retrobulbar involvement J Neuroophthalmol. 2011 Mar; 31(1):12-5. . View in PubMed
Vitreal oxygenation in retinal ischemia reperfusion Invest Ophthalmol Vis Sci. 2011 Feb; 52(2):1035-42. . View in PubMed
Ultrasonic Doppler measurements of blood flow velocity of rabbit retinal vessels using a 45-MHz needle transducer Graefes Arch Clin Exp Ophthalmol. 2010 May; 248(5):675-80. . View in PubMed
Toward a wide-field retinal prosthesis J Neural Eng. 2009 Jun; 6(3):035002. . View in PubMed
Natural course of experimental retinal vein occlusion in rabbit; arterial occlusion following venous photothrombosis Graefes Arch Clin Exp Ophthalmol. 2008 Oct; 246(10):1429-39. . View in PubMed
Intravitreal and subretinal injection of tissue plasminogen activator (tPA) in the treatment of experimentally created retinal vein occlusion in rabbits Retina. 2008 Feb; 28(2):350-5. . View in PubMed
The effects of intravitreous bevacizumab on retinal neovascular membrane and normal capillaries in rabbits Invest Ophthalmol Vis Sci. 2007 Dec; 48(12):5708-15. . View in PubMed
Determining the acoustic properties of the lens using a high-frequency ultrasonic needle transducer Ultrasound Med Biol. 2007 Dec; 33(12):1971-7. . View in PubMed
Evaluation of lens hardness in cataract surgery using high-frequency ultrasonic parameters in vitro Ultrasound Med Biol. 2007 Oct; 33(10):1609-16. . View in PubMed
PMN-PT single crystal, high-frequency ultrasonic needle transducers for pulsed-wave Doppler application IEEE Trans Ultrason Ferroelectr Freq Control. 2007 Mar; 54(3):668-75. . View in PubMed
Enucleated eye model for intraocular retinal prosthesis implantation Ophthalmic Surg Lasers Imaging. 2006 Jul-Aug; 37(4):341-3. . View in PubMed
Comparison of unilateral and simultaneous bilateral measurement of the globe position, using the Hertel exophthalmometer Ophthalmic Plast Reconstr Surg. 2004 Nov; 20(6):448-51. . View in PubMed
Dr. Hossein Ameri graduated from Tehran University of Medical Sciences and then served as a physician and director of Nahavand Health Network in Iran. He received his ophthalmology and vitreoretinal surgery training in Ireland, where he was also an official lecturer at University College Cork and was a founding member of the Irish Retinal Prosthesis Group. Dr. Ameri then moved to Los Angeles for a research fellowship and became an Assistant Professor of Research Ophthalmology. He was involved in preclinical studies of Argus II and the development of wide-field retinal prostheses.

In addition, he produced quality research on retinal vascular disease, retinal angiogenesis, and ocular ultrasound. Dr. Ameri completed his internship in general surgery at Cedars-Sinai Medical Center in Los Angeles and moved to Texas for his ophthalmology residency and PhD training at the University of Texas Medical Branch.

During his ophthalmology residency, he earned a PhD in neuroscience at the Graduate School of Biomedical Engineering of the University of Texas Medical Branch. Dr. Ameri obtained additional fellowship training in vitreoretinal surgery at USC Roski Eye Institute. Currently, Dr. Ameri is an Assistant Professor of Ophthalmology and the Director of USC Retinal Degeneration Center. An accomplished researcher, he holds a number of U.S. patents on retinal prostheses and other devices.