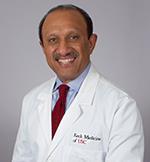 Inderbir Singh Gill
Chair and Distinguished Professor of Urology
Shirley and Donald Skinner Chair in Urologic Cancer Surgery
Executive Director, USC Institute of Urology
Urology
NOR 7416
Health Sciences Campus
Los Angeles
Contact
American Urological Association : Global Initiatives Chair, 2015-2017
University of Southern California: USC Presidential Medallion, 2013
Top Doctors: Pasadena Magazine, 2011
Top Doctors: Pasadena Magazine , 2011
Urologic Society for Renal Transplantation and Renal Srugery: President, 2009
British Urological Association: St. Paul's Medal, 2006
24th World Congress of Endourology: President, 2006
President of India for Eminent Medical Person in India: Dr. B.C. Roy National Award, 2005
Royal College of Surgeons of Edinburgh: Honorary Fellow, 2005
Royal College of Surgeons of Edinburgh: Honorary Fellow , 2005
: Elected to the American Association of Genitourinary Surgeons, 2003
Cleveland Magazine: Listed in Best Doctors in Cleveland area, 1998-2005
: Listed in Best Doctors in America, 1998-2002
University of Nebraska Medical Center: Pfizer Scholars in Urology Award, 1996
Factors influencing ICU admission and associated outcome in patients undergoing radical cystectomy with enhanced recovery pathwayUrol Oncol. 2019 09; 37(9):572. e13-572. e19. . View in PubMed
Localized chromophobe carcinomas treated by nephron-sparing surgery have excellent oncologic outcomesUrol Oncol. 2017 01; 35(1):35. e15-35. e19. . View in PubMed
Access to high-volume surgeons and the opportunity cost of performing radical prostatectomy by low-volume providersUrol Oncol. 2017 07; 35(7):459. e15-459. e24. . View in PubMed
Oncological outcomes of salvage radical prostatectomy for recurrent prostate cancer in the contemporary era: A multicenter retrospective studyUrol Oncol. 2021 05; 39(5):296. e21-296. e29. . View in PubMed
Chronic kidney disease and radical cystectomy for bladder cancer: perioperative and oncologic outcomes in 1,214 patientsUrol Oncol. 2022 08; 40(8):381. e9-381. e16. . View in PubMed
Reply by Authors J Urol. 2023 Feb 23; 101097JU000000000000318802. . View in PubMed
A Urine-Based DNA Methylation Marker Test to Detect Upper Tract Urothelial Carcinoma: A Prospective Cohort Study J Urol. 2023 Feb 16; 101097JU0000000000003188. . View in PubMed
Transperineal MRI/TRUS Fusion Prostate Biopsy under Local Anesthesia: The Double-Freehand Technique BJU Int. 2023 Feb 08. . View in PubMed
Development of a Pocket Nomogram to Predict Cancer and Disease Specific Survival After Radical Cystectomy For Bladder Cancer: The CRAB Nomogram Clin Genitourin Cancer. 2023 Feb; 21(1):108-114. . View in PubMed
RNA mis-splicing drives viral mimicry response after DNMTi therapy in SETD2-mutant kidney cancer Cell Rep. 2023 Jan 31; 42(1):112016. . View in PubMed
Assessment and Reporting of Perioperative Adverse Events and Complications in Patients Undergoing Inguinal Lymphadenectomy for Melanoma, Vulvar Cancer, and Penile Cancer: A Systematic Review and Meta-analysis World J Surg. 2023 Jan 28. . View in PubMed
Obturator Nerve Injury in Robotic Pelvic Surgery: Scenarios and Management Strategies Eur Urol. 2023 Jan 13. . View in PubMed
Superior Mesenteric Artery Injury during Robotic Radical Nephrectomy: Scenarios and Management Strategies J Clin Med. 2023 Jan 05; 12(2). . View in PubMed
Recommendations for Intraoperative Adverse Events Data Collection in Clinical Studies and Study ProtocolsAn ICARUS Global Surgical Collaboration Study. Int J Surg Protoc. 2023; 27(1):23-83. . View in PubMed
Radical cystectomy and urinary diversion outcomes in patients with single vsdouble renal unit: A 2:1 matched-pair analysis. Urol Oncol. 2022 Dec 22. . View in PubMed
The Impact of Facility Surgical Caseload Volumes on Survival Outcomes in Patients Undergoing Radical Cystectomy Cancers (Basel). 2022 Dec 03; 14(23). . View in PubMed
An Enhanced Recovery After Surgery protocol for robotic-assisted laparoscopic nephrectomies utilizing a quadratus lumborum block J Robot Surg. 2022 Dec; 16(6):1383-1389. . View in PubMed
Robotic post-chemotherapy retroperitoneal lymph node dissection for testicular cancer: A multicenter collaborative study Urol Oncol. 2022 Nov 24. . View in PubMed
An Assessment Tool to Provide Targeted Feedback to Robotic Surgical Trainees: Development and Validation of the End-To-End Assessment of Suturing Expertise (EASE) Urol Pract. 2022 Nov; 9(6):532-539. . View in PubMed
The Intraoperative Complications Assessment and Reporting with Universal Standards (ICARUS) Global Surgical Collaboration Project: Development of Criteria for Reporting Adverse Events During Surgical Procedures and Evaluating Their Impact on the Postoperative Course Eur Urol Focus. 2022 Nov; 8(6):1847-1858. . View in PubMed
Impact of Patient, Surgical, and Perioperative Factors on Discharge Disposition after Radical Cystectomy Cancers (Basel). 2022 Oct 27; 14(21). . View in PubMed
"Augmented reality" applications in urology: a systematic review Minerva Urol Nephrol. 2022 Oct; 74(5):528-537. . View in PubMed
Population-Based Assessment of Determining Predictors for Discharge Disposition in Patients with Bladder Cancer Undergoing Radical Cystectomy Cancers (Basel). 2022 Sep 23; 14(19). . View in PubMed
Liquid Biopsy Landscape in Patients with Primary Upper Tract Urothelial Carcinoma Cancers (Basel). 2022 Jun 18; 14(12). . View in PubMed
Implementation of a multimodal opioid-sparing enhanced recovery pathway for robotic-assisted radical prostatectomy J Robot Surg. 2022 Jun; 16(3):715-721. . View in PubMed
CT-based radiomics stratification of tumor grade and TNM stage of clear cell renal cell carcinoma Eur Radiol. 2022 Apr; 32(4):2552-2563. . View in PubMed
Robotic Repair of Ureteroenteric Stricture Following Radical Cystectomy: A Multi-Institutional Experience Urology. 2022 Mar; 161:125-130. . View in PubMed
Characterization of Cellular and Acellular Analytes from Pre-Cystectomy Liquid Biopsies in Patients Newly Diagnosed with Primary Bladder Cancer Cancers (Basel). 2022 Feb 01; 14(3). . View in PubMed
Risk factors and natural history of parastomal hernia after radical cystectomy and ileal conduit BJU Int. 2022 09; 130(3):381-388. . View in PubMed
Reply by Authors J Urol. 2022 08; 208(2):423-424. . View in PubMed
Tailored Feedback Based on Clinically Relevant Performance Metrics Expedites the Acquisition of Robotic Suturing Skills-An Unblinded Pilot Randomized Controlled Trial J Urol. 2022 08; 208(2):414-424. . View in PubMed
A Radiomic-based Machine Learning Algorithm to Reliably Differentiate Benign Renal Masses from Renal Cell Carcinoma Eur Urol Focus. 2022 07; 8(4):988-994. . View in PubMed
Robotic Urologic Oncologic Surgery: Ever-Widening Horizons J Urol. 2022 07; 208(1):8-9. . View in PubMed
Bladder Recurrence Following Diagnostic Ureteroscopy in Patients Undergoing Nephroureterectomy for Upper Tract Urothelial Cancer: Is Ureteral Access Sheath Protective? Urology. 2022 02; 160:142-146.. View in PubMed
Definition of a Structured Training Curriculum for Robot-assisted Radical Cystectomy with Intracorporeal Ileal Conduit in Male Patients: A Delphi Consensus Study Led by the ERUS Educational Board Eur Urol Focus. 2022 01; 8(1):160-164. . View in PubMed
Can We Avoid a Systematic Biopsy in Men with PI-RADS? Reply. J Urol. 2022 01; 207(1):241-242.. View in PubMed
Trends in Incidence of Metastatic Prostate Cancer in the US JAMA Netw Open. 2022 03 01; 5(3):e222246. . View in PubMed
Standardizing The Intraoperative Adverse Events Assessment to Create a Positive Culture of Reporting Errors in Surgery and Anesthesiology Ann Surg. 2022 08 01; 276(2):e75-e76. . View in PubMed
Feasibility of using CT radiomic signatures for predicting CD8-T cell infiltration and PD-L1 expression in renal cell carcinoma Eur J Radiol Open. 2022; 9:100440. . View in PubMed
Prediction of Metastatic Patterns in Bladder Cancer: Spatiotemporal Progression and Development of a Novel, Web-based Platform for Clinical Utility Eur Urol Open Sci. 2021 Oct; 32:8-18. . View in PubMed
Focal Therapy for Low-Risk Prostate Cancer Opinion: No J Endourol. 2021 Sep; 35(9):1284-1287. . View in PubMed
Outcomes of Robot-assisted Partial Nephrectomy for Clinical T3a Renal Masses: A Multicenter Analysis Eur Urol Focus. 2021 Sep; 7(5):1107-1114. . View in PubMed
Corrigendum re: "Robot-assisted Level II-III Inferior Vena Cava Tumor Thrombectomy: Step-by-Step Technique and 1-Year Outcomes" [Eur Urol 2017;72:267-74] Eur Urol. 2021 Aug; 80(2):e64. . View in PubMed
Consulting 'DrGoogle' for minimally invasive urological oncological surgeries: A contemporary web-based trend analysis. Int J Med Robot. 2021 Aug; 17(4):e2250. . View in PubMed
Shape and texture-based radiomics signature on CT effectively discriminates benign from malignant renal masses Eur Radiol. 2021 Feb; 31(2):1011-1021. . View in PubMed
Validation of the COBRA nomogram for the prediction of cancer specific survival in patients treated with radical cystectomy for bladder cancer: An international wide cohort study Eur J Surg Oncol. 2021 10; 47(10):2646-2650. . View in PubMed
Reply by Authors J Urol. 2021 08; 206(2):426. . View in PubMed
Impact of the Implementation of the EAU Guidelines Recommendation on Reporting and Grading of Complications in Patients Undergoing Robot-assisted Radical Cystectomy: A Systematic Review Eur Urol. 2021 08; 80(2):129-133. . View in PubMed
Reply by Authors J Urol. 2021 08; 206(2):297. . View in PubMed
J Urol. 2021 08; 206(2):289-297. . View in PubMed
Artificial Intelligence Will (MAY) Make Doctors Expendable (IN GOOD WAYS): Pro Eur Urol Focus. 2021 07; 7(4):683-684. . View in PubMed
Multiparametric magnetic resonance imaging facilitates reclassification during active surveillance for prostate cancer BJU Int. 2021 06; 127(6):712-721. . View in PubMed
Asking "DrGoogle" for a Second Opinion: The Devil Is in the Details. Eur Urol Focus. 2021 03; 7(2):479-481. . View in PubMed
Timing, Patterns and Predictors of 90-Day Readmission Rate after Robotic Radical Cystectomy J Urol. 2021 02; 205(2):491-499. . View in PubMed
A new view of macula densa cell microanatomy Am J Physiol Renal Physiol. 2021 03 01; 320(3):F492-F504. . View in PubMed
A Focus on Focal Therapy for Prostate Cancer JAMA Surg. 2021 09 01; 156(9):881-882. . View in PubMed
How the use of the artificial intelligence could improve surgical skills in urology: state of the art and future perspectives Curr Opin Urol. 2021 07 01; 31(4):378-384. . View in PubMed
A Protocol for the Development of the Intraoperative Complications Assessment and Reporting With Universal Standards Criteria: The ICARUS Project Int J Surg Protoc. 2021; 25(1):160-164. . View in PubMed
Internal audit of an enhanced recovery after surgery protocol for radical cystectomy World J Urol. 2020 Dec; 38(12):3131-3137. . View in PubMed
8? years. World J Urol. 2020 Oct; 38(10):2651-2660.. View in PubMed
Underestimation of Positron Emission Tomography/Computerized Tomography in Assessing Tumor Burden in Prostate Cancer Nodal Recurrence: Head-to-Head Comparison of 68Ga-PSMA and 11C-Choline in a Large, Multi-Institutional Series of Extended Salvage Lymph Node Dissections J Urol. 2020 Aug; 204(2):296-302. . View in PubMed
Deep learning based classification of solid lipid-poor contrast enhancing renal masses using contrast enhanced CT Br J Radiol. 2020 Jul; 93(1111):20200002. . View in PubMed
Using objective robotic automated performance metrics and task-evoked pupillary response to distinguish surgeon expertise World J Urol. 2020 Jul; 38(7):1599-1605. . View in PubMed
EphrinB2 expression in prostate adenocarcinoma: Implications for targeted therapy Pathol Res Pract. 2020 Jun; 216(6):152967. . View in PubMed
Long-term oncologic outcomes of robot-assisted radical cystectomy (RARC) with totally intracorporeal urinary diversion (ICUD): a multi-center study World J Urol. 2020 Apr; 38(4):837-843. . View in PubMed
Eur Urol. 2020 12; 78(6):779-782. . View in PubMed
Impact of radiomics on prostate cancer detection: a systematic review of clinical applications Curr Opin Urol. 2020 11; 30(6):754-781. . View in PubMed
Re: Oncological outcome according to attainment of pentafecta after robot-assisted radical cystectomy in patients with bladder cancer in the multicentre KORARC databaseBJU Int 2020 July 18. DOI: 10. 1111/ bju. 15178. BJU Int. 2020 11; 126(5):644-645. . View in PubMed
Long-term Outcomes of Salvage Lymph Node Dissection for Nodal Recurrence of Prostate Cancer After Radical Prostatectomy: Not as Good as Previously Thought Eur Urol. 2020 11; 78(5):661-669. . View in PubMed
Reply by Authors J Urol. 2020 10; 204(4):660. . View in PubMed
Re-establishing the Role of Robot-assisted Radical Cystectomy After the 2020 EAU Muscle-invasive and Metastatic Bladder Cancer Guideline Panel Recommendations Eur Urol. 2020 10; 78(4):489-491. . View in PubMed
Association between Smoking Exposure, Neoadjuvant Chemotherapy Response and Survival Outcomes following Radical Cystectomy: Systematic Review and Meta-Analysis J Urol. 2020 10; 204(4):649-660. . View in PubMed
Natural History of Radiologic Incisional Hernia Following Robotic Nephrectomy J Endourol. 2020 09; 34(9):974-980. . View in PubMed
Consulting "DrGoogle" for Prostate Cancer Treatment Options: A Contemporary Worldwide Trend Analysis. Eur Urol Oncol. 2020 08; 3(4):481-488. . View in PubMed
Robotic partial nephrectomy vs minimally invasive radical nephrectomy for clinical T2a renal mass: a propensity score-matched comparison from the ROSULA (Robotic Surgery for Large Renal Mass) Collaborative Group BJU Int. 2020 07; 126(1):114-123. . View in PubMed
Robotic Renal Artery Aneurysm Repair Eur Urol. 2020 07; 78(1):87-96. . View in PubMed
Reply by Authors J Urol. 2020 07; 204(1):158-159. . View in PubMed
Web search queries and prostate cancer Lancet Oncol. 2020 04; 21(4):494-496. . View in PubMed
Radical cystectomy pentafecta: a proposal for standardisation of outcomes reporting following robot-assisted radical cystectomy BJU Int. 2020 01; 125(1):64-72. . View in PubMed
Robotic versus open urological oncological surgery: study protocol of a systematic review and meta-analysis BMJ Open. 2020 02 10; 10(2):e036609. . View in PubMed
Impact of Implementation of Standardized Criteria in the Assessment of Complication Reporting After Robotic Partial Nephrectomy: A Systematic Review Eur Urol Focus. 2020 05 15; 6(3):513-517. . View in PubMed
Perioperative Mortality and Long-Term Survival after Radical Cystectomy: A Population-Based Study in a Southern European Country on 4,389 Patients Urol Int. 2020; 104(7-8):559-566. . View in PubMed
Step-by-Step: Fusion-guided prostate biopsy in the diagnosis and surveillance of prostate cancer Int Braz J Urol. 2019 Nov-Dec; 45(6):1277-1278. . View in PubMed
Factors influencing intraoperative conversion from planned orthotopic to non-orthotopic urinary diversion during radical cystectomy World J Urol. 2019 Sep; 37(9):1851-1855. . View in PubMed
Robotic-assisted laparoscopic repair of rectovesical fistula after Hartmann's reversal procedure J Robot Surg. 2019 Apr; 13(2):339-343. . View in PubMed
Contrast-Enhanced Transrectal Ultrasound for Follow-up After Focal HIFU Ablation for Prostate Cancer J Ultrasound Med. 2019 Mar; 38(3):811-819. . View in PubMed
Hemigland Cryoablation of Localized Low, Intermediate and High Risk Prostate Cancer: Oncologic and Functional Outcomes at 5 Years J Urol. 2019 12; 202(6):1188-1198. . View in PubMed
Reply by Authors J Urol. 2019 12; 202(6):1198. . View in PubMed
Cancer awareness crusades-pink ribbons and growing moustaches Lancet Oncol. 2019 11; 20(11):1491-1492. . View in PubMed
Surgical approach as a determinant factor of clinical outcome following radical cystectomy: Does Enhanced Recovery After Surgery (ERAS) level the playing field? Urol Oncol. 2019 10; 37(10):765-773.. View in PubMed
Robot-assisted Vescica Ileale Padovana: A New Technique for Intracorporeal Bladder Replacement Reproducing Open Surgical Principles Eur Urol. 2019 09; 76(3):381-390. . View in PubMed
A deep-learning model using automated performance metrics and clinical features to predict urinary continence recovery after robot-assisted radical prostatectomy BJU Int. 2019 09; 124(3):487-495. . View in PubMed
Use of indocyanine green to minimise uretero-enteric strictures after robotic radical cystectomy BJU Int. 2019 08; 124(2):302-307. . View in PubMed
Experts vs super-experts: differences in automated performance metrics and clinical outcomes for robot-assisted radical prostatectomy BJU Int. 2019 05; 123(5):861-868. . View in PubMed
Robotic intracorporeal urinary diversion: state of the art Curr Opin Urol. 2019 05; 29(3):293-300. . View in PubMed
Ischemia Techniques in Nephron-sparing Surgery: A Systematic Review and Meta-Analysis of Surgical, Oncological, and Functional Outcomes Eur Urol. 2019 03; 75(3):477-491. . View in PubMed
Objective Assessment of Robotic Surgical Technical Skill: A Systematic Review J Urol. 2019 03; 201(3):461-469. . View in PubMed
Histological Validation of 11Carbon-Acetate Positron Emission Tomography/Computerized Tomography in Detecting Lymph Node Metastases in Prostate Cancer J Urol. 2019 02; 201(2):332-341. . View in PubMed
Extended hospital stay after radical cystectomy with enhanced recovery protocol Can J Urol. 2019 02; 26(1):9654-9659. . View in PubMed
Primary Whole-gland Cryoablation for Prostate Cancer: Biochemical Failure and Clinical Recurrence at 56 Years of Follow-up. Eur Urol. 2019 02; 75(2):208-214. . View in PubMed
Identifying the Optimal Candidate for Salvage Lymph Node Dissection for Nodal Recurrence of Prostate Cancer: Results from a Large, Multi-institutional Analysis Eur Urol. 2019 01; 75(1):176-183. . View in PubMed
Influence of the facility caseload on the subsequent survival of men with localized prostate cancer undergoing radical prostatectomy Cancer. 2019 11 01; 125(21):3853-3863. . View in PubMed
Objective risk stratification of prostate cancer using machine learning and radiomics applied to multiparametric magnetic resonance images Sci Rep. 2019 02 07; 9(1):1570. . View in PubMed
Machine learning models for predicting post-cystectomy recurrence and survival in bladder cancer patients PLoS One. 2019; 14(2):e0210976. . View in PubMed
Robotic uterine-sparing vesicovaginal fistula repair Int Urogynecol J. 2018 Dec; 29(12):1845-1847. . View in PubMed
The Role of Provider Characteristics in the Selection of Surgery or Radiation for Localized Prostate Cancer and Association With Quality of Care Indicators Am J Clin Oncol. 2018 Nov; 41(11):1076-1082. . View in PubMed
Differentiating solid, non-macroscopic fat containing, enhancing renal masses using fast Fourier transform analysis of multiphase CT Br J Radiol. 2018 Sep; 91(1089):20170789. . View in PubMed
Contrast-Enhanced Transrectal Ultrasound in Focal Therapy for Prostate Cancer Curr Urol Rep. 2018 Aug 28; 19(10):87. . View in PubMed
Robotic Management of Rectourethral Fistulas After Focal Treatment for Prostate Cancer Urology. 2018 Aug; 118:241. . View in PubMed
MRI-Targeted or Standard Biopsy for Prostate-Cancer Diagnosis N Engl J Med. 2018 May 10; 378(19):1767-1777. . View in PubMed
Quantitative Contour Analysis as an Image-based Discriminator Between Benign and Malignant Renal Tumors Urology. 2018 Apr; 114:121-127. . View in PubMed
Live surgery: highly educational or harmful? World J Urol. 2018 Feb; 36(2):171-175.. View in PubMed
Differentiation of Predominantly Solid Enhancing Lipid-Poor Renal Cell Masses by Use of Contrast-Enhanced CT: Evaluating the Role of Texture in Tumor Subtyping AJR Am J Roentgenol. 2018 12; 211(6):W288-W296. . View in PubMed
Focal therapy for prostate cancer: concepts and future directions Curr Opin Urol. 2018 11; 28(6):536-543. . View in PubMed
Corrigendum re: "A Larger Prospective Study is Needed when Judging Robotic Radical Nephrectomy" [Eur Urol 2018;74:123-9] Eur Urol. 2018 11; 74(5):e130. . View in PubMed
Use of Automated Performance Metrics to Measure Surgeon Performance during Robotic Vesicourethral Anastomosis and Methodical Development of a Training Tutorial J Urol. 2018 10; 200(4):895-902. . View in PubMed
Randomized Trial of Partial Gland Ablation with Vascular Targeted Phototherapy versus Active Surveillance for Low Risk Prostate Cancer: Extended Followup and Analyses of Effectiveness J Urol. 2018 10; 200(4):786-793. . View in PubMed
Impact of Surgical Factors on Robotic Partial Nephrectomy Outcomes: Comprehensive Systematic Review and Meta-Analysis J Urol. 2018 08; 200(2):258-274. . View in PubMed
Active Surveillance for Prostate Cancer: Are We Failing Latino Patients at a Large Safety Net Hospital? Clin Genitourin Cancer. 2018 08; 16(4):e719-e727.. View in PubMed
A Larger Prospective Study is Needed When Judging Robotic Radical Nephrectomy Eur Urol. 2018 07; 74(1):123-124. . View in PubMed
Utilizing Machine Learning and Automated Performance Metrics to Evaluate Robot-Assisted Radical Prostatectomy Performance and Predict Outcomes J Endourol. 2018 05; 32(5):438-444. . View in PubMed
Telementoring and Telesurgery for Minimally Invasive Procedures J Urol. 2018 02; 199(2):355-369. . View in PubMed
Development and Validation of Objective Performance Metrics for Robot-Assisted Radical Prostatectomy: A Pilot Study J Urol. 2018 01; 199(1):296-304. . View in PubMed
Diagnostic accuracy of a five-point Likert scoring system for magnetic resonance imaging (MRI) evaluated according to results of MRI/ultrasonography image-fusion targeted biopsy of the prostate BJU Int. 2018 01; 121(1):77-83. . View in PubMed
Advances in Renal Cell Imaging Semin Nephrol. 2018 01; 38(1):52-62. . View in PubMed
Automated Performance Metrics and Machine Learning Algorithms to Measure Surgeon Performance and Anticipate Clinical Outcomes in Robotic Surgery JAMA Surg. 2018 08 01; 153(8):770-771. . View in PubMed
Feasibility of expert and crowd-sourced review of intraoperative video for quality improvement of intracorporeal urinary diversion during robotic radical cystectomy Can Urol Assoc J. 2017 Oct; 11(10):331-336. . View in PubMed
Robotic Partial Nephrectomy: Expanding Utilization, Advancing Innovation J Endourol. 2017 Apr; 31(4):348-354. . View in PubMed
Management of Small Renal Masses: American Society of Clinical Oncology Clinical Practice Guideline J Clin Oncol. 2017 Feb 20; 35(6):668-680. . View in PubMed
Robot-Assisted Laparoscopic Resection of a Pelvic Schwannoma Urol Case Rep. 2017 Feb; 11:63-65. . View in PubMed
Improving needle biopsy accuracy in small renal mass using tumor-specific DNA methylation markers Oncotarget. 2017 Jan 17; 8(3):5439-5448. . View in PubMed
Editorial Comment J Urol. 2017 12; 198(6):1246. . View in PubMed
Impact of body mass index on robot-assisted radical cystectomy with intracorporeal urinary diversion BJU Int. 2017 11; 120(5):689-694. . View in PubMed
Morphometric analysis of prostate zonal anatomy using magnetic resonance imaging: impact on age-related changes in patients in Japan and the USA BJU Int. 2017 10; 120(4):497-504. . View in PubMed
Partial Prostatectomy for Anterior Cancer: Short-term Oncologic and Functional Outcomes Eur Urol. 2017 09; 72(3):333-342. . View in PubMed
Robotic Intracorporeal Continent Cutaneous Diversion J Urol. 2017 08; 198(2):436-444. . View in PubMed
Detection of prostate cancer using magnetic resonance imaging/ultrasonography image-fusion targeted biopsy in African-American men BJU Int. 2017 08; 120(2):233-238. . View in PubMed
Robot-assisted Level II-III Inferior Vena Cava Tumor Thrombectomy: Step-by-Step Technique and 1-Year Outcomes Eur Urol. 2017 08; 72(2):267-274. . View in PubMed
Robot-assisted partial prostatectomy for anterior prostate cancer: a step-by-step guide BJU Int. 2017 06; 119(6):968-974. . View in PubMed
Re: A Mathematical Method to Calculate Tumor Contact Surface Area: An Effective Parameter to Predict Renal Function after Partial Nephrectomy: PF. Hsieh, Y. D. Wang, C. P. Huang, H. C. Wu, C. R. Yang, G. H. Chen and C. H. Chang J Urol 2016;196: 33-40. J Urol. 2017 04; 197(4):1172-1173. . View in PubMed
Robot assisted lymphadenectomy in urology: pelvic, retroperitoneal and inguinal Minerva Urol Nefrol. 2017 02; 69(1):38-55. . View in PubMed
Voxel-based whole-lesion enhancement parameters: a study of its clinical value in differentiating clear cell renal cell carcinoma from renal oncocytoma Abdom Radiol (NY). 2017 02; 42(2):552-560. . View in PubMed
Robotic intracorporeal urinary diversion: practical review of current surgical techniques Minerva Urol Nefrol. 2017 02; 69(1):14-25. . View in PubMed
Does Computed Tomography Still Have Limitations to Distinguish Benign from Malignant Renal Tumors for Radiologists? Urol Int. 2017; 99(2):229-236.. View in PubMed
Evolution of robot-assisted orthotopic ileal neobladder formation: a step-by-step update to the University of Southern California (USC) technique BJU Int. 2017 Jan; 119(1):185-191. . View in PubMed
Identifying aggressive prostate cancer foci using a DNA methylation classifier Genome Biol. 2017 01 12; 18(1):3. . View in PubMed
Structured learning for robotic surgery utilizing a proficiency score: a pilot study World J Urol. 2017 Jan; 35(1):27-34. . View in PubMed
Active Surveillance for Small Renal Masses in Young Patients Eur Urol Focus. 2016 Dec 15; 2(6):569-571. . View in PubMed
Active Surveillance of Small Renal Masses: A Review on the Role of Imaging With a Focus on Growth Rate J Comput Assist Tomogr. 2016 Jul-Aug; 40(4):517-23. . View in PubMed
Beyond 2D telestration: an evaluation of novel proctoring tools for robot-assisted minimally invasive surgery J Robot Surg. 2016 Jun; 10(2):103-9. . View in PubMed
AXIN2 expression predicts prostate cancer recurrence and regulates invasion and tumor growth Prostate. 2016 May; 76(6):597-608. . View in PubMed
Outpatient Robotic Radical Prostatectomy: Matched-Pair Comparison with Inpatient Surgery J Endourol. 2016 May; 30 Suppl 1:S52-6. . View in PubMed
Initial Series of Four-Arm Robotic Completely Intracorporeal Ileal Ureter J Endourol. 2016 Apr; 30(4):395-9. . View in PubMed
Extended lymph node dissection in robotic radical prostatectomy: Current status Indian J Urol. 2016 Apr-Jun; 32(2):109-14. . View in PubMed
Personalized 3D printed model of kidney and tumor anatomy: a useful tool for patient education World J Urol. 2016 Mar; 34(3):337-45. . View in PubMed
Utility and significance of ureteric frozen section analysis during radical cystectomy BJU Int. 2016 Mar; 117(3):463-8. . View in PubMed
Three-dimensional Printed Model of Prostate Anatomy and Targeted Biopsy-proven Index Tumor to Facilitate Nerve-sparing Prostatectomy Eur Urol. 2016 Feb; 69(2):377-9. . View in PubMed
Robotic Intracorporeal Orthotopic Neobladder: Urodynamic Outcomes, Urinary Function, and Health-related Quality of Life Eur Urol. 2016 Feb; 69(2):247-53. . View in PubMed
Radical cystectomy with super-extended lymphadenectomy: impact of separate vs en bloc lymph node submission on analysis and outcomes BJU Int. 2016 Feb; 117(2):253-9. . View in PubMed
Image-based monitoring of targeted biopsy-proven prostate cancer on active surveillance: 11-year experience World J Urol. 2016 Feb; 34(2):221-7. . View in PubMed
Editorial Comment J Urol. 2016 11; 196(5):1556. . View in PubMed
Advances in Robotic Vena Cava Tumor Thrombectomy: Intracaval Balloon Occlusion, Patch Grafting, and Vena Cavoscopy Eur Urol. 2016 11; 70(5):884-890. . View in PubMed
Novel Gene Expression Signature Predictive of Clinical Recurrence After Radical Prostatectomy in Early Stage Prostate Cancer Patients Prostate. 2016 10; 76(14):1239-56. . View in PubMed
Contemporary evidence for robot-assisted radical cystectomy for treating bladder cancer Nat Rev Urol. 2016 09; 13(9):533-9. . View in PubMed
Positive Surgical Margins Increase Risk of Recurrence after Partial Nephrectomy for High Risk Renal Tumors J Urol. 2016 08; 196(2):327-34. . View in PubMed
Robotic transmural ablation of bladder tumors using high-intensity focused ultrasound: Experimental study Int J Urol. 2016 06; 23(6):501-8. . View in PubMed
Reply to Steven CCampbell, Gopal N. Gupta, Robert G. Uzzo, Alexander Kutikov's Letter to the Editor re: Raj Satkunasivam, Sheaumei Tsai, Sumeet Syan, et al. Robotic Unclamped "Minimal-margin" Partial Nephrectomy: Ongoing Refinement of the Anatomic Zero-ischemia Concept. Eur Urol 2015;68:705-12. Eur Urol. 2016 05; 69(5):e97-8. . View in PubMed
Robotic urinary diversion: the range of options Curr Opin Urol. 2016 Jan; 26(1):107-13. . View in PubMed
Predictors of time to biochemical recurrence in a radical prostatectomy cohort within the PSA-era Can Urol Assoc J. 2016 Jan-Feb; 10(1-2):E17-22. . View in PubMed
Multi-Institutional Validation of Fundamental Inanimate Robotic Skills Tasks J Urol. 2015 Dec; 194(6):1751-6. . View in PubMed
Editorial Comment Urology. 2015 Dec; 86(6):1240. . View in PubMed
[Not Available] Prog Urol. 2015 Nov; 25(13):746. . View in PubMed
External validation of Global Evaluative Assessment of Robotic Skills (GEARS) Surg Endosc. 2015 Nov; 29(11):3261-6. . View in PubMed
Trans-rectal ultrasound visibility of prostate lesions identified by magnetic resonance imaging increases accuracy of image-fusion targeted biopsies World J Urol. 2015 Nov; 33(11):1669-76. . View in PubMed
Robotic Transabdominal Control of the Suprahepatic, Infradiaphragmatic Vena Cava to Enable Level 3 Caval Tumor Thrombectomy: Pilot Study in a Perfused-Cadaver Model J Endourol. 2015 Oct; 29(10):1177-81. . View in PubMed
Prostate Cancer Volume Estimation by Combining Magnetic Resonance Imaging and Targeted Biopsy Proven Cancer Core Length: Correlation with Cancer Volume J Urol. 2015 Oct; 194(4):957-65. . View in PubMed
CT prediction of the Fuhrman grade of clear cell renal cell carcinoma (RCC): towards the development of computer-assisted diagnostic method Abdom Imaging. 2015 Oct; 40(8):3168-74. . View in PubMed
Robotic unclamped "minimal-margin" partial nephrectomy: ongoing refinement of the anatomic zero-ischemia concept Eur Urol. 2015 Oct; 68(4):705-12. . View in PubMed
Development and external validation of nomograms predicting disease-free and cancer-specific survival after radical cystectomy World J Urol. 2015 Oct; 33(10):1419-28. . View in PubMed
Robotic Level III Inferior Vena Cava Tumor Thrombectomy: Initial Series J Urol. 2015 Oct; 194(4):929-38. . View in PubMed
Quantitative assessment of solid renal masses by contrast-enhanced ultrasound with time-intensity curves: how we do it Abdom Imaging. 2015 Oct; 40(7):2461-71. . View in PubMed
Axl receptor tyrosine kinase is a potential therapeutic target in renal cell carcinoma Br J Cancer. 2015 Aug 11; 113(4):616-25. . View in PubMed
Radical Prostatectomy or External Beam Radiation Therapy vs No Local Therapy for Survival Benefit in Metastatic Prostate Cancer: A SEER-Medicare Analysis J Urol. 2015 Aug; 194(2):378-85. . View in PubMed
Development and Validation of a Novel Robotic Procedure Specific Simulation Platform: Partial Nephrectomy J Urol. 2015 Aug; 194(2):520-6. . View in PubMed
Contrast-enhanced ultrasound (CEUS) of cystic and solid renal lesions: a review Abdom Imaging. 2015 Aug; 40(6):1982-96. . View in PubMed
Port Placement and Docking for Robotic Surgery: The University of Southern California Approach J Endourol. 2015 Aug; 29(8):868-72. . View in PubMed
A novel interface for the telementoring of robotic surgery BJU Int. 2015 Aug; 116(2):302-8. . View in PubMed
Novel kidney segmentation system to describe tumour location for nephron-sparing surgery World J Urol. 2015 Jun; 33(6):865-71. . View in PubMed
"The devil is in the details": randomized trial of robotic versus open radical cystectomy Eur Urol. 2015 Jun; 67(6):1053-1055. . View in PubMed
A novel technique using three-dimensionally documented biopsy mapping allows precise re-visiting of prostate cancer foci with serial surveillance of cell cycle progression gene panel Prostate. 2015 Jun; 75(8):863-71. . View in PubMed
Magnetic resonance imaging-transectal ultrasound image-fusion biopsies accurately characterize the index tumor: correlation with step-sectioned radical prostatectomy specimens in 135 patients Eur Urol. 2015 Apr; 67(4):787-94. . View in PubMed
Three-dimensional navigation system integrating position-tracking technology with a movable tablet display for percutaneous targeting BJU Int. 2015 Apr; 115(4):659-65. . View in PubMed
Anatomic partial nephrectomy: technique evolution Curr Opin Urol. 2015 Mar; 25(2):95-9. . View in PubMed
Robotic radical cystectomy: so far, so good--what next? Eur Urol. 2015 Mar; 67(3):361-2.. View in PubMed
Histological analysis of the kidney tumor-parenchyma interface J Urol. 2015 Feb; 193(2):415-22. . View in PubMed
Predictive value of magnetic resonance imaging determined tumor contact length for extracapsular extension of prostate cancer J Urol. 2015 Feb; 193(2):466-72. . View in PubMed
Image-guided robot-assisted prostate ablation using water jet-hydrodissection: initial study of a novel technology for benign prostatic hyperplasia J Endourol. 2015 Jan; 29(1):63-9. . View in PubMed
Robotic implantation of biodegradable regenerative urinary conduit: experimental study J Endourol. 2015 Jan; 29(1):52-7. . View in PubMed
Whole lesion quantitative CT evaluation of renal cell carcinoma: differentiation of clear cell from papillary renal cell carcinoma Springerplus. 2015; 4:66. . View in PubMed
Robot-assisted laparoscopic high-intensity focused ultrasound for focal therapy of prostate: novel approach Int J Urol. 2014 Dec; 21(12):1289-90. . View in PubMed
Robotic intracorporeal orthotopic neobladder during radical cystectomy in 132 patients J Urol. 2014 Dec; 192(6):1734-40. . View in PubMed
Real-time transrectal ultrasonography-guided hands-free technique for focal cryoablation of the prostate BJU Int. 2014 Nov; 114(5):784-9. . View in PubMed
Robotic intracorporeal urinary diversion: technical details to improve time efficiency J Endourol. 2014 Nov; 28(11):1320-7. . View in PubMed
Kaouk. Anatomic complexity of renal masses and outcomes of minimally invasive partial nephrectomy: do we have an answer? Eur Urol 2014;66:894-6: contact surface area, a novel parameter, may outperform nephrometry systems in predicting complexity of partial nephrectomy surgery. Eur Urol. 2014 Nov; 66(5):896-7. . View in PubMed
Renal tumor contact surface area: a novel parameter for predicting complexity and outcomes of partial nephrectomy Eur Urol. 2014 Nov; 66(5):884-93. . View in PubMed
Robotic partial nephrectomy with superselective versus main artery clamping: a retrospective comparison Eur Urol. 2014 Oct; 66(4):713-9. . View in PubMed
Robot-assisted bladder diverticulectomy J Endourol. 2014 Oct; 28(10):1159-64. . View in PubMed
Flank muscle volume changes after open and laparoscopic partial nephrectomy J Endourol. 2014 Oct; 28(10):1202-7. . View in PubMed
Transvesical robotic simple prostatectomy: initial clinical experience Eur Urol. 2014 Aug; 66(2):321-9. . View in PubMed
Robotic nephron-sparing surgery for renal tumors: Current status Indian J Urol. 2014 Jul; 30(3):275-82. . View in PubMed
Intraoperative ultrasonography with a surgeon-manipulated microtransducer during robotic radical prostatectomy Int J Urol. 2014 Jul; 21(7):736-9. . View in PubMed
Current patterns of presentation and treatment of renal masses: a clinical research office of the endourological society prospective study J Endourol. 2014 Jul; 28(7):861-70. . View in PubMed
Robotic radical cystectomy and intracorporeal urinary diversion: The USC technique Indian J Urol. 2014 Jul; 30(3):300-6. . View in PubMed
Three-dimensional surgical navigation model with TilePro display during robot-assisted radical prostatectomy J Endourol. 2014 Jun; 28(6):625-30. . View in PubMed
Face, content, construct and concurrent validity of dry laboratory exercises for robotic training using a global assessment tool BJU Int. 2014 May; 113(5):836-42. . View in PubMed
Cryosurgery for clinical T3 prostate cancer BJU Int. 2014 May; 113(5):684-5. . View in PubMed
Outcomes of radical cystectomy with extended lymphadenectomy alone in patients with lymph node-positive bladder cancer who are unfit for or who decline adjuvant chemotherapy BJU Int. 2014 Apr; 113(4):554-60. . View in PubMed
Denonvilliers' space expansion by transperineal injection of hydrogel: implications for focal therapy of prostate cancer Int J Urol. 2014 Apr; 21(4):416-8. . View in PubMed
Robotic inferior vena cava thrombus surgery: novel strategies Curr Opin Urol. 2014 Mar; 24(2):140-7. . View in PubMed
Minimally invasive approach to the supradiaphragmatic inferior vena cava: total thoracoscopic caval isolation Innovations (Phila). 2014 Mar-Apr; 9(2):145-7. . View in PubMed
Outcome in patients with exclusive carcinoma in situ (CIS) after radical cystectomy BJU Int. 2014 Jan; 113(1):65-9. . View in PubMed
Robotic and laparoscopic radical cystectomy for bladder cancer: long-term oncologic outcomes Eur Urol. 2014 Jan; 65(1):193-200. . View in PubMed
The differential expression of EphB2 and EphB4 receptor kinases in normal bladder and in transitional cell carcinoma of the bladder PLoS One. 2014; 9(8):e105326. . View in PubMed
Management of large median and lateral intravesical lobes during robot-assisted radical prostatectomy J Endourol. 2013 Nov; 27(11):1389-92. . View in PubMed
Comparative assessment of three standardized robotic surgery training methods BJU Int. 2013 Oct; 112(6):864-71. . View in PubMed
Prostate swelling and shift during high intensity focused ultrasound: implication for targeted focal therapy J Urol. 2013 Oct; 190(4):1224-32. . View in PubMed
Salvage focal and salvage total cryoablation for locally recurrent prostate cancer after primary radiation therapy BJU Int. 2013 Aug; 112(3):298-307. . View in PubMed
Unaltered oncological outcomes of radical cystectomy with extended lymphadenectomy over three decades BJU Int. 2013 Jul; 112(2):E51-8. . View in PubMed
Image visibility of cancer to enhance targeting precision and spatial mapping biopsy for focal therapy of prostate cancer BJU Int. 2013 Jun; 111(8):E354-64. . View in PubMed
Partial nephrectomy--contemporary indications, techniques and outcomes Nat Rev Urol. 2013 May; 10(5):275-83. . View in PubMed
Near-infrared fluorescence imaging to facilitate super-selective arterial clamping during zero-ischaemia robotic partial nephrectomy BJU Int. 2013 Apr; 111(4):604-10. . View in PubMed
Targeted prostate biopsies for a histogram of the index lesion Curr Opin Urol. 2013 Mar; 23(2):118-22. . View in PubMed
A model for managing erectile dysfunction following prostate cancer treatment Curr Opin Urol. 2013 Mar; 23(2):129-34. . View in PubMed
Total intracorporeal robotic cystectomy: are we there yet? Curr Opin Urol. 2013 Mar; 23(2):135-40.. View in PubMed
Does eliminating global renal ischemia during partial nephrectomy improve functional outcomes? Curr Opin Urol. 2013 Mar; 23(2):112-7.. View in PubMed
Minimally invasive partial nephrectomy for single versus multiple renal tumors J Urol. 2013 Feb; 189(2):462-7. . View in PubMed
"Trifecta" in partial nephrectomy J Urol. 2013 Jan; 189(1):36-42. . View in PubMed
Robotic intracorporeal orthotopic ileal neobladder: replicating open surgical principles Eur Urol. 2012 Nov; 62(5):891-901. . View in PubMed
Posterior musculofascial reconstruction after radical prostatectomy: a systematic review of the literature Eur Urol. 2012 Nov; 62(5):779-90. . View in PubMed
Validation of a novel robotic-assisted partial nephrectomy surgical training model BJU Int. 2012 Sep; 110(6):870-4. . View in PubMed
Robotic transrectal ultrasonography during robot-assisted radical prostatectomy Eur Urol. 2012 Aug; 62(2):341-8. . View in PubMed
Focal cryotherapy for clinically unilateral, low-intermediate risk prostate cancer in 73 men with a median follow-up of 37 years. Eur Urol. 2012 Jul; 62(1):55-63. . View in PubMed
Is radiofrequency ablation for small kidney tumors ready for prime time? Eur Urol. 2012 Jun; 61(6):1162-3; discussion 1163-4.. View in PubMed
Percutaneous radiofrequency ablation of virtual tumours in canine kidney using Global Positioning System-like technology BJU Int. 2012 May; 109(9):1398-403. . View in PubMed
Laparo-endoscopic single-site donor nephrectomy: techniques and outcomes Arch Esp Urol. 2012 Apr; 65(3):318-28. . View in PubMed
3-Dimensional elastic registration system of prostate biopsy location by real-time 3-dimensional transrectal ultrasound guidance with magnetic resonance/transrectal ultrasound image fusion J Urol. 2012 Mar; 187(3):1080-6. . View in PubMed
Factors influencing post-recurrence survival in bladder cancer following radical cystectomy BJU Int. 2012 Mar; 109(6):846-54. . View in PubMed
Early comparison of nephrectomy options in children (open, transperitoneal laparoscopic, laparo-endoscopic single site (LESS), and robotic surgery) BJU Int. 2012 Mar; 109(6):910-5. . View in PubMed
Eliminating global renal ischemia during partial nephrectomy: an anatomical approach Curr Opin Urol. 2012 Mar; 22(2):83-7. . View in PubMed
Intraprostatic targeting Curr Opin Urol. 2012 Mar; 22(2):97-103. . View in PubMed
Zero ischemia anatomical partial nephrectomy: a novel approach J Urol. 2012 Mar; 187(3):807-14. . View in PubMed
Current progress on augmented reality visualization in endoscopic surgery Curr Opin Urol. 2012 Mar; 22(2):121-6. . View in PubMed
A nonischemic approach to partial nephrectomy is optimalYes. J Urol. 2012 Feb; 187(2):387-8. . View in PubMed
Robotic and laparoscopic high extended pelvic lymph node dissection during radical cystectomy: technique and outcomes Eur Urol. 2012 Feb; 61(2):350-5. . View in PubMed
Concurrent and predictive validation of a novel robotic surgery simulator: a prospective, randomized study J Urol. 2012 Feb; 187(2):630-7. . View in PubMed
Anatomic renal artery branch microdissection to facilitate zero-ischemia partial nephrectomy Eur Urol. 2012 Jan; 61(1):67-74. . View in PubMed
Three-dimensional reconstruction of renovascular-tumor anatomy to facilitate zero-ischemia partial nephrectomy Eur Urol. 2012 Jan; 61(1):211-7. . View in PubMed
Laparoscopic partial nephrectomy for completely intraparenchymal tumors J Urol. 2011 Dec; 186(6):2182-7. . View in PubMed
LESS is more. . but needs even more. Eur Urol. 2011 Nov; 60(5):1006-7; discussion 1008-9. . View in PubMed
Super extended versus extended pelvic lymph node dissection in patients undergoing radical cystectomy for bladder cancer: a comparative study J Urol. 2011 Oct; 186(4):1261-8. . View in PubMed
The role of laparoscopic and robotic cystectomy in the management of muscle-invasive bladder cancer with special emphasis on cancer control and complications Eur Urol. 2011 Oct; 60(4):767-75. . View in PubMed
Face, content and construct validity of a novel robotic surgery simulator J Urol. 2011 Sep; 186(3):1019-24. . View in PubMed
Zero-ischaemia robotic and laparoscopic partial nephrectomy (PN) BJU Int. 2011 Sep; 108(5):780-92. . View in PubMed
Cost-effectiveness of open versus laparoscopic versus robotic-assisted laparoscopic cystectomy and urinary diversion Curr Opin Urol. 2011 Sep; 21(5):415-9. . View in PubMed
Zero-ischaemia robotic partial nephrectomy (RPN) for hilar tumours BJU Int. 2011 Sep; 108(6 Pt 2):948-54. . View in PubMed
Robotic flexible ureteroscopy for renal calculi: initial clinical experience J Urol. 2011 Aug; 186(2):563-8. . View in PubMed
Management of intraoperative splenic injury during laparoscopic urological surgery BJU Int. 2011 Aug; 108(4):572-6. . View in PubMed
Editorial comment J Urol. 2011 Jul; 186(1):58. . View in PubMed
Functional and oncologic outcomes of bilateral open partial nephrectomy versus bilateral laparoscopic partial nephrectomy J Endourol. 2011 Jul; 25(7):1193-7. . View in PubMed
Complications and conversions of upper tract urological laparoendoscopic single-site surgery (LESS): multicentre experience: results from the NOTES Working Group BJU Int. 2011 Apr; 107(8):1284-9. . View in PubMed
Innovations in prostate biopsy strategies for active surveillance and focal therapy Curr Opin Urol. 2011 Mar; 21(2):115-20. . View in PubMed
[A novel technique for distal ureterectomy and bladder cuff excision] Actas Urol Esp. 2011 Mar; 35(3):168-74. . View in PubMed
Innovations in laparoscopic and robotic partial nephrectomy: a novel 'zero ischemia' technique Curr Opin Urol. 2011 Mar; 21(2):93-8. . View in PubMed
Laparoscopic partial nephrectomy: a decade of evolution J Endourol. 2011 Feb; 25(2):145-50. . View in PubMed
"Zero ischemia" partial nephrectomy: novel laparoscopic and robotic technique Eur Urol. 2011 Jan; 59(1):128-34. . View in PubMed
Laparoendoscopic single-site and natural orifice transluminal endoscopic surgery in urology: a critical analysis of the literature Eur Urol. 2011 Jan; 59(1):26-45. . View in PubMed
Robotic partial nephrectomy: the real benefit Curr Opin Urol. 2011 Jan; 21(1):60-4. . View in PubMed
Laparoendoscopic single-site nephrectomy in pediatric patients: initial clinical series of infants to adolescents Urology. 2010 Dec; 76(6):1457-61. . View in PubMed
Current status of laparoscopic partial nephrectomy Curr Opin Urol. 2010 Sep; 20(5):365-70. . View in PubMed
Treatment of the 2 to 3 cm renal mass J Urol. 2010 Aug; 184(2):419-22. . View in PubMed
Focal therapy for prostate and renal cancer--are we ready for it? J Endourol. 2010 May; 24(5):663.. View in PubMed
Consensus statement of the consortium for laparoendoscopic single-site surgery Surg Endosc. 2010 Apr; 24(4):762-8. . View in PubMed
Laparoscopic renal cryoablation: 8-year, single surgeon outcomes J Urol. 2010 Mar; 183(3):889-95. . View in PubMed
Clinical practiceSmall renal mass. N Engl J Med. 2010 Feb 18; 362(7):624-34. . View in PubMed
NOTES hybrid transvaginal radical nephrectomy for tumor: stepwise progression toward a first successful clinical case Eur Urol. 2010 Jan; 57(1):138-44. . View in PubMed
Laparo-endoscopic single site (LESS) versus standard laparoscopic left donor nephrectomy: matched-pair comparison Eur Urol. 2010 Jan; 57(1):95-101. . View in PubMed
800 Laparoscopic partial nephrectomies: a single surgeon series J Urol. 2010 Jan; 183(1):34-41. . View in PubMed
Are prostate needle biopsies predictive of the laterality of significant cancer and positive surgical margins? BJU Int. 2009 Dec; 104(11):1599-603.. View in PubMed
Laparoscopic partial nephrectomy in octogenarians Urology. 2009 Nov; 74(5):1042-6. . View in PubMed
Pure 'natural orifice transluminal endoscopic surgery' for transvaginal nephrectomy in the porcine model BJU Int. 2009 Nov; 104(9):1260-4. . View in PubMed
Laparoscopic radical nephrectomy for renal cell carcinoma: oncological outcomes at 10 years or more J Urol. 2009 Nov; 182(5):2172-6. . View in PubMed
Laparoendoscopic single-site surgery: initial hundred patients Urology. 2009 Oct; 74(4):805-12. . View in PubMed
Laparoscopic assisted ileal ureter: technique, outcomes and comparison to the open procedure J Urol. 2009 Sep; 182(3):1032-9. . View in PubMed
Laparoendoscopic single-site surgery simple prostatectomy: initial report Urology. 2009 Sep; 74(3):626-30. . View in PubMed
For: Radical nephrectomy in the setting of metastatic renal cell cancer: proceed judiciously J Urol. 2009 Sep; 182(3):832-3. . View in PubMed
Age-related Epstein-Barr virus-associated lymphoproliferative disorder presenting as renal mass Urology. 2009 Sep; 74(3):505-8. . View in PubMed
Laparoscopic radical cystectomy: current status, outcomes, and patient selection Curr Treat Options Oncol. 2009 Aug; 10(3-4):243-55. . View in PubMed
Laparoscopic augmentation enterocystoplasty through a single trocar Urology. 2009 Jun; 73(6):1371-4. . View in PubMed
Transvaginal nephrectomy with a multichannel laparoscopic port: a cadaver study BJU Int. 2009 Jun; 103(11):1537-41. . View in PubMed
Open to debateThe motion: A robot is necessary for laparoscopic enucleation of renal masses. Eur Urol. 2009 May; 55(5):1229-32. . View in PubMed
Critical appraisal of robotic-assisted radical prostatectomy Curr Opin Urol. 2009 May; 19(3):290-6. . View in PubMed
Laparoscopic partial nephrectomy for tumour in the presence of nephrolithiasis or pelvi-ureteric junction obstruction BJU Int. 2009 Mar; 103(5):660-2. . View in PubMed
Laparoendoscopic single-site surgery (less) and notes; standardised platforms in nomenclature BJU Int. 2009 Mar; 103(5):701-2. . View in PubMed
Cryoablation for renal tumors: current status Curr Opin Urol. 2009 Mar; 19(2):138-42. . View in PubMed
Is routine transposition of anterior crossing vessels during laparoscopic dismembered pyeloplasty necessary? J Endourol. 2009 Mar; 23(3):469-73.. View in PubMed
Laparoscopic cystoprostatectomy for radiation-induced hemorrhagic cystitis J Endourol. 2009 Feb; 23(2):275-8. . View in PubMed
Transumbilical single-port laparoscopic partial nephrectomy BJU Int. 2009 Feb; 103(4):516-21. . View in PubMed
Re: dilemma of small renal masses ANZ J Surg. 2009 Jan-Feb; 79(1-2):88; author reply 88. . View in PubMed
Embryonic natural orifice transumbilical endoscopic surgery (E-NOTES) for advanced reconstruction: initial experience Urology. 2009 Jan; 73(1):182-7. . View in PubMed
Transvesical robotic radical prostatectomy BJU Int. 2008 Dec; 102(11):1666-9. . View in PubMed
Natural orifice translumenal endoscopic surgery (NOTES) renal cryoablation in a porcine model BJU Int. 2008 Dec; 102(11):1715-8. . View in PubMed
Outcomes of partial nephrectomy in patients on chronic oral anticoagulant therapy J Urol. 2008 Dec; 180(6):2370-4; discussion 2734. . View in PubMed
Energy-free nerve-sparing laparoscopic radical prostatectomy: the bulldog technique BJU Int. 2008 Dec; 102(11):1766-9. . View in PubMed
Single-port laparoscopic radical prostatectomy Urology. 2008 Dec; 72(6):1190-3. . View in PubMed
Laparoscopic radical cystectomy for muscle-invasive bladder cancer: pathological and oncological outcomes BJU Int. 2008 Nov; 102(9 Pt B):1296-301. . View in PubMed
Transumbilical single-port surgery: evolution and current status Eur Urol. 2008 Nov; 54(5):1020-9. . View in PubMed
Single-port transvesical simple prostatectomy: initial clinical report Urology. 2008 Nov; 72(5):960-5. . View in PubMed
Nomenclature of natural orifice translumenal endoscopic surgery (NOTES) and laparoendoscopic single-site surgery (LESS) procedures in urology J Endourol. 2008 Nov; 22(11):2575-81. . View in PubMed
Laparoscopic management of interaortocaval metastases of renal cell carcinoma J Endourol. 2008 Oct; 22(10):2381-4; discussion 2384. . View in PubMed
Is retroperitoneal approach feasible for robotic dismembered pyeloplasty: initial experience and long-term results J Endourol. 2008 Sep; 22(9):2153-9. . View in PubMed
The case for laparoscopic partial nephrectomy J Endourol. 2008 Sep; 22(9):1917-9; discussion 19251929. . View in PubMed
Minimally invasive nephron-sparing surgery Curr Opin Urol. 2008 Sep; 18(5):462-6. . View in PubMed
Laparoscopic radical nephroureterectomy for upper tract transitional cell carcinoma: oncological outcomes at 7 years J Urol. 2008 Sep; 180(3):849-54; discussion 854. . View in PubMed
Feasibility of laparoscopic partial nephrectomy after previous ipsilateral renal procedures Urology. 2008 Sep; 72(3):584-8. . View in PubMed
Expanding indications for laparoscopic partial nephrectomy Urology. 2008 Sep; 72(3):481-7. . View in PubMed
Vascular pedicle control during robot-assisted and laparoscopic prostatectomy: bulldog clamp and suturing technique J Endourol. 2008 Sep; 22(9):1969-70; discussion 1977. . View in PubMed
Transrectal ultrasound-guided, energy-free, nerve-sparing laparoscopic radical prostatectomy J Endourol. 2008 Sep; 22(9):1993-5. . View in PubMed
Laser robotically assisted nerve-sparing radical prostatectomy: a pilot study of technical feasibility in the canine model BJU Int. 2008 Aug 05; 102(5):598-602. . View in PubMed
Single port transumbilical (E-NOTES) donor nephrectomy J Urol. 2008 Aug; 180(2):637-41; discussion 641. . View in PubMed
Laparoscopic and robotic assisted radical cystectomy for bladder cancer: a critical analysis Eur Urol. 2008 Jul; 54(1):54-62. . View in PubMed
Common bile duct injury during urologic laparoscopy J Endourol. 2008 Jul; 22(7):1483-4. . View in PubMed
Surgical salvage of renal cell carcinoma recurrence after thermal ablative therapy J Urol. 2008 Jul; 180(1):104-9; discussion 109. . View in PubMed
Impact of gender in renal cell carcinoma: an analysis of the SEER database Eur Urol. 2008 Jul; 54(1):133-40. . View in PubMed
Flexible robotic retrograde renoscopy: description of novel robotic device and preliminary laboratory experience Urology. 2008 Jul; 72(1):42-6. . View in PubMed
Robotic and laparoscopic partial nephrectomy: a matched-pair comparison from a high-volume centre BJU Int. 2008 Jul; 102(1):86-92. . View in PubMed
Simultaneous laparoscopic nephroureterectomy and cystectomy: a preliminary report Int Braz J Urol. 2008 Jul-Aug; 34(4):413-21; discussion 421. . View in PubMed
Laparoscopic pyeloplasty with concomitant pyelolithotomy: technique and outcomes J Endourol. 2008 Jun; 22(6):1251-5. . View in PubMed
Robotic NOTES (Natural Orifice Translumenal Endoscopic Surgery) in reconstructive urology: initial laboratory experience Urology. 2008 Jun; 71(6):996-1000. . View in PubMed
Laparoscopic partial nephrectomy: integration of an advanced laparoscopic technique ANZ J Surg. 2008 Jun; 78(6):471-5. . View in PubMed
Laparoscopic partial nephrectomy versus laparoscopic cryoablation for multiple ipsilateral renal tumors Eur Urol. 2008 Jun; 53(6):1210-6. . View in PubMed
Early continence outcomes of posterior musculofascial plate reconstruction during robotic and laparoscopic prostatectomy BJU Int. 2008 May; 101(9):1135-9. . View in PubMed
Comparison of radical prostatectomy techniques: open, laparoscopic and robotic assisted Int Braz J Urol. 2008 May-Jun; 34(3):259-68; discussion 268-9. . View in PubMed
Imaging-assisted endoscopic surgery: Cleveland Clinic experience J Endourol. 2008 Apr; 22(4):803-10. . View in PubMed
Risk factor analysis of postoperative complications in laparoscopic partial nephrectomy J Urol. 2008 Apr; 179(4):1289-94; discussion 1294-5. . View in PubMed
Partial nephrectomy--why, when, how? J Urol. 2008 Mar; 179(3):811-2.. View in PubMed
The effect of prostate weight on the outcomes of laparoscopic radical prostatectomy BJU Int. 2008 Mar; 101(5):589-93. . View in PubMed
The use of an endoscopic stapler vs suture ligature for dorsal vein control in laparoscopic prostatectomy: operative outcomes BJU Int. 2008 Feb; 101(4):463-6. . View in PubMed
Laparoscopic renal oncological surgery in the presence of abdominal aortic and vena caval pathology: 8-year experience J Urol. 2008 Feb; 179(2):455-60; discussion 460. . View in PubMed
Laparoscopic partial cystectomy for urachal and bladder cancer Clinics (Sao Paulo). 2008 12; 63(6):731-4. . View in PubMed
Scarless single port transumbilical nephrectomy and pyeloplasty: first clinical report BJU Int. 2008 Jan; 101(1):83-8. . View in PubMed
Single-port laparoscopic surgery in urology: initial experience Urology. 2008 Jan; 71(1):3-6. . View in PubMed
Broadcast of live endoscopic surgery from Korea to Japan using the digital video transport system J Endourol. 2007 Dec; 21(12):1517-20. . View in PubMed
Diaphragmatic repair and/or reconstruction during upper abdominal urological laparoscopy J Urol. 2007 Dec; 178(6):2444-50. . View in PubMed
Perioperative outcomes with laparoscopic radical cystectomy: "pure laparoscopic" and "open-assisted laparoscopic" approaches Urology. 2007 Nov; 70(5):910-5. . View in PubMed
Complications of laparoscopic surgery for urological cancer: a single institution analysis J Urol. 2007 Sep; 178(3 Pt 1):786-91. . View in PubMed
Use of haemostatic agents and glues during laparoscopic partial nephrectomy: a multi-institutional survey from the United States and Europe of 1347 cases Eur Urol. 2007 Sep; 52(3):798-803. . View in PubMed
Second prize: preliminary experience with the Niris optical coherence tomography system during laparoscopic and robotic prostatectomy J Endourol. 2007 Aug; 21(8):814-8. . View in PubMed
Laparoscopic radical cystectomy BJU Int. 2007 Aug; 100(2):455-76. . View in PubMed
Comparison of 1,800 laparoscopic and open partial nephrectomies for single renal tumors J Urol. 2007 Jul; 178(1):41-6. . View in PubMed
Laparoscopic radical cystectomy for cancer: oncological outcomes at up to 5 years BJU Int. 2007 Jul; 100(1):137-42. . View in PubMed
Oncological outcomes of laparoscopic radical nephrectomy for renal cancer Clinics (Sao Paulo). 2007 Jun; 62(3):251-6. . View in PubMed
Flexible robotics: a new paradigm Curr Opin Urol. 2007 May; 17(3):151-5. . View in PubMed
Laparoscopic partial nephrectomy BJU Int. 2007 May; 99(5 Pt B):1258-63. . View in PubMed
[Robotic radical cystectomy] Arch Esp Urol. 2007 May; 60(4):439-48. . View in PubMed
Imaging findings after minimally invasive nephron-sparing renal therapies Clin Radiol. 2007 Apr; 62(4):333-9. . View in PubMed
A prospective comparison of transperitoneal and retroperitoneal laparoscopic nephrectomy in the extremely obese patient BJU Int. 2007 Apr; 99(4):871-4. . View in PubMed
Comparison of surgical approaches to ureteropelvic junction obstruction: endopyeloplasty versus endopyelotomy versus laparoscopic pyeloplasty Curr Urol Rep. 2007 Mar; 8(2):140-9. . View in PubMed
Laparoscopic partial nephrectomy in the presence of multiple renal arteries Urology. 2007 Mar; 69(3):444-7; discussion 447. . View in PubMed
Laparoscopic partial nephrectomy: an evolving standard Nat Clin Pract Urol. 2007 Mar; 4(3):116-7. . View in PubMed
Minimally invasive nephron-sparing surgery (MINSS) for renal tumours part I: laparoscopic partial nephrectomy Eur Urol. 2007 Feb; 51(2):337-46; discussion 46-7. . View in PubMed
Minimally invasive nephron-sparing surgery (MINSS) for renal tumoursPart II: probe ablative therapy. Eur Urol. 2007 Feb; 51(2):348-57. . View in PubMed
Laparoscopic ureteral reconstruction for benign stricture disease Urology. 2007 Feb; 69(2):280-4. . View in PubMed
Against the motion: open partial nephrectomy is the standard of care for small resectable solid renal masses Eur Urol. 2007 Feb; 51(2):562-4; discussion 564. . View in PubMed
Laparoscopic partial nephrectomy in obese patients Urology. 2007 Jan; 69(1):44-8. . View in PubMed
Technical modifications to laparoscopic Boari flap Urology. 2007 Jan; 69(1):175-80. . View in PubMed
Repair of adult ureteropelvic junction obstruction in the solitary kidney: effect on renal function Urology. 2006 Oct; 68(4):718-22. . View in PubMed
Nerve-sparing laparoscopic radical cystectomy: technique and initial outcomes Urology. 2006 Oct; 68(4):778-83. . View in PubMed
Cryotherapy: clinical end points and their experimental foundations Urology. 2006 Jul; 68(1 Suppl):38-44. . View in PubMed
Probe-ablative nephron-sparing surgery: cryoablation versus radiofrequency ablation Urology. 2006 Jul; 68(1 Suppl):7-13. . View in PubMed
Laparoscopic partial nephrectomy for centrally located renal tumors J Urol. 2006 Mar; 175(3 Pt 1):849-52. . View in PubMed
Laparoscopic partial nephrectomy in solitary kidney J Urol. 2006 Feb; 175(2):454-8. . View in PubMed
Laparoscopic partial nephrectomy: 3-year followup J Urol. 2006 Feb; 175(2):459-62. . View in PubMed
Laparoscopic radical cystoprostatectomy with bilateral nephroureterectomy: initial report BJU Int. 2006 Jan; 97(1):37-41. . View in PubMed
Case report: simultaneous laparoscopic management of bilateral ureteropelvic junction obstruction in a horseshoe kidney J Endourol. 2006 Jan; 20(1):21-3. . View in PubMed
Renal artery pseudoaneurysm following laparoscopic partial nephrectomy J Urol. 2005 Dec; 174(6):2256-9. . View in PubMed
Laparoscopic partial nephrectomy versus laparoscopic cryoablation for the small renal tumor Urology. 2005 Nov; 66(5 Suppl):23-8. . View in PubMed
Potassium-titanyl-phosphate laser laparoscopic partial nephrectomy without hilar clamping in the survival calf model J Urol. 2005 Sep; 174(3):1110-4. . View in PubMed
Laparoscopic partial nephrectomy for hilar tumors J Urol. 2005 Sep; 174(3):850-3; discussion 853-4. . View in PubMed
Transperitoneal versus retroperitoneal laparoscopic partial nephrectomy: patient selection and perioperative outcomes J Urol. 2005 Sep; 174(3):846-9. . View in PubMed
Renal tumor ablation Curr Opin Urol. 2005 Sep; 15(5):298-305. . View in PubMed
Laparoscopic partial nephrectomy for cystic masses J Urol. 2005 Aug; 174(2):614-9. . View in PubMed
Prospective, randomized comparison of transperitoneal versus retroperitoneal laparoscopic adrenalectomy J Urol. 2005 Aug; 174(2):442-5; discussion 445. . View in PubMed
Water jet assisted laparoscopic partial nephrectomy without hilar clamping in the calf model J Urol. 2005 Jul; 174(1):317-21. . View in PubMed
Outpatient laparoscopic pyeloplasty Urology. 2005 Jul; 66(1):41-3; discussion 43-4. . View in PubMed
Cryotherapy of renal masses: intermediate-term follow-up J Endourol. 2005 Jul-Aug; 19(6):654-7. . View in PubMed
Impact of intraoperative heparin on laparoscopic donor nephrectomy J Urol. 2005 Jul; 174(1):226-8. . View in PubMed
Laparoscopic radical cystectomy in the female J Urol. 2005 Jun; 173(6):1912-7. . View in PubMed
Renal cryoablation: outcome at 3 years J Urol. 2005 Jun; 173(6):1903-7. . View in PubMed
Laparoscopic partial nephrectomy J Endourol. 2005 May; 19(4):451-5; discussion 455. . View in PubMed
Laparoscopic retropubic simple prostatectomy J Urol. 2005 Mar; 173(3):757-60. . View in PubMed
Dismembered percutaneous endopyeloplasty: a new procedure J Endourol. 2005 Mar; 19(2):210-7. . View in PubMed
Laparoscopic heminephrectomy for tumor Urology. 2005 Mar; 65(3):473-8. . View in PubMed
Improved hemostasis during laparoscopic partial nephrectomy using gelatin matrix thrombin sealant Urology. 2005 Mar; 65(3):463-6. . View in PubMed
Percutaneous endopyeloplasty: current clinical status BJU Int. 2005 Mar; 95 Suppl 2:106-9. . View in PubMed
Laparoscopic partial nephrectomy for tumour: current status at the Cleveland Clinic BJU Int. 2005 Mar; 95 Suppl 2:41-5. . View in PubMed
Laparoscopic radical cystectomy and urinary diversion Curr Urol Rep. 2005 Mar; 6(2):118-21. . View in PubMed
The impact of warm ischaemia on renal function after laparoscopic partial nephrectomy BJU Int. 2005 Feb; 95(3):377-83. . View in PubMed
Complications of laparoscopic partial nephrectomy in 200 cases J Urol. 2005 Jan; 173(1):42-7. . View in PubMed
Prospective randomized comparison of transperitoneal versus retroperitoneal laparoscopic radical nephrectomy J Urol. 2005 Jan; 173(1):38-41. . View in PubMed
Lateral pedicle control during laparoscopic radical prostatectomy: refined technique Urology. 2005 Jan; 65(1):23-7. . View in PubMed
Current trends in urologic laparoscopic surgery J Endourol. 2005 Jan-Feb; 19(1):15-20. . View in PubMed
Laparoscopic radical nephrectomy for large (greater than 7 cm, T2) renal tumors J Urol. 2004 Dec; 172(6 Pt 1):2172-6. . View in PubMed
Laparoscopic injury and repair of obturator nerve during radical prostatectomy Urology. 2004 Nov; 64(5):1030. . View in PubMed
Laparoscopic extended pelvic lymphadenectomy for bladder cancer: technique and initial outcomes J Urol. 2004 Nov; 172(5 Pt 1):1809-12. . View in PubMed
Laparoscopic radical cystectomy and urinary diversion: fad or future? BJU Int. 2004 Sep; 94(4):501-5.. View in PubMed
Retroperitoneoscopic radical nephrectomy with concomitant distal pancreatectomy: case report J Endourol. 2004 Sep; 18(7):665-7. . View in PubMed
Laparoscopic nephron-sparing surgery for two or more ipsilateral renal tumors Urology. 2004 Aug; 64(2):255-8. . View in PubMed
Laparoscopic pyeloplasty: the first decade BJU Int. 2004 Aug; 94(3):264-7. . View in PubMed
Real-time transrectal ultrasonography during laparoscopic radical prostatectomy J Urol. 2004 Jul; 172(1):112-8. . View in PubMed
Endopyeloplasty versus endopyelotomy versus laparoscopic pyeloplasty for primary ureteropelvic junction obstruction Urology. 2004 Jul; 64(1):16-21; discussion 21. . View in PubMed
Right retroperitoneal versus left transperitoneal laparoscopic live donor nephrectomy Urology. 2004 May; 63(5):857-61. . View in PubMed
Critique of laparoscopic lymphadenectomy in genitourinary oncology Urol Oncol. 2004 May-Jun; 22(3):246-54; discussion 254-5. . View in PubMed
Thoracic complications during urological laparoscopy J Urol. 2004 Apr; 171(4):1451-5. . View in PubMed
Laparoscopic radical cystectomy with urinary diversion Curr Opin Urol. 2004 Mar; 14(2):83-7. . View in PubMed
Laparoscopic ureterocalicostomy: initial experience J Urol. 2004 Mar; 171(3):1227-30. . View in PubMed
Laparoscopic live donor nephrectomy in the presence of circumaortic or retroaortic left renal vein J Urol. 2004 Jan; 171(1):44-6. . View in PubMed
Laparoscopic partial nephrectomy in a horseshoe kidney J Endourol. 2003 Dec; 17(10):905-6. . View in PubMed
Laparoscopic management of chylous ascites after donor nephrectomy J Urol. 2003 Nov; 170(5):1938. . View in PubMed
Laparoscopic nephron-sparing surgery in the presence of renal artery disease Urology. 2003 Nov; 62(5):935-9. . View in PubMed
Evaluation of age and comorbidity as risk factors after laparoscopic urological surgery J Urol. 2003 Oct; 170(4 Pt 1):1115-20. . View in PubMed
Robotic assisted laparoscopic sural nerve grafting during radical prostatectomy: initial experience J Urol. 2003 Sep; 170(3):909-12. . View in PubMed
Laparoscopic upper pole partial nephrectomy with concomitant en bloc adrenalectomy Urology. 2003 Aug; 62(2):223-6. . View in PubMed
Laparoscopic ice slush renal hypothermia for partial nephrectomy: the initial experience J Urol. 2003 Jul; 170(1):52-6. . View in PubMed
Comparative analysis of laparoscopic versus open partial nephrectomy for renal tumors in 200 patients J Urol. 2003 Jul; 170(1):64-8. . View in PubMed
Ureteral tissue balloon expansion for laparoscopic bladder augmentation: survival study J Endourol. 2003 Jun; 17(5):283-93. . View in PubMed
Laparoscopic inferior vena cava and right atrial thrombectomy utilizing deep hypothermic circulatory arrest J Endourol. 2003 Jun; 17(5):275-82. . View in PubMed
Laparoscopic ureterocalicostomy: a feasibility study J Urol. 2003 Jun; 169(6):2360-4. . View in PubMed
Laparoscopic anatrophic nephrolithotomy: feasibility study in a chronic porcine model J Urol. 2003 Feb; 169(2):691-6. . View in PubMed
Laparoscopic radical nephrectomy for cancer with level I renal vein involvement J Urol. 2003 Feb; 169(2):487-91. . View in PubMed
Laparoscopic partial nephrectomy with suture repair of the pelvicaliceal system Urology. 2003 Jan; 61(1):99-104. . View in PubMed
Robotic-assisted laparoscopic adrenalectomy Urology. 2002 Dec; 60(6):1104-7. . View in PubMed
Percutaneous endopyeloplasty: description of new technique J Urol. 2002 Nov; 168(5):2097-102. . View in PubMed
Current status of cryoablation and radiofrequency ablation in the management of renal tumors Curr Opin Urol. 2002 Sep; 12(5):387-93. . View in PubMed
Laparoscopic radical cystectomy with intracorporeal ileal conduit diversion: five cases with a 2-year follow-up BJU Int. 2002 Sep; 90(4):391-6. . View in PubMed
Percutaneous endopyeloplasty: a novel technique J Endourol. 2002 Sep; 16(7):431-43. . View in PubMed
Evolving management of upper-tract transitional-cell carcinoma at a tertiary-care center J Endourol. 2002 Sep; 16(7):483-7. . View in PubMed
Laparoscopic radical cystectomy with urinary diversion: completely intracorporeal technique J Endourol. 2002 Aug; 16(6):335-41; discussion 341. . View in PubMed
Laparoscopic radical cystectomy and continent orthotopic ileal neobladder performed completely intracorporeally: the initial experience J Urol. 2002 Jul; 168(1):13-8. . View in PubMed
Laparoscopic cystectomy: indications and limitations Arch Esp Urol. 2002 Jul-Aug; 55(6):721-9. . View in PubMed
Laparoscopic excision of suspected extra-adrenal pheochromocytoma located in the mesenteric root J Endourol. 2002 Jun; 16(5):303-5. . View in PubMed
Anatomic landmarks and time management during retroperitoneoscopic radical nephrectomy J Endourol. 2002 Apr; 16(3):165-9. . View in PubMed
Laparoscopic partial nephrectomy for renal tumor: duplicating open surgical techniques J Urol. 2002 Feb; 167(2 Pt 1):469-7; discussion 475-6. . View in PubMed
Vaginal extraction of the intact specimen following laparoscopic radical nephrectomy J Urol. 2002 Jan; 167(1):238-41. . View in PubMed
Laparoscopic surgery in renal transplant recipients Urol Clin North Am. 2001 Nov; 28(4):759-67. . View in PubMed
Laparoscopic cross-trigonal Cohen ureteroneocystostomy: novel technique J Urol. 2001 Nov; 166(5):1811-4. . View in PubMed
Laparoscopic renal cryoablation: impact on renal function and blood pressure Urology. 2001 Sep; 58(3):357-61. . View in PubMed
Laparoscopic intracorporeally constructed ileal conduit after porcine cystoprostatectomy J Urol. 2001 Jul; 166(1):285-8. . View in PubMed
Retroperitoneoscopic adrenalectomy: lateral approach J Endourol. 2001 Jun; 15(5):505-11; discussion 511-2. . View in PubMed
Retroperitoneal laparoscopic nephroureterectomy and management options for the distal ureter J Endourol. 2001 May; 15(4):385-90; discussion 397. . View in PubMed
Laparoscopic renal autotransplantation J Endourol. 2001 Mar; 15(2):143-9. . View in PubMed
Laparoscopic orthotopic ileal neobladder J Endourol. 2001 Mar; 15(2):131-42. . View in PubMed
Intact specimen extraction during renal laparoscopy: muscle-splitting versus muscle-cutting incision J Endourol. 2001 Mar; 15(2):165-9. . View in PubMed
Laparoscopic ultrasonography J Endourol. 2001 Feb; 15(1):87-92. . View in PubMed
Retroperitoneal minilaparoscopic nephrectomy in the rat model Urology. 2000 Dec 20; 56(6):1058-62. . View in PubMed
Laparoscopic radical nephroureterectomy J Endourol. 2000 Dec; 14(10):859-64. . View in PubMed
Laparoscopic radical cystoprostatectomy with ileal conduit performed completely intracorporeally: the initial 2 cases Urology. 2000 Jul; 56(1):26-9; discussion 29-30. . View in PubMed
Laparoscopic aortorenal bypass J Endourol. 2000 Mar; 14(2):123-31. . View in PubMed
Laparoscopic adrenalectomy for large-volume (> or = 5 cm) adrenal masses J Endourol. 2000 Mar; 14(2):149-54. . View in PubMed
MR imaging of the kidneys after laparoscopic cryoablation AJR Am J Roentgenol. 2000 Mar; 174(3):635-40. . View in PubMed
Anesthetic aspects of laparoscopic and open adrenalectomy for pheochromocytoma Urology. 2000 Mar; 55(3):339-43. . View in PubMed
Retroperitoneoscopic approach to nephrectomy J Endourol. 1999 Dec; 13(10):713-8; discussion 718-20. . View in PubMed
Controversial cases in endourology J Endourol. 1999 Sep; 13(7):465-9. . View in PubMed
Advances in urological laparoscopy J Urol. 1995 Oct; 154(4):1275-94. . View in PubMed
Transperitoneal nephrectomy for benign disease of the kidney: a comparison of laparoscopic and open surgical techniques Urology. 1994 May; 43(5):607-13. . View in PubMed
Laparoscopic live-donor nephrectomy J Endourol. 1994 Apr; 8(2):143-8. . View in PubMed
Extended administration of oral etoposide and oral cyclophosphamide for the treatment of advanced non-small-cell lung cancer: a Southwest Oncology Group study J Clin Oncol. 1993 Aug; 11(8):1598-601. . View in PubMed
Role of carboplatin in endometrial and cervical carcinomas Semin Oncol. 1992 Feb; 19(1 Suppl 2):90-3. . View in PubMed
High dose intensity of cisplatin and etoposide in adenocarcinoma of unknown primary Anticancer Res. 1991 May-Jun; 11(3):1231-5. . View in PubMed
Dose-escalation study of carboplatin (day 1) and cisplatin (day 3): tolerance and relation to leukocyte and buccal cell platinum--DNA adducts Ann Oncol. 1991 Feb; 2(2):115-21. . View in PubMed
Epipodophyllotoxins: new laboratory and clinical findings Curr Opin Oncol. 1989 Dec; 1(2):206-12. . View in PubMed
Synergistic antitumor effects of interleukin 2 and the monoclonal Lym-1 against human Burkitt lymphoma cells in vitro and in vivo Cancer Res. 1989 Oct 01; 49(19):5377-9. . View in PubMed
A phase 1a clinical trial of LYM-1 monoclonal antibody serotherapy in patients with refractory B cell malignancies Hematol Oncol. 1989 Mar-Apr; 7(2):155-66. . View in PubMed
Dr. Inderbir Gill is the Chairman and Professor of the Catherine and Joseph Aresty Department of Urology, Founding Executive Director of the USC Institute of Urology and Associate Dean for Clinical Innovation. He also holds the Hanson-White Chair.

Dr Gill has received many honors. In 2005, the President of India awarded him the Dr. B. C. Roy National Award for Eminent Medical Person. In 2006, he was awarded the St. Paul's Medal by the British Urological Association (BAUS) for 2006, the highest honor that can be bestowed by the BAUS. He has been named honorary Fellow of the Royal College of Surgeons of England. In 2006, he was President of the 24th World Congress of Endourology and SWL, and organized in Cleveland one of the most successful world congresses to date, with more than 1700 attendees from 62 countries. He was awarded the "USC Presidential Medallion" for 2013, the highest annual academic honor that USC can bestow from amongst the 40,000+ faculty/students from all 19 of USC's schools. He has been listed amongst "Best Doctors in America" for several years now. His minimally invasive team has won over 35 best abstract awards at various annual meetings of the AUA and other urologic societies over the past 5-7 years. He was named Ramon Guiteras Lecturer at the 2015 AUA annual meeting in New Orleans.

Dr. Gill's primary focus is advanced robotic urologic oncologic surgery, with one of the world's largest aggregate robotic/laparoscopic experiences in approx 9,000 cases in the United States. A world leader in robotic/laparoscopic partial nephrectomy for renal cancer, he and his team have performed this procedure in over 2,500 patients, the world's largest series. His team's scientific innovations in robotic & laparoscopic oncologic surgery have generated world-leading clinical series of radical cystectomy with intra-corporeal urinary diversion (n=200+), radical prostatectomy (n= 6,000+) and renal cryoablation. Over the past 3 years, Dr Gill and his team are focusing on developing novel image-guided targeted biopsy and lesion-specific focal therapy treatments for prostate cancer.

He has published more than 619 peer-reviewed scientific papers, 55 book chapters and eleven textbooks and has been on the editorial board of nine urologic journals. Funded by the NCI, he has been invited for over 450 visiting professorships, invited lectures, and live surgery demonstrations world-wide.He is elected to the prestigious American Association of Genito-Urinary Surgeons (2003) and the clinical society of AAGUS (2009).