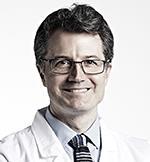 Joseph Carlson
Professor of Clinical Pathology
Pathology
2011 Zonal Ave.
Health Sciences Campus
Los Angeles
Contact
Joseph W. Carlson, MD, PhD is a Professor of Clinical Pathology in the Department of Pathology at the Keck School of Medicine at the University of Southern California (USC) in Los Angeles. He is the Associate Director of Surgical Pathology at LAC+USC Medical Center, with responsibility for gynecologic pathology.

Dr. Carlson holds a bachelor's degree in Physics from the Johns Hopkins University, a PhD in Biophysics and Computational Biology from the University of Illinois, Urbana – Champaign, and an MD from the Harvard Medical School / Massachusetts Institute of Technology Health Sciences and Technology program. He is licensed by the State of California in Anatomic Pathology and is board-certified by the American Board of Pathology.

He is co-author of the forthcoming Armed Forces Institute of Pathology Fascicle (Series V): Tumors of the Ovary and Fallopian Tube, and an author of several chapters in the recent WHO Classification of Female Genital Tumors, 5th edition.

To learn more about Dr. Carlson's research, please see the "Research" tab.

To learn more about the clinical gynecologic pathology service, including CME and information about submitting a case for review, please see the "Clinical" tab.