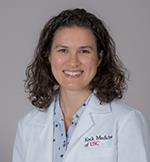 Laura Taylor
Clinical Assistant Professor of Family Medicine (Clinician Educator) (Part-Time)
Family Medicine
1520 San Pablo St.
Health Sciences Campus
Los Angeles
Contact
Laura Taylor, MD (she/her) is a board-certified family practice physician. Dr. Taylor's interests within family medicine include caring for the LGBTQ+ community, women's and reproductive health, and pediatrics.

Dr. Taylor believes in patient-centered care, meaning that patients can make the best decisions for their own health when they are educated in their medical conditions and treatment options.

Dr. Taylor directs the Keck Gender Affirming Care Program's medical team. She provides primary care and hormone management for transgender/nonbinary/gender-nonconforming individuals. She is experienced in providing affirming preventive and gynecologic screenings, mental health, sexual health and HIV prevention (PrEP), family planning/contraception, and chronic disease management. Dr. Taylor provides telemedicine consults to patients in California.