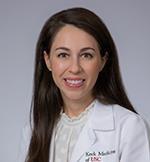 Lauren E Hawley
Assistant Professor of Clinical Surgery
Surgery
1520 San Pablo St.
Health Sciences Campus
Los Angeles
Contact
Hernia-to-neck ratio is associated with emergent ventral hernia repair Surg Endosc. 2022 Dec; 36(12):9374-9378. . View in PubMed
Impact of a Body Mass Index Threshold on Abdominal Wall Hernia Repair at a Safety-Net Hospital Am Surg. 2021 Sep 22; 31348211047504. . View in PubMed
The use of nonsteroidal anti-inflammatory drugs after sleeve gastrectomy Surg Obes Relat Dis. 2021 Mar; 17(3):484-488. . View in PubMed
Introducing a Bariatric Surgery Program at a Large Urban Safety Net Medical Center Serving a Primarily Hispanic Patient Population Obes Surg. 2021 09; 31(9):4093-4099. . View in PubMed
Development and emergency implementation of an online surgical education curriculum for a General Surgery program during a global pandemic: The University of Southern California experience Am J Surg. 2021 05; 221(5):962-972. . View in PubMed
Complications Following Brachial Arterial Catheterization in the Surgical Intensive Care Unit Am Surg. 2020 Oct; 86(10):1260-1263. . View in PubMed
Dr. Hawley is board certified in General Surgery. She received her MD with highest honors from Baylor College of Medicine and was inducted into the Alpha Omega Alpha Medical Honor Society. She served her General Surgery residency at the Keck School of Medicine of USC, and was named Outstanding Chief Resident.

Dr. Hawley has a continuing interest in minimally invasive surgery because of the many benefits it offers her patients. She decided to pursue advanced training and completed a fellowship in Minimally Invasive and Bariatric Surgery at The Ohio State University College of Medicine.

Dr. Hawley returned to practice at Keck Medicine of USC because she was excited to work with such an outstanding team.