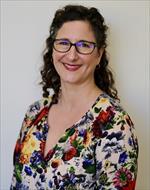 Lauren Fox MacMillan
Clinical Assistant Professor of Family Medicine (Clinician Educator)
Family Medicine
1520 San Pablo St.
Health Sciences Campus
Los Angeles
Contact
Lauren Fox MacMillan, Ph.D. earned her doctorate in psychology with an emphasis in clinical aging from the University of Southern California. After graduating, she worked for The Center for Aging Resources (Heritage Clinic), a community mental health agency for seniors based in Pasadena. In this role, she provided clinic and home-based assessment and psychotherapy, led support groups for caregivers and persons with early stage memory disorders, supervised doctoral trainees in psychology, started a neuropsychological assessment clinic, and served as director of a social model adult day program for people with dementia and their families.
In 2007 Dr. MacMillan was hired by the Long Beach VA Healthcare System, where she provided gero-competent diagnostic and functional assessments, intervention and psychotherapy (individual, family, and group), and interprofessional consultation for older veterans from the WWII, Korean War, and Vietnam War eras of service. Dr. MacMillan was instrumental in integrating mental and behavioral health services into the geriatric evaluation and management team, an interdisciplinary primary and specialty care team that serves older veterans with complex comorbidities. For several years, she was the sole mental and behavioral health provider serving the the Community Living Center, the Long Beach VA's 100-bed skilled nursing and rehabilitation unit. In addition, she provided psychotherapy to adult outpatients and multimodal gero-competent interventions to older veterans and their families referred by providers across the healthcare system. Dr. MacMillan was very active in the Long Beach VA's successful psychology internship and postdoctoral fellowship training programs as a supervisor, seminar coordinator and presenter. Dr. MacMillan also started and coordinated an assessment clerkship (pre-internship) program with a local doctoral program. She is interested in professional development of the subspecialty of geropsychology, and is a founding board member of the American Board of Geropsychology, a member board of the American Board of Professional Psychology.
Dr. MacMillan joined the Department of Family Medicine at the Keck School of Medicine in 2016. As a Behavioral Health Consultant and part of the primary care team, she provides accessible, pragmatic, integrated clinical psychology services to Family Medicine primary care patients and providers across the clinical enterprise. Her geriatric expertise benefits her older, chronically ill, and/or complex patients. Dr. MacMillan is the Behavioral Health faculty member for the department's Family Medicine Residency Program.