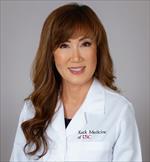 Mary W. Yamashita
Clinical Associate Professor of Radiology (Clinician Educator)
Quality Assurance Director for the Los Angeles County Northeast Cluster Clinics
Radiology
1500 San Pablo Street, 2nd Floor
Health Sciences Campus
Los Angeles
Imaging of Benign and Malignant Breast Lesions Using Contrast-Enhanced Ultrasound: A Pictorial Essay Ultrasound Q. 2022 Mar 01; 38(1):2-12. . View in PubMed
Accuracy of contrast-enhanced spectral mammography compared with MRI for invasive breast cancers: Prospective study in population of predominantly underrepresented minorities Clin Imaging. 2021 Dec; 80:364-370. . View in PubMed
Multicenter Study of Whole Breast Stiffness Imaging by Ultrasound Tomography (SoftVue) for Characterization of Breast Tissues and Masses J Clin Med. 2021 Nov 25; 10(23). . View in PubMed
Addressing ethnic disparities in imaging utilization and clinical outcomes for COVID-19 Clin Imaging. 2021 Sep; 77:276-282. . View in PubMed
Factors associated with MRI detection of occult lesions in newly diagnosed breast cancers J Surg Oncol. 2020 Mar; 121(4):589-598. . View in PubMed
Accuracy of Contrast-Enhanced Ultrasound Compared With Magnetic Resonance Imaging in Assessing the Tumor Response After Neoadjuvant Chemotherapy for Breast Cancer J Ultrasound Med. 2017 May; 36(5):901-911. . View in PubMed
High-frequency ultrasound imaging for breast cancer biopsy guidance J Med Imaging (Bellingham). 2015 Oct; 2(4):047001. . View in PubMed
Radiologist's role in breast cancer staging: providing key information for clinicians Radiographics. 2014 Mar-Apr; 34(2):330-42. . View in PubMed
The role of axillary ultrasound in the detection of metastases from primary breast cancers Am J Surg. 2013 Mar; 205(3):242-4; discussion 244-5. . View in PubMed
Mary Yamashita, MD, has dedicated her professional life to breast imaging and early detection of breast cancer.
Dr. Yamashita received her medical degree from the USC Keck School of Medicine in 1993 and completed her radiology training at the University of California, Irvine Medical Center in 1998. Immediately following her training, she was recruited by the Marcia Ray Breast Center in Glendale, California where she served as the Medical Director for 5 years. In 2004, she moved on to become the Medical Director at the Patricia L. Scheifly Breast Health Center at Presbyterian Intercommunity Hospital in Whittier, California. While Dr. Yamashita enjoyed her experience in the private sector, she missed the challenges that only academic medicine could give to her. Therefore, in 2006, she joined the faculty of the USC Keck School of Medicine.
Dr. Yamashita is currently the Director of the Mammography Division of the LAC+USC Comprehensive Health Center. As an academic clinician, she is involved in a variety of clinical research trials related to breast cancer. Her research involves the use of cutting edge technologies, including 3D Digital Breast Tomosynthesis, Contrast Enhanced Mammography and Automated Whole Breast Ultrasound. Dr. Yamashita collaborated with a PhD student from the Viterbi School of Engineering at USC to develop and test an ultrasound probe that would improve the performance of breast biopsies. Currently, she is the National Principal Investigator for a multi-center trial evaluating the SoftVue, Automated 3D Whole Breast Ultrasound, in screening women with dense breast tissue.
Dr. Yamashita is a recognized leader in the field of breast cancer screening and diagnosis and she lectures locally and nationally on the topic. One of her greatest satisfactions, however, comes from being a mentor. She truly enjoys teaching medical students and future radiologists as well as undergraduate and high school students who are interested in pursuing a career in the healthcare field. Dr. Yamashita continually sets a standard of excellence by practicing and emphasizing the importance of quality and compassionate care for all patients.