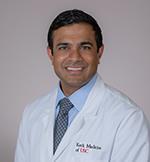 Ram Alluri
Assistant Professor of Clinical Orthopaedic Surgery
Orthopaedic Surgery
1450 San Pablo St
Health Sciences Campus
Los Angeles
Contact
AAOS: Best Poster Spine Section—American Academy of Orthopaedic Surgery Annual Meeting, 2021
SMISS: SMISS '21 Young Surgeon Grant, 2021
Cervical Spine Research Society - Annual Meeting Dec. 2021: Top Abstract - Cervical Disc Replacement for Radiculopathy versus Myelorodiculopathy, an MCID Analys, 2021
Global Spine Journal: "COVID-19 and Spine Surgery: A Review and Evolving Recommendations" won one of the two GSJ 2020, 2020
A Biomechanical Comparison of Distal Fixation for Bridge Plating in a Distal Radius Fracture ModelJ Hand Surg Am. 2017 Sep; 42(9):748. e1-748. e8. . View in PubMed
Eur Spine J. 2023 May 06. . View in PubMed
The Effect of COVID-19 on Spine Surgery Global Spine J. 2023 May 02; 21925682231173368. . View in PubMed
The Correlation Between Pelvic Motion and Lumbar Motion in Patients Presenting With a Lumbar Spinal Pathology: Implications for Assessing Dislocation Risk in Total Hip Arthroplasty Arthroplast Today. 2023 Apr; 20:101105. . View in PubMed
The Role of Psychosocial Screening in Patient Selection for Spine Surgery: A Review Int J Spine Surg. 2023 Apr; 17(2):309-317. . View in PubMed
Are Cervical Disc Arthroplasty Medicare Reimbursement Trends Sustainable? Int J Spine Surg. 2023 Mar 21.. View in PubMed
Multimodality Intraoperative Neuromonitoring in Lateral Lumbar Interbody Fusion: A Review of Alerts in 628 Patients Global Spine J. 2023 Mar; 13(2):466-471. . View in PubMed
Strategies for Globalizing Endoscopic Spine Surgery Neurospine. 2023 Mar; 20(1):3-4. . View in PubMed
The Role of Intraoperative Neuromonitoring Modalities in Anterior Cervical Spine Surgery HSS J. 2023 Feb; 19(1):53-61. . View in PubMed
The Role of Sex Hormones in Degenerative Disc Disease Global Spine J. 2023 Jan 18; 21925682231152826. . View in PubMed
The Incidence of Double Crush Syndrome in Surgically Treated Patients Global Spine J. 2022 Nov 01; 21925682221137530. . View in PubMed
Acute Operative Management of Osteoporotic Vertebral Compression Fractures Is Associated with Decreased Morbidity Asian Spine J. 2022 Oct; 16(5):634-642. . View in PubMed
Surface Navigation and the Influence of Navigation on MIS Surgery Global Spine J. 2022 Apr; 12(2_suppl):19S-26S. . View in PubMed
A Decreasing National Trend in Lumbar Disc Arthroplasty Global Spine J. 2022 Feb 18; 21925682221079571. . View in PubMed
A Diagnostic Algorithm to Guide Operative Intervention of Zone 5 Flexor Injuries HSS J. 2022 Feb; 18(1):57-62. . View in PubMed
Single Versus Dual Headless Compression Screw Fixation of Scaphoid Nonunions: A Biomechanical Comparison Hand (N Y). 2022 11; 17(6):1122-1127. . View in PubMed
Do preoperative clinical and radiographic characteristics impact patient outcomes following one-level minimally invasive transforaminal lumbar interbody fusion based upon presenting symptoms? Spine J. 2022 04; 22(4):570-577.. View in PubMed
Single position lumbar fusion: a systematic review and meta-analysis Spine J. 2022 03; 22(3):429-443. . View in PubMed
Cervical Disc Replacement for Radiculopathy Versus Myeloradiculopathy: An MCID Analysis Clin Spine Surg. 2022 05 01; 35(4):170-175. . View in PubMed
Secondary Fracture Rate After Vertebral Osteoporotic Compression Fracture Is Decreased by Anti-Osteoporotic Medication but Not Increased by Cement Augmentation J Bone Joint Surg Am. 2022 12 21; 104(24):2178-2185. . View in PubMed
Anterior Cervical Discectomy and Fusion Versus Cervical Disc Replacement in Patients With Significant Cervical Spondylosis Clin Spine Surg. 2022 03 01; 35(2):E327-E332. . View in PubMed
Robotics and Spine Surgery: Lessons From the Personal Computer and Industrial Revolutions Int J Spine Surg. 2021 Oct; 15(s2):S21-S27. . View in PubMed
Workflow and Efficiency of Robotic-Assisted Navigation in Spine Surgery HSS J. 2021 Oct; 17(3):302-307. . View in PubMed
Overview of Robotic Technology in Spine Surgery HSS J. 2021 Oct; 17(3):308-316. . View in PubMed
Venous Thromboembolism Prophylaxis in Elective Spine Surgery Global Spine J. 2021 Sep; 11(7):1148-1155. . View in PubMed
Saphenous Nerve Somatosensory-Evoked Potentials Monitoring During Lateral Interbody Fusion Global Spine J. 2021 Jun; 11(5):722-726. . View in PubMed
Comparison of Proximal Junctional Failure and Functional Outcomes Across Varying Definitions of Proximal Junctional Kyphosis World Neurosurg. 2021 02; 146:e100-e105. . View in PubMed
Examination Under Anesthesia Improves Agreement on Mechanical Stability: A Survey of Experienced Pelvic Surgeons J Orthop Trauma. 2021 07 01; 35(7):e241-e246. . View in PubMed
Biomechanical Analysis of an Anterior Cervical Discectomy and Fusion Pseudarthrosis Model Revised With Machined Interfacet Allograft Spacers Global Spine J. 2020 Dec; 10(8):973-981. . View in PubMed
Cervical Disc Replacement: Trends, Costs, and Complications Asian Spine J. 2020 Oct; 14(5):647-654. . View in PubMed
Impact of Nonlordotic Sagittal Alignment on Short-term Outcomes of Cervical Disc Replacement Neurospine. 2020 Sep; 17(3):588-602. . View in PubMed
COVID-19 and Spine Surgery: A Review and Evolving Recommendations Global Spine J. 2020 Aug; 10(5):528-533. . View in PubMed
Risk factors associated with neonatal brachial plexus palsy in the United States J Pediatr Orthop B. 2020 Jul; 29(4):392-398. . View in PubMed
Complications following operative treatment of supination-adduction type II (AO/OTA 44A23) ankle fractures. Injury. 2020 Jun; 51(6):1387-1391. . View in PubMed
Proximal Row Carpectomy Versus 4-Corner Fusion: Incidence, Conversion to Fusion, and Cost J Hand Surg Am. 2020 May; 45(5):427-432. . View in PubMed
Anatomic Evaluation of the Interportal Capsulotomy Made with the Modified Anterior Portal versus Standard Anterior Portal: Comparable Utility with Decreased Capsule Morbidity Hip Pelvis. 2020 Mar; 32(1):42-49. . View in PubMed
Functional outcomes of tendon transfer for brachial plexus birth palsy using the Hoffer technique Bone Joint J. 2020 Feb; 102-B(2):246-253. . View in PubMed
Risk Factors and Complications Following Arthroscopic Tenotomy of the Long Head of the Biceps Tendon Orthop J Sports Med. 2020 Feb; 8(2):2325967120904361. . View in PubMed
A Survey to Assess Agreement Between Pelvic Surgeons on the Outcome of Examination Under Anesthesia for Lateral Compression Pelvic Fractures J Orthop Trauma. 2020 09; 34(9):e304-e308. . View in PubMed
A Case Series of Retroperitoneal Lymphocele Following Anterior Lumbar Interbody Fusion World Neurosurg. 2020 08; 140:114-118. . View in PubMed
Return to Recreational Sport Following Lumbar Fusion Clin Spine Surg. 2020 05; 33(4):E174-E177. . View in PubMed
Review of Internal Radiocarpal Distraction Plating for Distal Radius Fracture Fixation Hand (N Y). 2020 01; 15(1):116-124. . View in PubMed
A nationwide analysis of failed irrigation and debridement for pediatric septic arthritis of the hip J Pediatr Orthop B. 2019 Sep; 28(5):470-475. . View in PubMed
Epidemiological and Treatment Trends of Distal Radius Fractures across Multiple Age Groups J Wrist Surg. 2019 Aug; 8(4):305-311. . View in PubMed
Complications of biceps tenodesis based on location, fixation, and indication: a review of 1526 shoulders J Shoulder Elbow Surg. 2019 Mar; 28(3):461-469. . View in PubMed
Patient and Practice Trends in Total Ankle Replacement and Tibiotalar Arthrodesis in the United States From 2007 to 2013 J Am Acad Orthop Surg. 2019 Jan 15; 27(2):e77-e84. . View in PubMed
Ex vivo gene therapy using human bone marrow cells overexpressing BMP-2: "Next-day" gene therapy versus standard "two-step" approach Bone. 2019 11; 128:115032. . View in PubMed
Trends in Pediatric Traumatic Upper Extremity Amputations Hand (N Y). 2019 11; 14(6):782-790. . View in PubMed
Regional gene therapy with 3D printed scaffolds to heal critical sized bone defects in a rat model J Biomed Mater Res A. 2019 10; 107(10):2174-2182. . View in PubMed
Arthroscopy. 2019 04; 35(4):1152-1159. e1. . View in PubMed
Functional outcomes of traumatic lower extremity reconstruction J Clin Orthop Trauma. 2019 Jan-Feb; 10(1):178-181. . View in PubMed
Increasing Rate of Surgical Fixation in Four- and Five-year-old Children With Femoral Shaft Fractures J Am Acad Orthop Surg. 2019 Jan 01; 27(1):e24-e32. . View in PubMed
World J Orthop. 2018 Nov 18; 9(11):262-270. . View in PubMed
Immobilization following Distal Radius Fractures: A Randomized Clinical Trial J Wrist Surg. 2018 Nov; 7(5):409-414. . View in PubMed
Radial Nerve Palsy following Endovascular Embolization of an Arteriovenous Malformation J Wrist Surg. 2018 Jul; 7(3):258-261. . View in PubMed
Free vascularized fibula grafting in the operative treatment of malignant bone tumors of the upper extremity: A systematic review of outcomes and complications J Surg Oncol. 2018 Jun; 117(7):1432-1439. . View in PubMed
Congenital limb deficiency requiring transfemoral amputation BMJ Case Rep. 2018 May 30; 2018. . View in PubMed
Discharge Destination After Shoulder Arthroplasty: An Independent Risk Factor for Readmission and Complications J Am Acad Orthop Surg. 2018 Apr 01; 26(7):251-259. . View in PubMed
Soft tissue reconstruction and salvage of infected fixation hardware in lower extremity trauma Microsurgery. 2018 Mar; 38(3):259-263. . View in PubMed
The Utility of Plain Films for Nonoperative Fifth Metacarpal Fractures: Are Follow-up Radiographs Necessary? Hand (N Y). 2018 11; 13(6):646-651.. View in PubMed
In vitro evaluation of a lentiviral two-step transcriptional amplification system using GAL4FF transactivator for gene therapy applications in bone repair Gene Ther. 2018 07; 25(4):260-268. . View in PubMed
NONOPERATIVE TREATMENT FOR INJURIES TO THE IN-SEASON THROWING SHOULDER: A CURRENT CONCEPTS REVIEW WITH CLINICAL COMMENTARY Int J Sports Phys Ther. 2018 04; 13(2):306-320. . View in PubMed
3D printed hyperelastic "bone" scaffolds and regional gene therapy: A novel approach to bone healing J Biomed Mater Res A. 2018 04; 106(4):1104-1110. . View in PubMed
Gene Therapy to Enhance Bone and Cartilage Repair in Orthopaedic Surgery Curr Gene Ther. 2018; 18(3):154-170. . View in PubMed
Impact of Computed Tomography on Operative Planning for Ankle Fractures Involving the Posterior Malleolus Foot Ankle Int. 2017 Dec; 38(12):1337-1342. . View in PubMed
Radiographic Detection of Marginal Impaction in Supination-Adduction Ankle Fractures Foot Ankle Int. 2017 Sep; 38(9):1005-1010. . View in PubMed
A Critical Appraisal of Vascularized Bone Grafting for Scaphoid Nonunion J Wrist Surg. 2017 Aug; 6(3):251-257. . View in PubMed
Distal Radius Fractures Do Not Displace following Splint or Cast Removal in the Acute, Postreduction Period: A Prospective, Observational Study J Wrist Surg. 2017 Feb; 6(1):54-59. . View in PubMed
Effect of Insurance on Rates of Total Ankle Arthroplasty Versus Arthrodesis for Tibiotalar Osteoarthritis Foot Ankle Int. 2017 Feb; 38(2):133-139. . View in PubMed
Predictors of Nerve Injury After Gunshot Wounds to the Upper Extremity Hand (N Y). 2017 09; 12(5):501-506. . View in PubMed
Acute Isolated Flexor Tendon Laceration Associated With a Distal Radius Fracture Hand (N Y). 2017 05; 12(3):NP39-NP42. . View in PubMed
Vascularized Bone Grafting in Scaphoid Nonunion: A Review of Patient-Centered Outcomes Hand (N Y). 2017 03; 12(2):127-134. . View in PubMed
Surgical research using national databases Ann Transl Med. 2016 Oct; 4(20):393. . View in PubMed
Patient and Surgical Factors Contributing to Perioperative Infection in Complex Lower Extremity Trauma Am Surg. 2016 Oct; 82(10):940-943. . View in PubMed
Distal Radius Fractures: Approaches, Indications, and Techniques J Hand Surg Am. 2016 Aug; 41(8):845-54. . View in PubMed
Utility of Postoperative Imaging in Radial Shaft Fractures Hand (N Y). 2016 Jun; 11(2):184-7. . View in PubMed
Oncologic reconstruction of the hand and upper extremity: Maximizing functional outcomes J Surg Oncol. 2016 Jun; 113(8):946-54. . View in PubMed
Preoperative risk factors for discharge to a postacute care facility after shoulder arthroplasty J Shoulder Elbow Surg. 2016 Feb; 25(2):201-6. . View in PubMed
Predictive Factors of Neurovascular and Tendon Injuries Following Dog Bites to the Upper Extremity Hand (N Y). 2016 12; 11(4):469-474. . View in PubMed
A randomized controlled trial of high-fidelity simulation versus lecture-based education in preclinical medical students Med Teach. 2016; 38(4):404-9. . View in PubMed
Volar, Intramedullary, and Percutaneous Fixation of Distal Radius Fractures J Wrist Surg. 2015 Nov; 4(4):292-300. . View in PubMed
Demographic analysis of open and arthroscopic distal clavicle excision in a private insurance database Arthroscopy. 2014 Sep; 30(9):1068-74. . View in PubMed
Trends and demographics in hip arthroscopy in the United States Arthroscopy. 2013 Apr; 29(4):661-5. . View in PubMed
Preoperative Epidural Steroid Injection Does Not Increase Infection Risk Following Posterior Cervical Surgery Spine (Phila Pa 1976). 2023 Mar 27. . View in PubMed
Evaluating Changes to The Modified K-line Using Kinematic MRIs Spine (Phila Pa 1976). 2022 Nov 21. . View in PubMed
Shoulder Balance in Adult Spinal Deformity Patients Undergoing Selective Lumbar Fusion Spine (Phila Pa 1976). 2022 May 01; 47(9):E385-E389. . View in PubMed
Upper versus Lower Lumbar Lordosis Corrections in Relation to Pelvic Tilt - An Essential Element in Surgical Planning for Sagittal Plane Deformity Spine (Phila Pa 1976). 2022 Aug 15; 47(16):1145-1150. . View in PubMed
Response to Letter to the Editor Concerning "The True Effect of a Lumbar Dural Tear on Complications and Cost" Spine (Phila Pa 1976). 2020 Apr 01; 45(7):E414. . View in PubMed
The True Effect of a Lumbar Dural Tear on Complications and Cost Spine (Phila Pa 1976). 2020 Feb 01; 45(3):E155-E162. . View in PubMed
A Nationwide Analysis of Geriatric Odontoid Fracture Incidence, Complications, Mortality, and Cost Spine (Phila Pa 1976). 2021 Jan 15; 46(2):131-137. . View in PubMed
Semitendinosus Tendon Augmentation for Prevention of Proximal Junctional Failure Spine (Phila Pa 1976). 2021 Feb 15; 46(4):241-248. . View in PubMed
Effect of Topical Steroid on Swallowing Following ACDF: Results of a Prospective Double-Blind Randomized Control Trial Spine (Phila Pa 1976). 2021 Apr 01; 46(7):413-420. . View in PubMed
Female Sex and Supine Proximal Lumbar Lordosis are Associated with the Size of the LLIF "Safe Zone" at L4-5 Spine (Phila Pa 1976). 2022 Nov 14. . View in PubMed
Postoperative Evolution of Sagittal Parameters Over Time Does Not Differ by Upper Instrumented Vertebra Spine (Phila Pa 1976). 2022 06 01; 47(11):800-807. . View in PubMed
Washer and Post Augmentation of 90/90 Wiring for Proximal Interphalangeal Joint Arthrodesis: A Biomechanical StudyJ Hand Surg Am. 2018 Dec; 43(12):1137. e1-1137. e10. . View in PubMed
R. Kiran Alluri, MD is an Assistant Professor of Clinical Orthopaedic Surgery at the Keck School of Medicine of USC and a part of the USC Spine Center. Dr. Alluri specializes in the surgical treatment of all neck and back disorders. He has a special interest in cervical spine surgery, minimally invasive spine surgery and robotic technology. He also treats patients with adult spinal deformity and patients requiring complex revision surgery. Dr. Alluri believes his most important role as a physician is to educate patients and their families about their condition and thoroughly explain treatment options so they can make an informed choice. His emphasis is always towards nonoperative management, utilizing a multi-disciplinary and multi-modal approach. In patients that require surgery, Dr. Alluri is trained in the latest minimally invasive and robotic techniques to expedite the recovery process and maximize postoperative function.

Dr. Alluri attended UCLA for undergraduate and medical school. He completed orthopaedic surgery residency at USC. He subsequently did his fellowship in minimally invasive and complex adult spinal deformity at the Hospital for Special Surgery, the #1 ranked orthopaedic hospital in the US and world.

In addition to patient care, Dr. Alluri is actively involved in research with an emphasis on analyzing clinical outcomes and navigation technology. To date he has published over 80 peer-reviewed research articles and his work has been presented at over 130 research meetings. He is an active member of the American Academy of Orthopaedic Surgeons (AAOS), American Orthopaedic Association (AOA), North American Spine Society (NASS), Lumbar Spine Research Society (LSRS) and AO Spine.