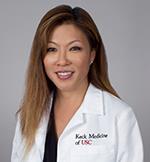 Regina Baker
Clinical Associate Professor of Surgery (Clinician Educator)
Surgery
1510 San Pablo St.
Health Sciences Campus
Los Angeles
Patient Characteristics Associated with Free Nipple Graft Reduction Mammoplasty Cureus. 2020 Jul 08; 12(7):e9063. . View in PubMed
Mesenchymal Stromal Cells Isolated from Irradiated Human Skin Have Diminished Capacity for Proliferation, Differentiation, Colony Formation, and Paracrine Stimulation Stem Cells Transl Med. 2019 09; 8(9):925-934. . View in PubMed
Topical Fibronectin Improves Wound Healing of Irradiated Skin Sci Rep. 2017 06 20; 7(1):3876. . View in PubMed
Laser applications in surgery Ann Transl Med. 2016 Dec; 4(23):452. . View in PubMed
Breast implants and minimally invasive cardiac surgery: a case series Ann Plast Surg. 2012 Jul; 69(1):10-3. . View in PubMed
Dr. Regina Y. Baker is an Assistant Professor of Surgery in the Division of Plastic and Reconstructive Surgery at the Keck School of Medicine of University of Southern California. She is certified by the American Board of Plastic Surgery. She has faculty appointments at USC University Hospital, USC/Norris Comprehensive Cancer Center, LAC-USC Medical Center, Huntington Memorial Hospital, and Childrens Hospital of Los Angeles. Dr. Baker's clinical interests include breast reconstruction, adolescent breast surgery, body contouring, complex reconstructive surgery, and all aspects of aesthetic surgery. She has special interests in women's health and issues. Dr. Baker was named one of Pasadena Magazine's Top Doctors of 2010.
Dr. Baker founded the Adolescent Breast Center (ABC) at Childrens Hospital of Los Angeles, where she treats a wide variety of congenital and adolescent breast disorders. She is also an attending staff at the Southern California Regional Burn Center at LAC-USC Medical Center. There she is involved in the management of acute burns, complex wounds, and burn reconstruction. Dr. Baker also works closely with the renowned Bariatric Surgeons of USC and offers a wide range of post-weight loss body contouring procedures.

Dr. Baker received her medical degree from Keck School of medicine of USC. She then completed an integrated plastic surgery residency at USC. She later joined the faculty in the division of plastic and reconstructive surgery at USC. She is dedicated to enhancing surgical education and is actively involved in teaching medical students and residents.